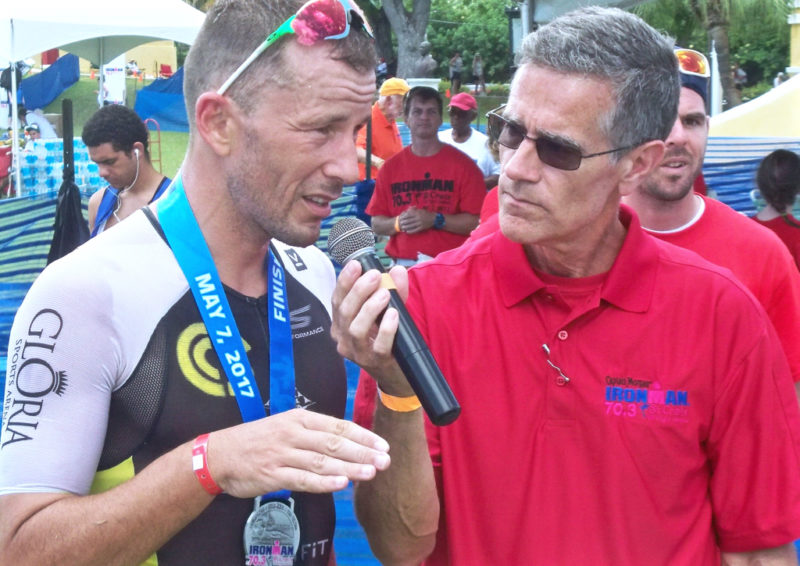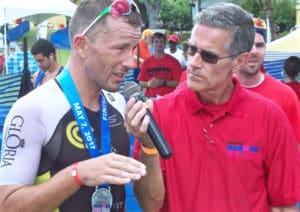 Stefan Irion from the Netherlands learned Sunday what all Crucians know – be cautious around rain-filled pot holes.
The eighth-place finisher in the St. Croix Ironman said that, about 10 miles into the bike course east of Christiansted, he saw the water on the road. A short rain had fallen early Sunday morning. He decided to take a gamble and go through it. It was a bad bet. He ended up skidding on his side on the highway. The hard road tore through his spandex suit and then did some tearing of skin. The burns his body took were evident on his side and arm when he crossed the finish line.
After the crash, he said it took him about five minutes to collect his thoughts, look at his injuries and determine whether he should continue. He decided to continue and was one of the few who finished the swim, run and cycling event in less than five hours.
Francky Favre of Martinique was the first place finisher in what was probably the last Iron Man competition on St. Croix, repeating his win from the year before.
The race announcer Dave Ragsdale of West Palm Beach congratulated Favre on his win and in doing it two minutes faster than he did last year, in a time of 04:41:07.
Cruz Gonzales of Bogota, Colombia, finished second in 4:30:38, and Chris Bands of the Netherlands came in third in 4:30:58, 20 seconds behind the second-place Columbian.
The first female to cross the line was Rebecca McKee of Anchorage, Alaska, in 05:28:59.
After crossing the finish line she said, "This is my kind of bike race." However, she did question the length of the swimming section. She said she usually finishes that section in 34 or 35 minutes, but this year it took her 39 minutes.
Announcer Ragsdale said that the end of the St. Croix Iron Man was sad, calling it a "truly iconic event." He said it would be impossible to create what was created on St. Croix 29 years ago. The demise of the race on St. Croix is blamed on lack of sponsorship and new competition. When the St. Croix event started it was the only qualifying event for the Hawaii Iron Man competition. Now there are 30 such events including one only 60 miles away on Puerto Rico.
Participants in the event experienced most aspects of Caribbean weather. There was an early morning shower, some cloud cover and then brutal sunshine.
Stefan Irion, who wiped out on his bike with the pothole said, "It's an awesome race, wonderful."
Gonzales said, "It is a great race. It is a shame that it's the last one."
Complete ace results are available online at the St. Croix Ironman website.