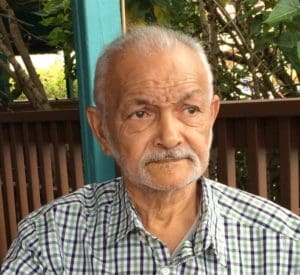 Carlos Castro Melendez died on Friday, Feb. 24.
He is survived by his daughter, Yanitza Alina Castro; son, Carlos Alexis Castro; stepdaughter, Joeanni Ventura Sanes; stepson, Junito Ventura; grandchildren: Benjamin Alexis Castro, Ethan Allen Castro, Shandeliz Sanes, Myrianiz Sanes, Daniel Obet Ventura and Dolmaris Ventura; sister, Teonila Berry; brothers: Wilfredo Castro Sr., David Castro and Jorge Castro; nieces: Elsie Berry, Zaida Castro, Loida Castro, Yariela Castro, Dianna Castro and Veronica Castro; nephews: Steven Berry, Wilfredo Castro Jr., Eric W. Castro, Jorge A. Castro, Victor Castro Jr. ,David Castro and Daniel Ignacio Castro; sisters-in-law: Brunilda Castro, Victoria Valdez Castro and Ana Castro; as well as many other relatives and friends too numerous to mention.
Relatives and friends are respectfully invited to attend the viewing from 9-10 a.m., Saturday, March 11, followed by the funeral service at the Asamblea Cristiana El Oasis in Contant. Interment will be at Eastern Cemetery.