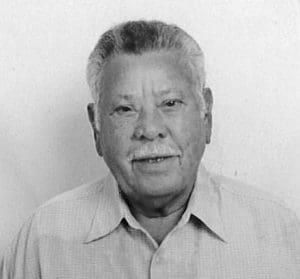 Pedro DeLeón Montes, also known as "Don Pedro," of Estate La Grande Princesse died on March 6. He was 91 years old.
He was preceded in death by his mother, Felicita Montes; and father, José DeLeón
He is survived by his daughters: Carmen DeLeón Garcia and Margarita DeLeón Centeno; adopted daughters: Julia Martinez (N.Y.), Lina Rosa (N.Y.) and Ketty Rodriguez (N.Y.); adopted son, Jose A. Felix; grandchildren: Felix and Pedrito Garcia, Carmen M. Garcia-Ramos, Augustina Garcia-Rosa, Rosita Garcia-Felix, Elizabeth, Manuel (Manny) Centeno and Wanda Centeno, Mercedes Allahar and Andy Rodriguez; and great-grandchildren: Abayomi Garcia Sr., Jose Angel Jr. & Marianais Rosa, Sol Maria and Luis Daniel Ramos, Ana Maria Felix-Cruz, Maria del Carmen Felix, Maria Genesis, Maria del Pilar and Carmen Rosa Garcia, Ilia Perez-Agosto, Jonathan Perez, Zyanne Centeno and Lyanne Centeno.
He is also survived by great-great-grandchildren: Abayomi Jr., Jose Angel, Felix Noel and Joel Celso Garcia, Joseph Felix Rosa, Luz Angela Melendez, Solimar, Emanuel and Jeremiah Valentin, Jahylene Marie Ramos, Haylee Lopez Centeno, Juan Sebastian Agosto Perez and Pablo Felix Cruz; sister, Cecilia DeLeón; brothers: Agustin Rosa and Manuel (Maneco) Rosa; and nieces and nephews: William, Carmencita and Maribel Bravo, Luz DeLeón, Irma DeLeón, Yolando DeLeón, Wanda DeLeón Rosario, Isabel Montes and Marcelo Nieves, Juanita Diaz and Juan Burgos, Carmencita DeLeón, David, Agustin Jr., Jaileen and Javier Rosa, Familia Martinez, Pr. Jose Antonio and Manuelita DeLeón, Pedro Baez and Francisco Ayala.
Other survivors include sisters-in-law: Veronica Rosa and Joaquina DeLeón; special friends: Carmen Belardo, Pastor Carlos Encarnación and family, Herman "Cheito" Heywood, Bienvenido Chico, Carmen Milagro Osorio and Felo, Miguel Ventura, Artemia Viera, Minerva Bennet and Lincoln Allahar; as well as other relatives and friends too numerous to mention.
A viewing will take place at 10:30 a.m. and a funeral service at 11 a.m. on Saturday, March 11, at Holy Cross Catholic Church. Interment will follow at Kingshill Cemetery.