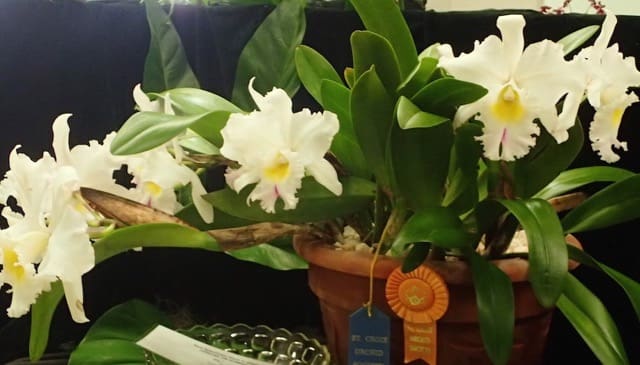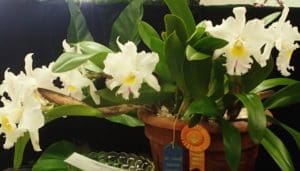 Breathtaking blooms, vibrant, rich colors, and the fragrant perfume of flowers and green earth overwhelmed the senses of spectators on the first day of the St. Croix Orchid Society's 46th exhibition at the University of the Virgin Islands Great Hall on Friday.
Sonia Jacobs-Dow, the Orchid Society vice president, said the show "provides an opportunity for anybody and everybody to enjoy orchids and learn a little about orchids."
This year there are 33 exhibitors, each displaying dozens of symmetrical, wispy or voluptuous blossoms in impossible colors and sizes. The theme is "Celebrating the Centennial in Orchids."
The show began with judging for local ribbons and awards from the American Orchid Society. There were 27 ribbons and trophies handed out Friday and the People's Choice award will be announced Sunday.
The two most prestigious awards are the AOS Show trophy and the AOS Grand Champion of the Show. The Show trophy was won again this year by Anne Marie Andrews. Dendrobruim is her favorite orchid and her display was dozens of dendrobruim blossoms in various sizes, spanning a wall in clusters of white, pink, purple, yellow and green.
Andrews said she might have as many as 1,000 orchids at her Herman Hill residence. "I stopped counting at 600," she said.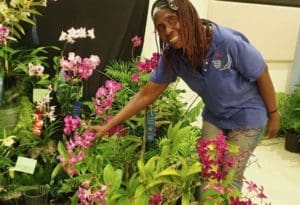 The AOS Grand Champion was Iliana Hannah, whose fist-sized white cattleya blossoms made people gasp as they approached the display. The cattleya is also call the "corsage orchid."
Some the most unusual orchids included one so small it was hard to see with the naked eye and another was a small red, white and yellow oncidium or "butterfly" raised by Susan Kreaeger, president of St. Croix Orchid Society.
In addition to viewing stunning botanicals, visitors to the exhibit can buy orchids from several vendors and learn how to care for them during a free Home Depot workshop at 1 p.m. Saturday.
Orchids will be door prizes and two original paintings of the flowers, by Elwin Joseph and Elizabeth Keith, will be won by raffle.
The show runs from Friday afternoon through the weekend. Saturday hours are 9 a.m. – 5 p.m. and Sunday from 9 a.m. – 3 p.m.
"It takes at least an hour to really see the show, so don't come five minutes before it closes," Jacobs-Dow said.