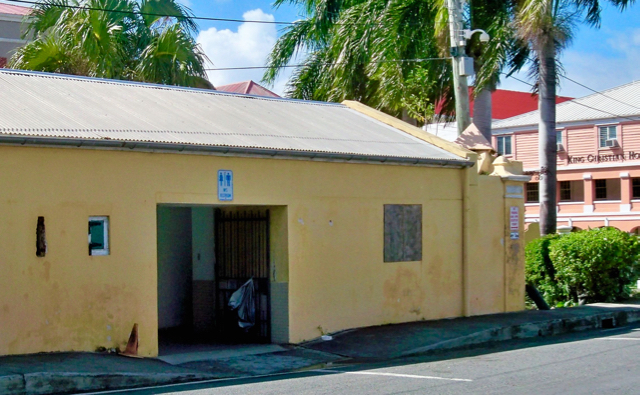 As the resident of a Caribbean island such as St. Croix, you tend to get more visitors looking for a fun vacation than you do if you reside in Eastlake, Ohio, outside Cleveland.
With these visitors comes an added responsibility, one very important one not mentioned in most guide books. You have to know where a clean bathroom room is located at every part of an island tour. Most people pee six to eight times a day. And if you are drinking alcohol – visitor do occasionally indulge in the islands – it may be necessary to urinate 10 or more times during a day.
This is serious business. A brother-in-law once told me on a tour, "Don't ever pass up a good bathroom without letting us know."
Of course, he was saying this in relation to his wife. Men, especially after a couple of beers, are notoriously easily satisfied finding a pee spot. They are good behind a mature banana tree or in a small grove of sea grapes. Some men spend less time picking out a spot to pee than my dog does.
When I first arrived on St. Croix over a dozen years ago I was astounded by how clean and pleasant the bathrooms were at the Buccaneer Golf Course. However, their location was pretty much inaccessible to any guest not playing golf.
The most accessible, though not as sparkly clean, was the bathroom at RumRummers on the Christiansted boardwalk. Although, it is not actually open to the public, the management never seems to bother anyone using the bathroom as long as they don't look like they are going to try to take a shower in it.
And, if you don't want to feel sneaky, the restaurant's fish and chips are inexpensive, delicious and buying them makes you a customer. Back in the day, Rumrunner's bathroom had an added attraction in the men's room. On the inside of the door, where you could not miss it as you were leaving, was a sign that said Ladies Room. Tour guides would get the satisfaction of watching guys coming out with a ponderous look on their face as they tried to count up in their heads how many beers they have had. But the sign came down a year ago when the bathrooms, which now serve the new casino, were upgraded. They are now much cleaner and more modern, but they don't have the old island charm they once had.
Speaking of island charm, the bathrooms out at the Domino Club in the Rain Forest, home of the beer-drinking pig, have a lot of charm, stuck in that old brick building out back. Yes, they have a lot of charm but I am not sure that I would recommend them to distinguished, sophisticated and suave guests. The last time I was there, the door and the lights in the men's room seemed to work, but that might not have been the case on earlier visits there. I suppose I might have just drunk too many mamawanna's and could not figure out how to use the light switch or how to close the door. Mamawannas are the home drink at the Domino Club and almost required. If my 84-year-old mother-in-law is adventuresome enough to try one, you can too.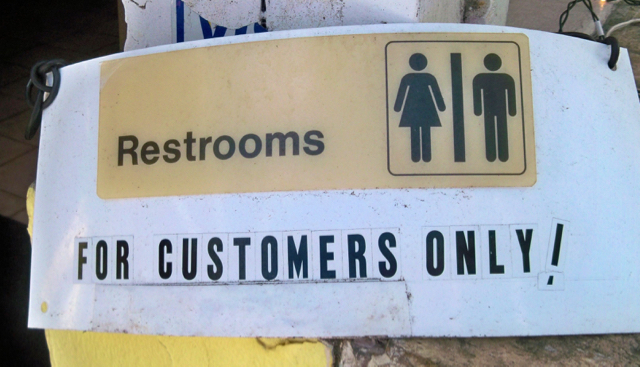 The federal government does a bad job of maintaining bathrooms as it does at keeping Social Security secure. Really disappointing are the public bathrooms across from the fort in Christiansted maintained by the National Park Service. The historical buildings maintained by the park service are in excellent shape; one wonders why the same cannot be done for the bathrooms.
On the other side of the island, beside the island's other fort at Fort Beach are more public bathrooms. These are maintained, or should we say, not maintained, by the local government, but they are usuable.
If you go further north up the west end beach about a mile, you will find Rhythm's, a beach bar with a bathroom recommended by my sister. She also recommends that you try a BBC (Baileys, banana, coloda), says it is the best one she ever had.
If you go the other direction from Frederiksted to the southernmost tip of the west end beach road you will come to Vincent Mason Park. This is a little known gem of St. Croix with picnic tables, a shelter and a good beach for snorkeling and swimming. And yes there are clean public bathrooms with outside showers even. Unfortunately the bathrooms get locked up at 5 p.m.
Going almost completely across the island to the east end (which is further than most guests can make it without a pit stop) you can find public bathrooms at Cramer's Park. These are pretty well maintained public bathrooms. And, if they are not maintained well during your visit, you are far away from any homes and businesses and your natural options are plentiful.
If you are heading back along the south shore from a visit on the far east end at Point Udall, you will pass Divi Casino and Resort – very nice bathrooms. I can't recommend the casino, I have never won any money there, but I do recommend the beach bar on the resort side of the road. You have two lovely bathrooms to choose from and the hamburgers are delicious.
If you are cruising down Centerline Road, you might want to stop in at one of the Kmarts, you can buy your six bottles of liquor for your trip home and use their bathrooms. Their bathrooms are boring, almost state-side like. But a visit to St. Croix can be so exciting for some visitors that they find boring is a pleasant reprieve.
My favorite bathrooms are at the Palms at Pelican Cove. They maintain a Blue Flag beach so this means that the bathrooms by the pool can be used by the public. There is nothing fancy about these bathrooms and they are small. What is unique is that they are not gender marked; you just go in and use whichever one you need. On St. Croix we know how to avoid those silly political battles they get into in the states. That is why St. Croix is a nice place to visit and it is easy to get that necessary relief.