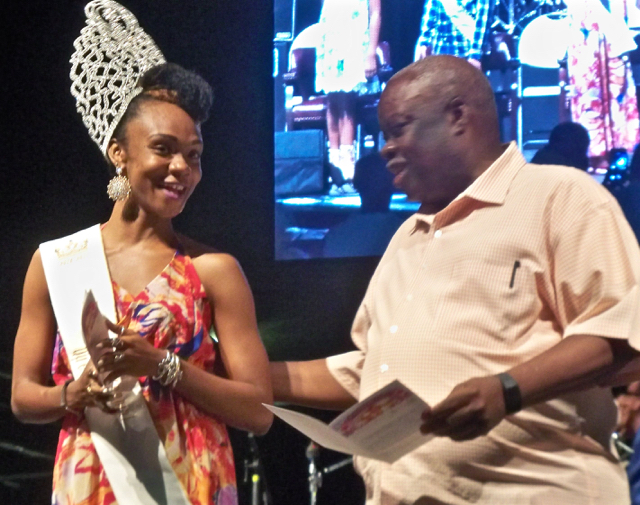 The Crucian Christmas Festival got into full swing Thursday as the Festival Village opened with ceremonies honoring Rita Myers Chiverton.
Her first booth in the Crucian Christmas Festival was 26 years ago and she has been participating every year since. This year the village is named after her.
Making presentation to her were Delegate to Congress Stacey Plaskett, who presented the honoree with a bouquet of flowers, Lt. Gov. Osbert E. Potter, who presented an engraved plaque, and Gov. Kenneth E. Mapp, who gave her a $1,000 check.
According to the program, Chiverton was raised in a "cookshop" operated by her mother on Nevis and spent her weekends in another "cookshop" operated by her grandmother on St. Kitts. On weekdays she would work after school with her mother and on the weekends she would go across to St. Kitts to help her grandmother. By the time she was 15 years old she was cooking full meals as well as desserts.
After living on Tortola, she came to St. Croix where her childhood sweetheart, Ivor Chiverton, lived. They married in 1970 and had two sons – Ivor and Dion – to whom she passed on the cooking tradition.
"I am a Caribbean woman, all things Caribbean are my specialty," she said.
At her booth she has roast goat, roast pork, stewed whelks, goat water, conch water, fish, souse, saltfish cakes and handmade local juice.
Also on stage during the opening ceremonies were festival royalty Centennial Duchess Melodi De La Cruz, Centennial Prince C'Jay A. Prevost, Centennial Princess Jaynae Davis, Centennial Miss St. Croix, Elle Nielson.
Senate President Neville James made welcoming remarks, pledging the Senate would marshal whatever resources it could to support the festival. He also said he was glad it was back to being called the Crucian Christmas Festival after an effort had been made to change it to a carnival.
"I am glad we have gone back to the way we know it," he said.
In her welcoming remarks, Plaskett said, "Let us overflow with love during this festival."
Several of the speakers expressed the wish that this year's festival be incident-free and safe. The police presence at the festival appeared strong. More than a dozen officers were seen gathered near the gate to the village before opening ceremonies, apparently getting last minute instructions.
No amusement-park type rides were set up in the village. Mapp said he had received many questions about rides in the village, and said, "If we can't guarantee the rides are safe for our children, we won't have rides."