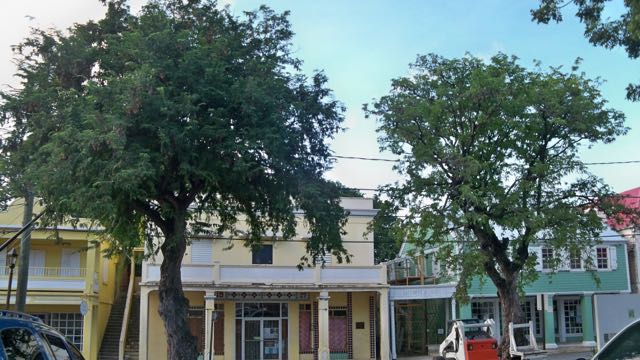 Four trees in Christian Shan Hendricks Market Square on Company Street in Christiansted are receiving tender care to help them through hard times.
These four mature trees – a mahogany and three tamarind trees – are stressed from the pavement covering their roots and mechanical damage from vehicles, compounded by several years of drought conditions.
The Urban and Community Forestry Program, administered by the V.I. Department of Agriculture, has partially funded rehabilitation of the trees. The grant from Agriculture is for $13,426, and Christiansted Community Alliance is matching the grant. After in-kind donations from Benton Construction, it still needs to raise $4,713. Total cost of the project is $27,304.
Mary Dema, co-director of CCA, said, after a recent inspection, "The parking lot looks great." She added that her group is incredibly grateful to Benton Construction for all the help it has given.
Urban and Community Forestry program coordinator Marilyn Chakroff said there is a Community and Heritage Tree bill in the Senate sponsored by Sen. Myron Jackson. She said there have been various versions of the bill over the years. The law will protect trees that are important culturally such as the ones in the market and the baobab tree in Grove Place where people have gathered for decades.
The goal of the project is to prolong the trees' lifespans by 40 to 50 years. Without intervention, one or more of these trees was likely to perish in the next major storm.
Last November all four trees received a trim from Big Island Bush, supervised by arborist Michael Morgan.
The final phase of the project is replacement of the paving under the trees and around their trunks with a permeable paving product, Gavel-Lok, which allows moisture to pass through to the surface roots of the trees while maintaining parking and vehicle traffic in the square.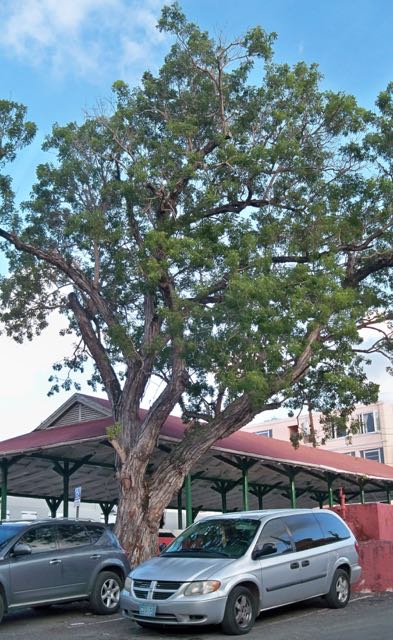 The final phase will be performed through the generosity of J. Benton Construction as a donation and coincides with the water main replacement and repaving of Company Street. For approximately two weeks, a work crew will carefully cut and remove the existing paving around each tree, clear packed dirt away from the surface roots, and replaced it with clean gravel and the porous Gravel-Lok material, which reportedly allows nearly 100 percent of the surface water to percolate to the root system.
Once set, this material will look like, and perform like, asphalt pavement. Parking will continue under the trees, restricted only by parking bumpers placed to prevent physical collision with the tree trunks, which is stressful to these struggling trees.
This installation will also serve the V.I. Department of Agriculture as a demonstration of permeable surfaces for parking lots and driveways.
To make a donation or for more information, email the CCA@Christianstednow.org or call Mary Dema at 340-513-2081. Volunteer are also needed for the wrap up work at Hendricks Market Square installing signage and clean up.