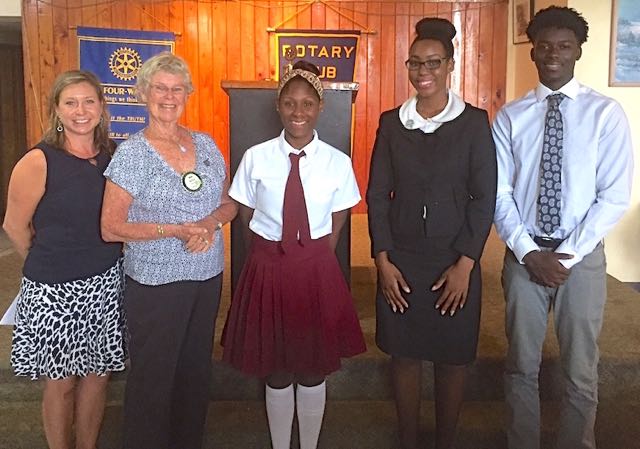 Rotary Club of St. Croix Mid-Isle this week gave out three scholarships worth a total of $28,000.
Tyana Joseph, a graduating senior at St. Croix Central High School, won the OCWEN Mortgage Servicing/Rotary Mid-Isle Scholarship, which pays $5,000 a year for four years.
Joseph is second in her class and plans to attend Agnes Scott College, a women's college in Georgia, to study biology in preparation for a medical career, according to a statement from Rotary. But she is also an entrepreneur and has started with a friend a cottage industry of making fashion accessories with a madras theme and has already been able to sell numerous T-shirts, bracelets, hair bands and earrings, professionally packaged and displayed. Joseph recently participated in the Central High School art fair.
The OCWEN scholarship for seniors at the two St. Croix public high schools is offered annually to an outstanding student with special talents. It requires the recipient to maintain a grade B or above average at the college to continue.
Rotary Club of St. Croix Mid-Isle's own Carlton Hodgson Memorial Scholarship of $1,000 annually for four years had two winners, both graduating seniors from St. Croix Educational Complex. It is normally offered to outstanding students with financial need who have excelled despite significant challenges.
Winner Iris Battiste is already attending the University of the Virgin Islands, along with her high school classes, and has been active as an intern at a local law firm. Accounting is her big interest and future field of study, and Battiste says she takes pride in continuing her education at UVI.
Jordan Lawrence is the second winner of the scholarship and also plans a career in accounting. Lawrence is heading for North Carolina Agricultural & Technical College.
His name may also be familiar to local tennis fans, as an outstanding player who might end up as a professional if the accounting field dries up. Lawrence's family had to deal with a major challenge when Hovensa closed, with a change for Jordan from private to public school.