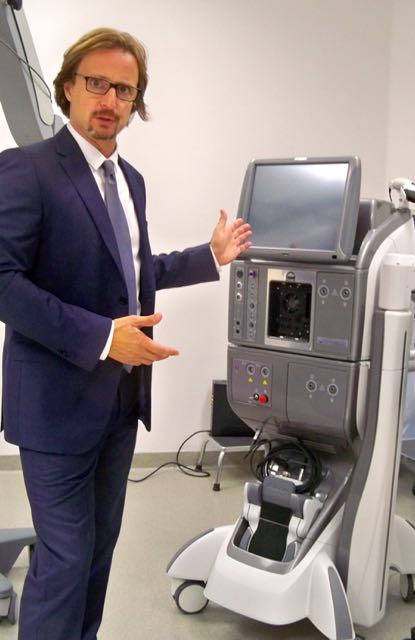 People on St. Croix can now breathe a sigh of relief and have some of their medical needs taken care of locally at Plessen Healthcare in Orange Grove. The new state of the art medical facility celebrated a grand opening and ribbon cutting ceremony Friday. The center is part of the Plessen medical campus, which also has an opthalmology and optical center.
The facility has an ambulatory outpatient surgical center with two operating rooms and five pre/post operative bays. There is also a medical clinic with examination and treatment rooms focusing on surgical and medical services, including internal medicine and sub-specialties dedicated to the prevention and management of chronic diseases such as hypertension and kidney disease.
Drs. Jan B. Tawakol and Tasnim Khan, husband and wife residents of St. Croix, founded the center. Tawakol and Khan are both nephrologists. Tawakol said the plans for the center have been on the drawing board and in the works since 2012.
Tawakol said the surgery center underwent a thorough and detailed survey last year by the federal government's Centers for Medicare and Medicaid Services, passing with flying colors. The facility was built to comply with 2014 CMS guidelines.
The health care center is fitted with the most advanced medical technology and equipment. It has large screens in the operating rooms for telecommunication, computer assisted surgery equipment and a large capacity sterilizer.
There are medical and anesthesia gases available from every outlet in the walls. And there is a large backup generator with transfer switches in case the power goes off.
The surgical center is already performing cataract and corneal surgery. Currently the facility only performs eye surgeries according to the certificate of need issued by the Department of Health.
Tawakol said they are doing surveys as to what kind of outpatient surgical procedures are needed by locals.
The facility benefits locals by decreasing costs for people who have had to travel off-island to find care and the revenue stays on St. Croix. It also benefits the local economy attracting folks from neighboring Caribbean islands.
Tawakol said they can set up a whole package for medical tourism. They will make arrangements for flights, taxi pickup at the airport and hotel arrangements. He said medical tourism on St. Croix is in the near future and the potential boost to St. Croix's economy is substantial.
"One of our goals is to promote St. Croix as a medical tourism destination. This center is great for the whole community and the Caribbean region," Tawakol said during a tour of the facility Friday.
He added they are providing support to the V.I. government by renting space in the Government Employee Retirement System building. They are funded and supported by the V.I. Economic Development Authority, which provided collateral support through the State Small Business Credit Initiative.
They provide adult primary care, women's health and internal medicine. They also provide care for chronic diseases like hypertension, diabetes management and all stages of kidney disease.
Lisa Gay, a family nurse practitioner, is providing the adult and women's primary care and health maintenance.
They are accepting new patients and accept all major medical insurance including Medicare. They take walk-ins and appointments. Plessen Healthcare is open 8 a.m. to 5 p.m. Monday through Friday. To schedule an appointment or to learn more about the center, call 340-227-4255.
Go to www.PlessenHealthcare.com for more information about the staff and services.