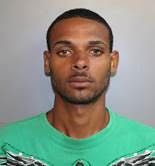 V.I. Police are asking for help locating Waldemar Martinez, a 24-year old St. Croix man, in relation to a domestic violence assault.
Martinez is Hispanic, about 5 feet 11 inches tall, 140 pounds, with hazel eyes, dark brown hair and a light complexion. He has the word "GAZA" tattooed on the back of his right hand and another tattoo that wasn't described between his left thumb and index finger.
Martinez is known to frequent the Bethlehem Village and Mutual Homes on St. Croix, police said.
He is wanted in relation to allegations related to destruction of property in a domestic violence incident and assault in the second degree.
Anyone who sees Martinez is asked to call 911 or 340-778-2211. Make contact with detective G. Charlery at 340-712-6026 at the Criminal Investigation Bureau Domestic Violence Unit. If you know the whereabouts, you can also contact Crime Stoppers at 1-800-222-TIPS (8477).