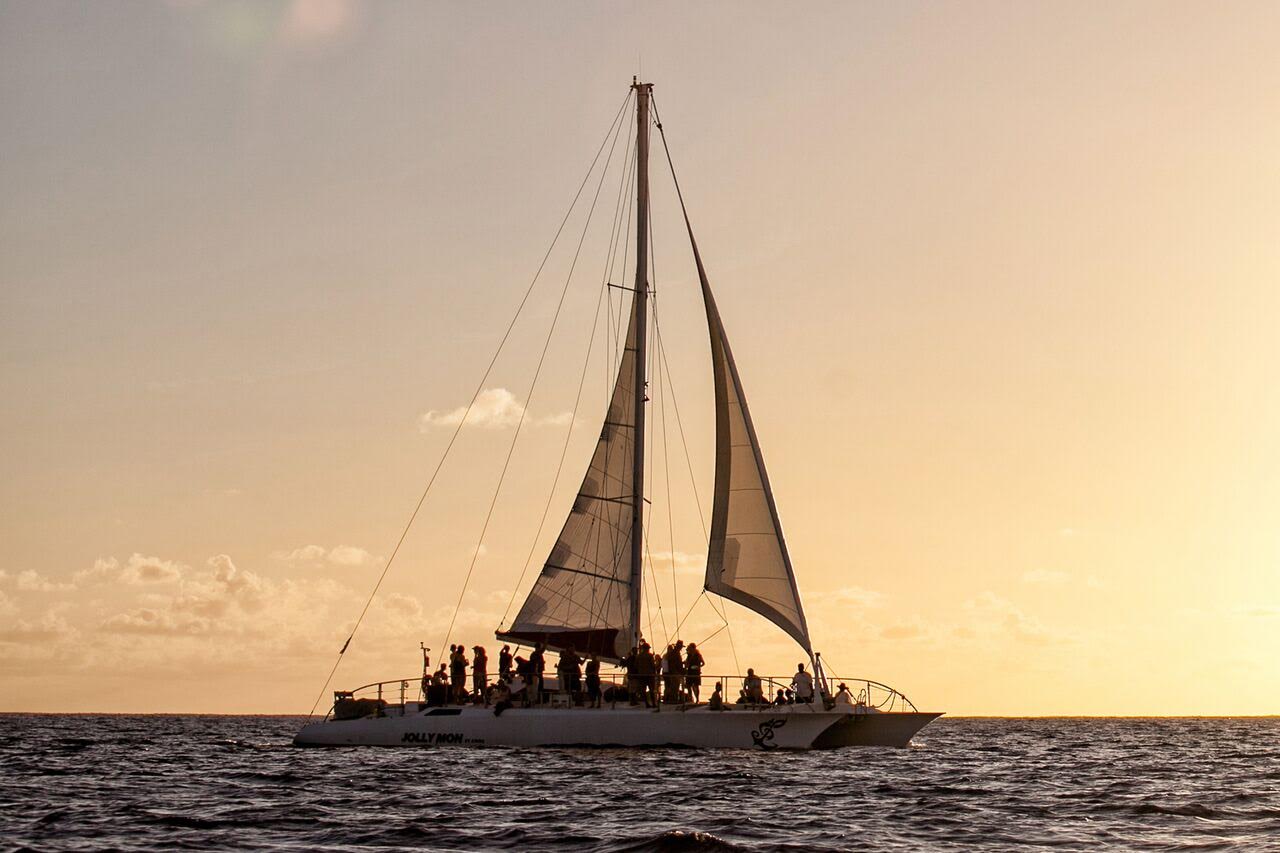 Emily Weston is thrilled to be living her dream of having her own boat and business. She has combined her passions for the sea, food and entertainment to provide musical sunset sails and more on Lyric Sails.
"I looked at buying a restaurant," Weston said. "Buying a boat was a happy medium. I found the perfect fit with the ocean, food and entertainment."
She started the sailing trips in December.
Lyric Sails is a floating musical venue and charter company offering something new and different out of Frederiksted.
On the 63-foot custom-built sailing catamaran Jolly Mon, Weston offers sunset, moonlight, and star-gazing sails. She also has yoga and meditation cruises led by Kiki Mason, of the Flaming Gypsies. Also available are customized private charters in St. Thomas, St. Croix and the British Virgin Islands. Weston said local and visiting musicians provide the entertainment. She also does cruise-ship day sails.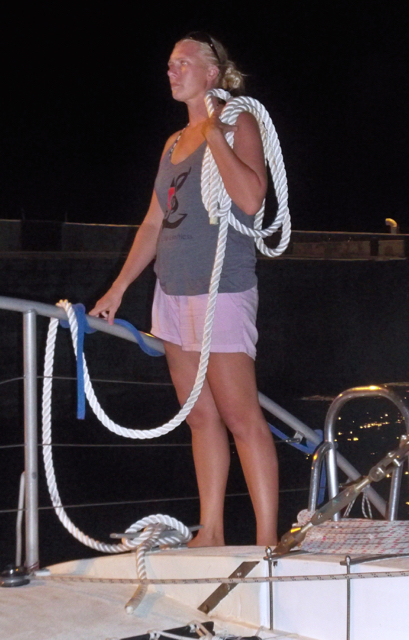 On Friday the Source was with two dozen people who enjoyed a sail from Frederiksted pier to Sandy Point to catch the sunset. The music of Jeff Dawson on keyboard and the vocals of Ronni Lynn floated on the gentle breeze off the sea. Drinks and tasty hors d'oeuvre were served by a friendly and cordial crew during the two-hour trip.
Mary Ellen Connor was on her second sail on Jolly Mon Friday. She had recently taken a sunset and full moon combination sail, said everything was "delightful."
"Sailing on Jolly Mon is fantastic," Connor said. "Everything was great, including the music, the weather and the hors d'oeuvre."
Roger and Laury Juhola, Connor's guests from Massachusetts, said they really enjoyed sailing with Lyric Sails.
"It was a very pleasant experience," Roger Juhola said. He added it was a nice opportunity to meet and chat with new people.
Similarly, Weston said one of the best things about providing the sailing is the opportunity she has to meet new people.
"I love to meet people and I love the boat," Weston said. "So it's nice to meet people who love the boat and to sail as much as I do. I want to share this love."
The only challenges she has is the up-keep of the boat, which requires a lot of work.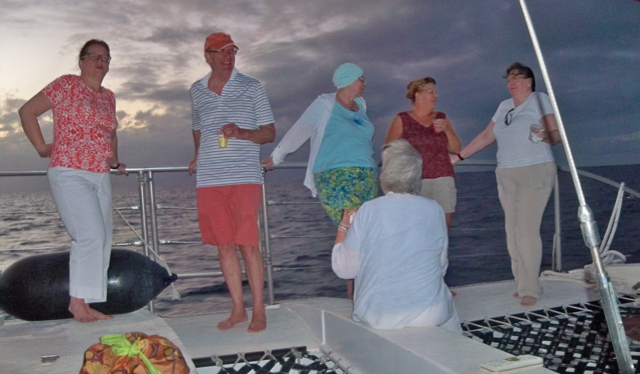 "There's always something to do on the boat, even if it's just sanding," Weston said. "I'm always tinkering with something to make it a little better."
Originally from London, England, Weston has lived on St. Croix for the past 12 years. A love of leatherback sea turtles first brought her to the island and inspired her to pursue a career in marine biology.
Weston earned undergraduate degrees in marine science, biology and English literature from the University of Miami. She has her master of science degree in marine biology from Florida Atlantic University.
For several years she worked as a researcher on a leatherback sea turtle project of St. Croix. She worked in the West Indies Marine Animal Research and Conservation Service.
"I loved working with turtles," Weston said. "They are very special animals."
Weston's career has gone through several incarnations including positions as a coral reef researcher for the University of the Virgin Islands, environmental educator, veterinary technician at the St. Croix Animal Welfare Center, restaurant server and manager, bartender, and PADI Open Water Scuba Instructor.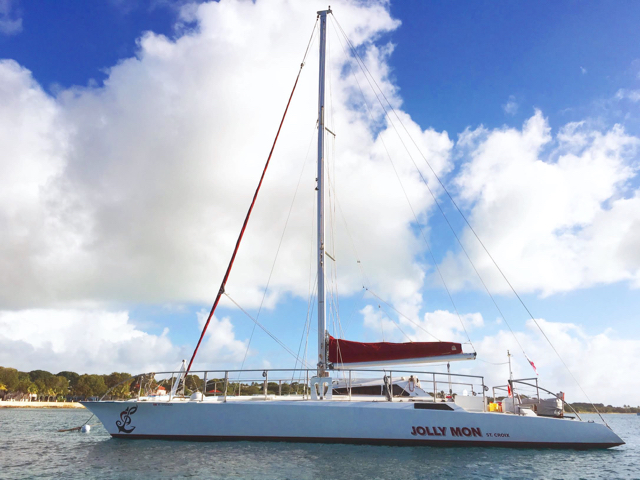 Weston also has a love of photography, in particular underwater photography. She has exhibited her photos in several galleries throughout the U.S. Virgin Islands.
When she's not crewing on Jolly Mon or working on the business side, she can be found underwater taking photos, traveling and taking photos, or hanging out on the beach with her rescue dogs.
Weston said she and the crew will be at a Taste of St. Croix in April. They sail to Christiansted harbor and tie up to the boardwalk with musicians on board to entertain folks at Jump Ups. The captain is Michael Harper, the first mate is Haley Hendrickson, and the carpenter/chef is Mike Foltyn.
"Our goal is to bring fresh entertainment to both traveling and local guests at affordable prices, Weston said. "We hope our patrons leave with fantastic memories and relaxed souls."
Weston said trips can be booked online at www.lyricsails.com. Those who want to chat can call 340-201-5227.