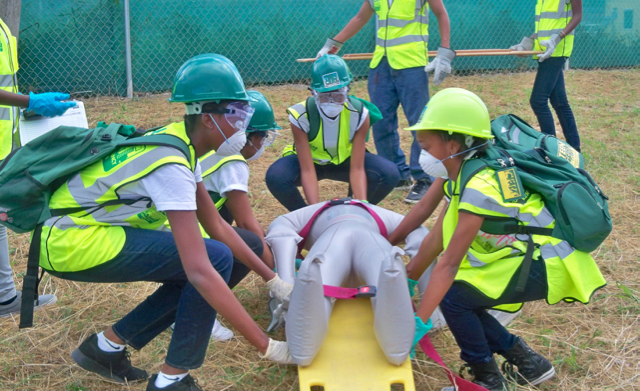 At St. Croix Rescue headquarters in Five Corners Sunday a mock emergency drill had smoke, flames and collapsed walls. Search and rescue teams worked through groups of people screaming and crying.
High school students from St. Croix Educational Complex took part in the final exercise before receiving their official Teen CERT certification.
The group of 33 students took part in Teen CERT (Community Emergency Response Team,) a youth disaster preparedness program sponsored by the Virgin Islands Territorial Emergency Management Agency and Virgin Islands Rescue.
Teen CERT required that they participate in a 40-hour training program taught by certified trainers with the St. Croix Rescue Academy. Academy instructors observed and evaluated the students during the mock disaster exercise.
Shakimo Gonzalez, a ninth grade student, said he wants to be prepared in case of an emergency.
"I did the CERT program so I can help out in an emergency," Gonzalez said. "I don't like to feel useless."
Joshua Ferdinand, also a ninth-grade student, said he wants to help save lives in case of an emergency such as a hurricane.
Akeela Civil said she wants to be able to assist people in a hard time.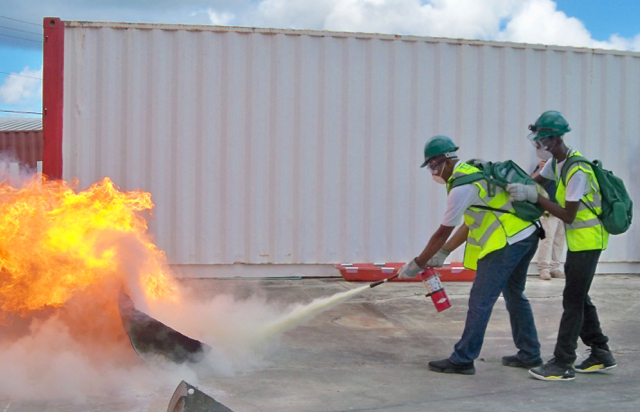 Sgt. Patricia Joseph from St. Croix Rescue said emergencies can happen anywhere – at home or in school.
"We do this exercise so they are able to help neighbors, family and friends in an emergency," Joseph said.
Liz Goggins, public relations officer for St. Croix Rescue Squad Inc., said the children in the program are fast, strong and a great asset for the community.
"If something happens they're on it," Goggins said. "This also gets kids excited and interested in a career in rescue."
Goggins said the teams have an incident commander, a scribe who writes down all of the communications and a medical, fire, and search and rescue commander. Goggins said the commanders are chosen because they pick up the dynamics of rescue and show leadership skills and qualities.
"The children help in the community by learning the skills to save lives in a disaster until the professionals arrive," Goggins said.
The student-volunteers also completed CPR training as part of the program, and will receive American Heart Association CPR certification cards.
The Educational Complex High School will become the fourth school in the territory to have an on-campus certified Teen CERT. The St. Croix Seventh Day Adventist High School, the Elena Christian Junior High School and Ivanna Eudora Kean High School also established Teen CERTs.
A certificate ceremony will be held Thursday at the Educational Complex High School gymnasium.
The Virgin Islands Teen CERT program is made possible through FEMA grant funding.