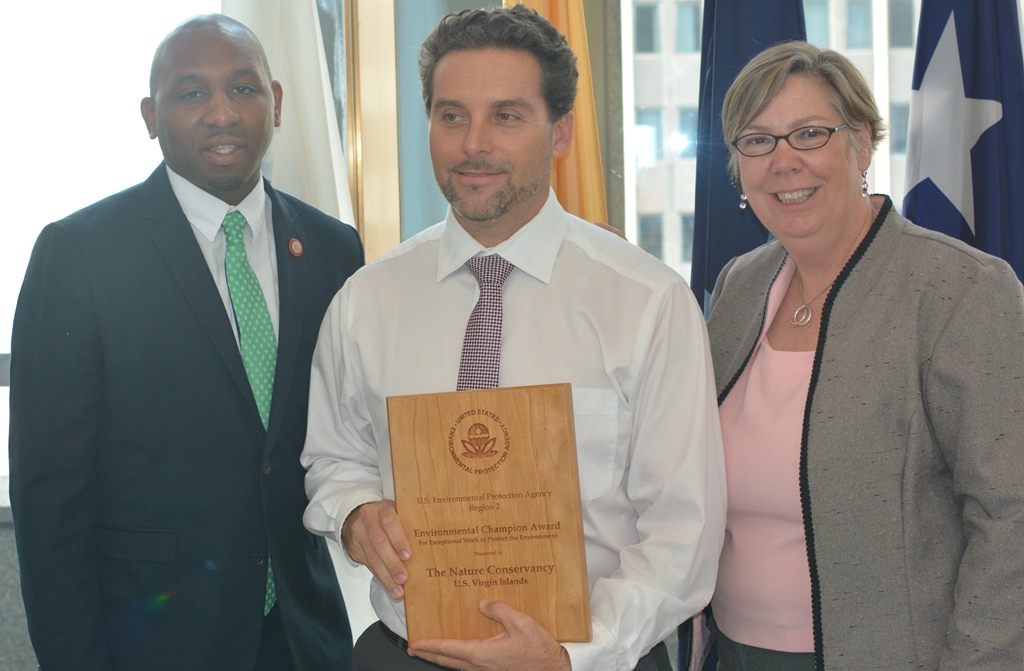 As it does every year in conjunction with Earth Day, the U.S. Environmental Protection Agency announced the winners of its Environmental Champion Awards. Until this year, they were called the Environmental Quality Awards.
The awards were presented Friday at a ceremony held at EPA's New York office.
"The EPA is thrilled to honor the work of these environmental trailblazers," Regional Administrator Judith A. Enck said in a press release Friday. "These Virgin Islanders work tirelessly to protect human health and the environment, inspiring us all to strive for a more sustainable future."
Caribbean Solar Co. on St. John captured an award. Since its founding in 2012, Caribbean Solar has installed over 500,000 watts of solar energy and helped offset 576 tons of CO2.
"We've had our nose to the grindstone for three years and it's starting to pay off," owner Kevin Schnell said Friday.
He said the EPA award is a big deal for the company.
According to the press release, the company built a reputation as a high quality solar installer in the Virgin Islands. The islands have one of the highest electricity rates in the world and alternatives, such as solar energy, can make the utility considerably more affordable. Caribbean Solar provides financing options that offer the possibility of going solar to a broad base of island residents.
Mario A. Francis of the V.I. Urban and Community Forestry Council on St. Thomas was another winner. He served as chairman of the Urban and Community Forestry Council for the past two decades. He created the council's newsletter, The Tree Speaker, and has represented the council at many local, regional and national conferences. More than 20 years ago he founded the Junior Gardening and Ecology Academy, an eight-week annual summer course that teaches children ages 6 to 15 about the environment and sustainability. Campers do everything from kayaking to dolphin watching to gardening. In 2006, he received the EPA award for his work with the Junior Gardening and Ecology Academy.
The St. Croix-based Nature Conservancy rounds out the Virgin Islands list. Since 1995, the Nature Conservancy's Virgin Islands program has worked to protect and restore priority conservation areas, helped recover important native species, and provided scientific assessments and training to islanders. Most recently, the Conservancy has grown thousands of endangered staghorn and elkhorn coral in nurseries and is placing 20,000 coral back onto coral reefs this year. The Conservancy also helped launch the Virgin Islands Reef Responsible Sustainable Seafood Initiative and certified over a dozen local restaurants to date.
Neither Francis nor the Nature Conservancy could be reached for comment.