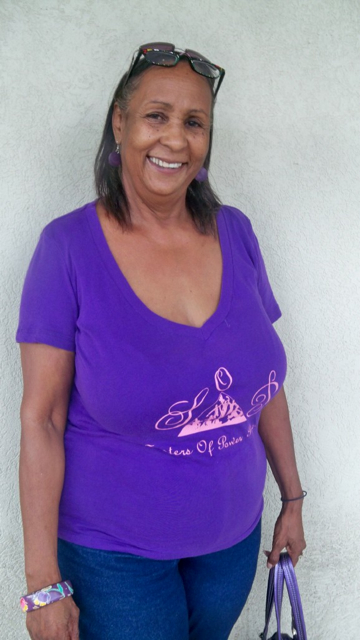 Women looking for a sisterhood where they can socialize with women of all ages and all walks of life can look into the Sisters of Power, a little known organization that might be just what they're looking for.
Sisters of Power is a women's social networking organization whose focus is to educate, elevate and empower women – and have fun at the same time.
Carole Scott, co-founder and co-chair of Sisters of Power, said the concept for the organization on St. Croix was conceived in 2010.
Scott and a group of friends of almost 30 years were having a ball singing karaoke at Divi Carina Bay Resort and Casino. Scott said she met Marsha Snead-Williams, a motivational speaker from New Jersey, singing karaoke and celebrating her birthday with friends. The women began talking and found that these two groups of women were a lot alike and had a lot in common.
"Her friends from New Jersey were the exact same likeness of us," Scott says. "We support each other."
They decided to form an organized group to support women in every aspect of life. Sisters of Power has become an umbrella organization which unites other like-minded organizations, individuals and businesses.
Scott and Snead -Williams, chairwoman, came up with the name. Scott says the term sister is generally used among women of color.
"But we're all the same," Scott says. "We're all nurturers and caregivers. We all cry and laugh alike. It's a maternal thing. We're all sisters and powerful."
Scott says anyone who wants to join them may. There isn't any formality to joining and one doesn't need a referral. Scott said with the current economic situation the way it is on St. Croix they are foregoing membership fees. "We want everyone to be able to afford to join us, " Scott says. "We would like to get as many women involved as we can."
Scott says the group empowers women to make a difference by providing motivational forums at which women can network, socialize and receive educational support in a wide variety of topics. Sisters of Power hosts an annual Women's Empowerment Conference, which includes motivational, educational and supportive workshops as well as a variety of networking and social forums.
The sisters held their first seven-day retreat and conference in 2011 at Hibiscus Beach Resort. Some of the guest speakers were Delegate Donna M. Christensen, Carnel Troutman from Men's Coalition and Department of Health, and Annette Scott from the mental health and substance abuse in the DOH.
"It was an awesome social networking conference," Scott says.
The group is in the planning stages for a retreat in December.
Sisters of Power's primary mission is to empower women to make a difference in their lives for the betterment of self. To help everyone better themselves, a few members will go to workshops, training, conferences and retreats, then pass on information to women who couldn't attend. A dozen members recently attended the Yvonne Ashley Galiber YAG breast cancer awareness conference.
"We also mentor young women," Scott added.
The Sisters of Power are also there for women in times of need, too, such as in the loss of loved ones. The women offer help any way they can, even if it's an all night vigil. They are there to help celebrate the happy times too – holding wedding and baby showers and throwing birthday parties. Scott says there is a core group of sisters that you can call on and they're there when needed. They try to meet at least once a month, which could be as informal as meeting for breakfast. She says they have had tea parties and pajama parties.
More information is available by calling Scott at 1-340-778-8795 or 1-340-643-8795.