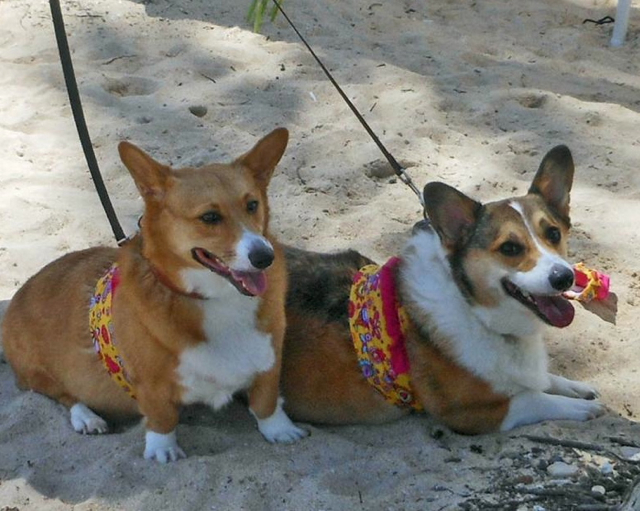 A gaggle of dogs romped happily around Bolongo Bay beach Sunday, many throwing off the outfits in which their owners had so carefully dressed them.
Meanwhile, Chris Irving's guitar provided the musical backdrop while tempting raffle prizes were announced, T-shirt sellers toiled, folks lined up for haircuts and kids painted pumpkins.
It was the calm before the storm, so to speak, the prelude to the day's big event — the judging of the dogs participating in the Humane Society of St. Thomas 11th annual Barktoberfest from 11 a.m to 4 p.m.
The annual dog show has been held at the Society's new Campus the last two years, but event organizer Liberty Sibley, who was being towed across the beach by Winston, her six-month old, 160-pound English mastiff, said. "We decided to hold it here today, so the dogs would have a chance to run and around and play with each other," something which Winston went off to do, giving Sibley a chance to catch her breath. "He's a handful," she admitted, as he ran off, "a gentle giant."
Sibley said another consideration for choosing Bolongo is the ample parking that was beginning to fill up early.
"Bolongo was so generous in letting us use the beach again today," she said. "We held it here for years before the Campus opened."
Colt and Mack, a pair of Corgi Terriers, sat perfectly behaved with owners Oliver and Kathryn Westfall, possibly conscious of their enormous social burden.
"These are Queen Elizabeth's preferred dogs, you know," said Oliver Westfall.
"Yes," said his wife, "except they keep losing their bikinis."
"They are boys, but they are in drag today," explained her husband.
Let's just hope nobody tells the queen.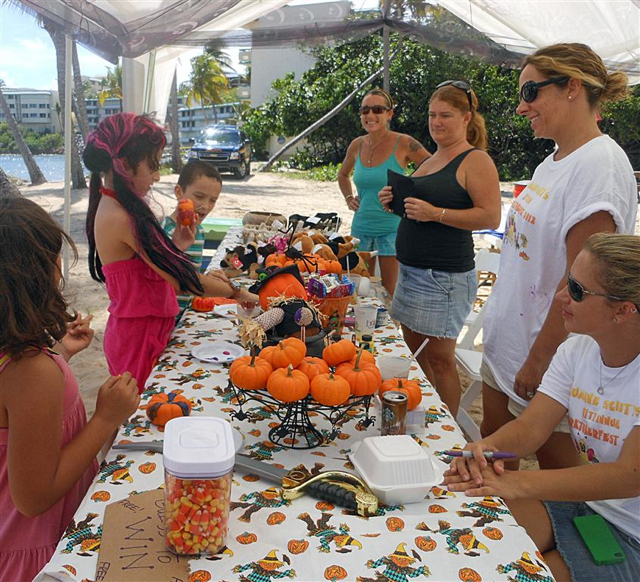 While the furry crowd was fully entertained, there was plenty for the two-footed kiddies to do. Kool Kidz children's store of Yacht Haven provided a pumpkin painting contest with tiny pumpkins, and a chance to win prizes for guessing how many pieces of candy corn were in a jar. There was also an opportunity to make jewelry from sandy paw prints.
Likely the most popular non-doggie offering was the $15 haircuts by Annette Zachman and Liz Frank of Phoenix Visions Hair Design, who took up where they left off last year. Both were happy and busy,
"We love doing this," Zachman said. "And it really makes money for the animals."
Results of the doggie contests were not available late Sunday evening. They will be published when they are received.
The event is sponsored by the Humane Society, Bolongo Bay Beach Resort, The Buzz 104.3 FM and Innovative.