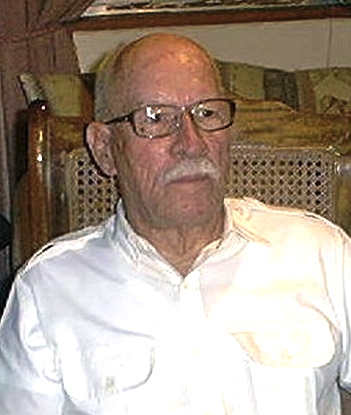 Anrold M. Golden, a former senator, Constitutional Convention delegate and long-time public servant, died Saturday at home on St. Croix after a long illness. He was 80.
As the news spread, others in public service spoke about his legacy.
"He told me to continue the fight," his daughter, former Sen. Violet Anne Golden, said.
She and others said he was an advocate for government "closest to the people."
Sen. Craig Barshinger, who has long pushed for some form of municipal government, said Golden's experience in government showed him that a central government was a failure.
Barshinger served with Golden on the Fifth Constitutional Convention. He said Golden was an older statesman who had the progressive spirit of a young man. He called Golden, known affectionately as Morty, a mentor and an inspiration.
Gov. John deJongh Jr. said Golden was an advocate for change who insisted on an open and transparent government. He said Golden's record of public service was second to none.
"With the death of Morty Golden, the territory has lost a public servant who dedicated much of his adult life to better the way of life for all Virgin Islanders," deJongh said.
Delegate to Congress Donna M. Christensen said the Virgin Islands lost a statesman and a gentleman.
"He was among the generation of Virgin Islanders who guided the growth and development of the modern Virgin Islands," she said.
She said Golden distinguished himself as a legislator, government administrator, and a businessman, but most importantly as the patriarch of his family.
Violet Anne Golden said he was a great and loving father who set an example for her career in public service. Additionally, she said, he lived for his children.
In addition to serving one term in the Legislature, he was the St. Croix administrator, served as Public Works commissioner and was Commerce commissioner under former Gov. Juan F. Luis.
During his career, Golden also held key leadership positions in various private sector businesses such as Sunny Isle Shopping Center, where he was a managing director.
"He also gave freely of his time to numerous community groups and organizations, among them, the Knights of Columbus, Landmarks Society and League of Women Voters. Mr. Golden had a passion to better the way of life for all Virgin Islanders," deJongh said.
Golden was born Dec. 13, 1931, in Frederiksted to Louis R. and Violet Pedersen Golden, the oldest of 10 children. He attended the St. Mary's and St. Patrick's Parochial Schools and graduated from Christiansted High School in 1949. He attended the Polytechnic Institute and University of Puerto Rico at Mayaguez in 1949 and later the University of the Virgin Islands, where he studied engineering and management.
He worked briefly at VICORP before being drafted into the U.S. Army, where he served two years of active duty with one tour in Korea. After he was discharged from the Army he was a welfare worker. Commissioned in the Armed Forces Reserves, he served with the Army Reserve Unit on St. Croix.
Later he was employed by A.C. Sanford as a land surveyor, where he worked on the construction of the Alexander Hamilton Airport. He then worked as an appraiser in the Tax Assessor's Office, assisting in the modernization of the office and tax system.
In 1968, he was elected to the Legislature, where he was instrumental in the passage of legislation to create the Planning Office, the Executive Budget Act, the Land Conservation Legislation, and authorized Gov. Melvin Evans to secure authority to activate a National Guard Unit and the Jr. ROTC units in the Virgin Islands as well as other important legislation.
Golden retired from government in 1987 and then worked as a land surveyor.
In 2002, he ran unsuccessfully for the post of lieutenant governor when Michael Bornn ran for governor.
He has been honored for his outstanding community service by the Junior Chamber of Puerto Rico, the U.S. Army, the U.S. Navy, U.S. Postal Service, and Rotary Club of St. Croix West.
Golden leaves behind his wife of 55 years, Carmen Maria Encarnacion. In addition to Anne Golden, his children are Helen Marie Danielson, Peder Mark Golden, Carmen Louise Walker, and Arnold M. Golden III. Another son, Louis M. Golden, died earlier. His grandchildren are Leroy E. Danielson, Jr., Janelle Marie Plummer, Louis M. Danielson, Lionel Danielson, David M. Thomas, Jasmine L. Walker, Benjamin Walker, IV, Christina Walker, Nico Golden, Carla Golden, and Juma Golden. His four great-grandchildren are Leroy E. Danielson III, Alimah M. Danielson, Daylon Lee Tank Yuk, and Louriz M. Danielson.
Funeral arrangements are pending. Condolences can be sent to P.O. Box 6752, Christiansted, VI 00823.