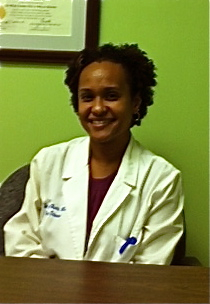 Dr. Tai Hunte may be a petite figure in her lab coat, but she's got a big job and the credentials to match. The native Virgin Islander is point guard in the community's fight against infectious diseases.
A 1997 graduate of Charlotte Amalie High School, Hunte spent eight years in Washington D.C. and earned her medical degree at Howard University. She went to the University of Miami, Jackson Memorial Hospital for her specialty in infectious diseases, and also earned a master's degree in public health. Not long after that, she came back to St. Thomas, where she battles infectious disease ranging from skin rashes to tuberculosis and HIV.
Officially the territorial infectious disease control specialist, Hunte works on several levels and handles a a lot of responsibilities.
"I pretty much do everything for the island because there's nobody else," she said.
One of her most important jobs is coordinating infection control at the Roy L. Schneider Regional Medical Center.
Obviously, people needing acute care can and do benefit from hospitalization. But these days doctors the world over generally encourage patients to spend as little time there as possible.
"(Any) hospital is a dangerous place to be," Hunte said. "You don't want to be in the hospital if you don't need to be."
That's because with all the sick people there, and with some patients compromised by invasive treatments, hospitals are a great place to pick up an infection or to develop one.
A common problem is hospital sepsis, Hunte said. Sepsis is a local or generalized invasion of the body by pathogenic microorganisms or their toxins, and it can be introduced by something as simple as a catheter.
Commonsense measures can help prevent the transmission of infection, starting with strict cleanliness, frequent hand-washing, protective clothing such as masks, gloves, and gowns, sterilization of instruments and equipment, and isolation of patients with confirmed or suspected contagions. Virtually everyone at the hospital is involved in the effort. Hunte said she works closely with the nursing, housekeeping, maintenance and engineering departments, as well as others.
Besides her duties at the hospital, Hunte regularly sees patients at the clinic and in private practice, and twice a month treats outpatients who don't have insurance at Community Health. She also coordinates with other health officials on reports to the federal Center for Disease Control and consults with other physicians about the proper antibiotics to prescribe for various infections.
An infection may be viral, bacterial, fungal or parasitic, Hunte said. What she sees most often on St. Thomas are skin infections and STDs (sexually transmitted disease.) There is also a fair amount of latent tuberculosis, but little active TB. Foot and skin infections are common in people with diabetes and there are a high number of diabetics in the territory.
"STDs are just abundant," Hunte said, with the most prevalent being chlamydia, a bacterial infection that is relatively easily treatable with an antibiotic.
HIV and AIDS, most often spread by sexual contact, are far too common on the island, she said.
"I have 168 HIV patients that I follow," Hunte said.
The first thing to do to control HIV, she said, is to destigmatize it and educate the community about it. The next is to ensure people get tested regularly and encourage them to "make healthy sexual decisions."
Some people avoid getting tested, she said, because of the stigma attached to HIV or because they are more comfortable staying in ignorance of their HIV status. Because the initial stages of the infection are virtually symptom-free, people are tempted to ignore it. But, Hunte said, they do so at their peril, as well as jeopardizing the health of others. It's important for anyone who is HIV positive to get into and to stay in treatment, she stressed.
While some types of infection are encouraged by social conditions, others are the product of environment. The best known examples in the Virgin Islands are ciguatera, or fish poisoning, and dengue fever. Currently, the best advice for combating the former is to avoid eating reef fish, especially larger fish.
"We need to be very aware of dengue," Hunte said, adding that recently there have been a couple of confirmed cases reported to the Department of Health. "We're headed into the rainy summer season," she noted, and that means more mosquitoes, some of which carry and transmit dengue.
The Health Department routinely reminds residents of the need to control mosquitoes and eliminate the standing water where they breed.
"It has to be a community effort," Hunte said. "We can't go around and dump out everyone's flower pots."
St. Thomas has another source of infectious disease: the millions of visitors who arrive via plane and cruise ship each year.
"We get a lot of patients from cruise ships," Hunte said. Some are passengers, who are primarily from the U.S. mainland, and some are crew, who may be from anywhere. If there is suspicion of infectious disease, the patients are isolated from the rest of the hospital population.
With all this going on, it doesn't look like Hunte will run out of work any time soon. But she said she picked the field because "I wanted to make a difference in the underserved community." And "There were just not a lot of doctors on St. Thomas."
Also, "My dad was obviously an influence," she said. For her private practice, she shares space in the Medical Foundation Building with her father, Dr. Wishburne Hunte, a specialist in internal medicine and nephrology.