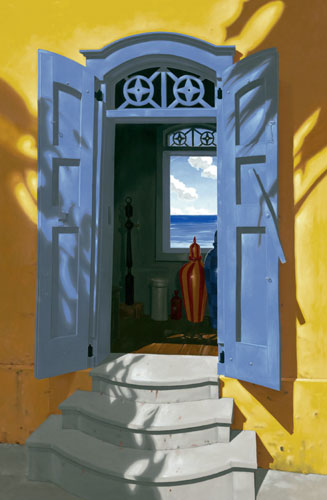 Mango Tango on Raphune Hill opens the "First Annual Art Show for Art Lovers on a Budget" from 5:30-8:30 p.m. on Friday, June 1. Gallery owners Jane Coombes and Smokey Pratt have designed an event that showcases great art in print and originals, allowing everyone to have the opportunity to decorate homes and offices.
The walls are filled with photos, travel posters, limited edition prints and maps, as well as affordable Haitian works by well-known artists. All participants who attend will be eligible to win three framed works.
Some of the artists who have worked hard to make this event successful are Don Dahlke, Dana Wylder, Shari Erickson and W. B. Thompson. All of these celebrated artists have paintings which sell for well over $5000, yet when they were contacted, they gladly created works which are stellar but more affordable. Dahlke has painted small masterpieces which are under $2000 in price. Additionally, he has published poster prints of his signature house and window images. He has also published new 11" by 14" whimsical images. Dana Wylder presents a collection of framed watercolors which range in price from $300 to $600, as will as local scenes in print which are matted and sell for under $30. Shari Erickson painted portraits of children in Carnival and offers a great collection of prints which sell for $35 to $60. W. B. Thompson shines in a collection of small originals. Gallery co-owner Jane Coombes said, "We usually do not mention prices in show publicity, but so many people have asked us to define 'affordable'."
Photographers Steffen Larsen and John Baldwin give the evening a contemporary ambiance. Larsen prints his photographs of the weathered splendor of St. Thomas and Havana on paper. Baldwin prints his images of the island's flora and fauna, as well as panoramic images of beaches
on canvas.
Gallery co-owner Smokey Pratt said, "Our neighbor, the Caribbean Genealogy Library, which is manned by a volunteer staff, will be open during the evening. We hope that this will allow many of our clients to see what this great organization has to offer. "
In addition to the hourly raffles, gallery-goers can enjoy rum punch and an evening of lively conversation. Randy's Bistro offers evening dinner specials for $12 to add to the evening's festivities.
The show continues for one month. For more information call 777-3060.