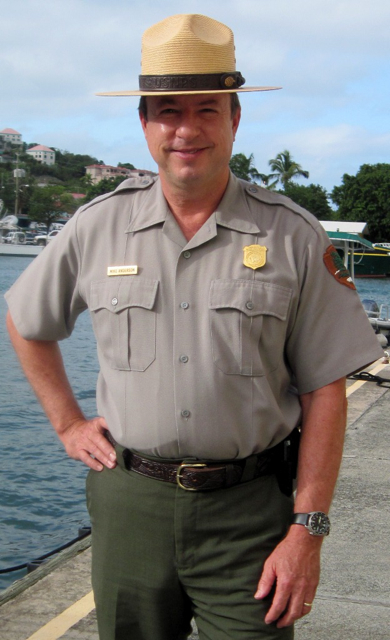 As soon as he stepped off the ferry, V.I. National Park Deputy Superintendent Mike Anderson felt he was home. No surprise, since Anderson worked at the park as a ranger back in the early 1980s.
"I had such great memories of St. John and people I worked with," he said.
He's been on the job since Nov. 1, filling a park job that went vacant for many years. Anderson, 56, said he has no plans to leave until he's ready to retire, which won't be any time soon since he's having such a great time.
He's already made a difference.
"Mike has already had a very positive impact on park operations and visitor services. Park staff is complimentary of his team building and communication skills," park Superintendent Mark Hardgrove said.
Anderson spent nearly all his working years with the National Park Service at various parks. The Virgin Islands was his first park job, and he expects it to make the deputy superintendent's post his last. He's also worked at Cape Hatteras National Seashore, Natchez Trace Parkway, Assateague Island National Seashore, and most recently, as regional chief ranger in the Southeast Region office in Atlanta.
As deputy superintendent he oversees division the park's division chiefs, assists in funneling more funding to the park and pushes through projects that benefit the park and its resources.
With a new U.S. Congress taking office, Anderson said it's hard to say how funding for all national park facilities will shape up.
"We have to look for ways and efficiencies to get more out of the budget," he said.
There is never enough money to fill all this park's vacant positions, a situation that grows even more difficult as the number of visitors to the park grows. Anderson said that recently, a cruise ship extended the hours its tour visits Trunk Bay, which further taxes the park's resources.
He said he sees that the park meets the needs of various types of visitors. Some like the beach and others enjoy the hiking.
"We need to offer opportunities to see if we can draw them out of their comfort zone," he said.
On another front, Anderson would like to expand the park's educational outreach program now operating in the island's schools.
"We have an obligation to educate them. They are the park's stewards of the future," he said.
A Charlotte, N.C. native, he holds a bachelor's degree in marine biology from the University of North Carolina at Wilmington. And as a park ranger, he's continued that interest in protecting marine resources. He's traveled to other parks, including those in the Turks and Caicos and the Cayman Islands, to see how they operate. He said that at Turks and Caicos, he was pleased to see the rangers speak about the problems that come from overfishing.
He's also concerned about the lionfish now threatening to decimate the territory's reefs, but said he's pleased to see all the effort going into keeping the predatory fish under control.
"If we can control the problem it will help us protect the reef," he said.
Some of the same people who worked at the park during his first job are still around either at park jobs or on St. John.
"Edmond was my first boss," he said, speaking about Edmond Roberts, who now sits on the St. John Coastal Zone Management Commission and operates a taxi after retiring from a Park Service career.
Since he left St. John, Anderson made several return trips with his wife Gail, who was once a park lifeguard, and sons Michael, 26, and McLean, 29, so the island's growth wasn't a total shock.
"But when I see changes it gives me the energy to protect the cultural and natural resources," he said.