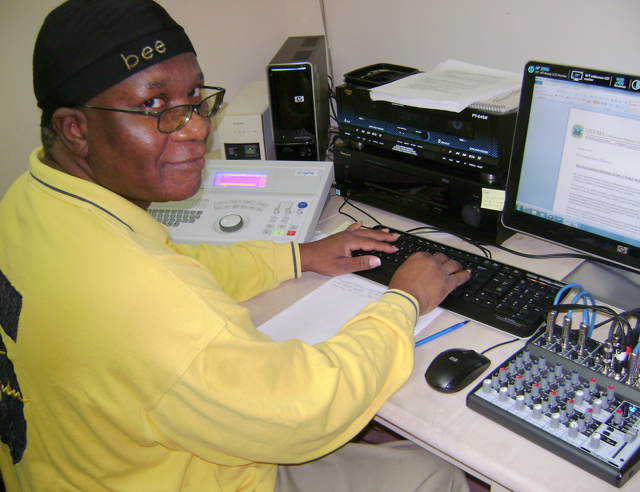 "I get all my news from Alvin Gee." is not an uncommon remark to be heard in the Virgin Islands.
Alvin Southwell is also the person who most public relations people think of first when they want to get their message out to the Virgin Islands public.
His sonorous voice is his trademark. He doesn't usually manipulate the content of the many press releases he gets every day. He lets the public relations people say what they want to say and then adds his comments before and after reading the release.
Cassandra Dunn, the spokesperson for the Water and Power Authority, is especially appreciative of this.
"He is fantastic," she says. I find him to be very fair. He is the consummate news reporter, skilled at what he does."
It has not only been his distinctive voice and fairness that has earned the respect of the media professionals and the listening public, it is his strong work ethic. His work ethic has been so regular that in November when his voice became absent from the stations where people were used to hearing him that they started coming up to him on the street and asking him what happened. Was he on vacation?
What has happened is that he has taken a new position with a new radio station. He is now news director at the Da Vybe WLDV 107.9 FM.
About the new position he says, "The job has not changed. I still do everything, write the news, make the phone calls."
It is hard to say whether the career chose him or he choose the career. Right before he graduated from high school in Antigua, he entered a contest in which he was required to do a radio news skit. He did the skit about a plane crash and read it on the air. Although it was just a student skit, listeners called in saying they couldn't believe that it was not real.
Alvin Gee, as he is know to just about everyone in the islands, has taken to the social media of Facebook to promote the new station, giving updates on news stories as well as working to make personal contact with his listeners. This is his post from New Year's Day, "Well, I must say that 2010 was a year filled with sadness, happiness and excitement. A year that brought closure to a lot of things and filled many open spaces that were empty. The most I remember about 2010 were lessons learned, the opportunities that I seized and the risks that I took. My hope for 2011 is for all of us to embrace each other, stay true to our purpose and be prudent with our dreams."
It appears that he has stayed true to the dream of that high school student of 1979. Forty years later he is still going strong at 6 a.m. and 5 p.m. on Da Vybe WLDV 107.9 FM