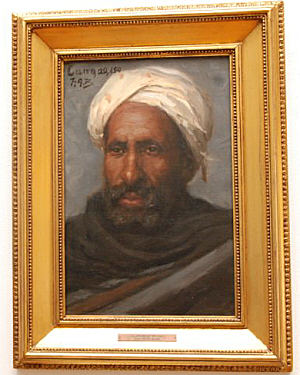 An unusual collection of oil portraits of black people, painted by highly regarded European portrait artists between 1855 and 1894, is on display at Frederiksted's historic Fort Frederik. The portrait collection is on loan from Sen. Wayne James and will be on display until the end of April.
"Very few people have ever seen a 19th century oil portrait of a black person," James said in a statement from his office. In the 1800s, oil portraits were largely reserved for the wealthy, or were the result of commissions by the wealthy; few people of color were of the financial wherewithal to commission portraits, he said.
"Consequently, in the rare instances where black people were featured in portraiture, they were usually presented in subordinate roles: as servants or attendants, inconspicuously positioned in the background, or incidental to the central figure," James said.
In a few instances, wealthy persons commissioned the portraits of their favorite black servants, or portraits were done of actors, singers, dancers, and athletes, but many of those portraits have been lost to time. And since portrait painting on canvas was not an African tradition, continental Africans did not paint conventional portraits of themselves. It would not be until the Harlem Renaissance—the literary and artistic movement led by black Americans in New York during the 1920s—that black people began routinely painting themselves and each other on canvas.
Most of the oil portraits of black people of the 19th century, then, were done by European artists who ventured to North Africa and the New World as part of the Orientalist movement of the day — when things exotic were in vogue, according to James. But for the most part, the Orientalist movement artists depicted their black subjects in allegorical contexts or in clichéd genre scenes such as in marketplaces, in harems, and atop camels. This collection is remarkable both because of the subject matter and the level or artistry displayed by the painters, according to James.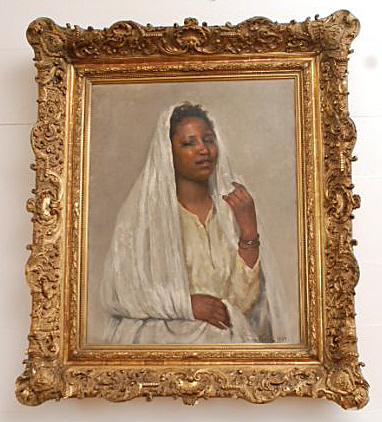 James selected five portraits from his collection for display at Fort Frederik: C. Felsing's "Mulatto from the Danish West Indies" (1855), a meticulously rendered piece featuring a young Crucian girl, her head traditionally wrapped in madras; Franz Xaver Kosler's "African Beauty in White" (1894), first presented to the people of the Virgin Islands in 2004 at Government House, Christiansted; Otto Bache's "African Gentleman in White Turban" (1866, Paris), a portrait believed to have been commissioned by the subject; H.A. Brendekilde's "Cairo" (1890), which presents a middle-aged black-Arab, his head monumentally wrapped in white linen; and "Indian Girl" (ca.1860), Robert Kemm's masterful presentation of an East Indian girl draped in silk, which is a part of the collection because of the post-slavery influence of East Indian peoples in the Caribbean region.
James has been collecting paintings and antique furniture for over 25 years. The display officially opens on Monday. Exhibition hours are Monday to Friday, from 9:00 a.m. to 4:00 p.m., and on weekends when there are cruise ships in port.