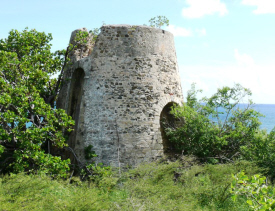 Estate Castle Nugent came one step closer to becoming an official National Historic Site under the management of the National Park Service Wednesday after the House Committee on Natural Resources OK'd its establishment by a vote of 25-14.
Having passed out of committee, now the bill must be approved by the full House of Representatives and then be approved by the U.S. Senate and the executive branch.
"Castle Nugent Historic Site would provide an excellent opportunity to preserve one of the remaining pristine landscapes for the people of St. Croix and visitors to the island for generations to come," Delegate Donna Christensen testified to the committee, according to a statement from her office.
The bill, introduced by Christensen, would preserve 2,900 acres of Caribbean dry forest, extensive coral reef and substantial black mangrove. It also preserves the archaeological remains of indigenous Taino inhabitants and the Danish colonial era to include an estate house which is listed on the National Register of Historic Places. The National Park Service performed a feasibility study this year and, Christensen said, testified to the committee that Castle Nugent meets the criteria to determine national significance, suitability and feasibility, according to Christensen.
St. Croix historian, ethno-botanist and environmental educator Olasee Davis also testified to Congress in support of the measure.
Castle Nugent is one of the last working cattle ranches on St. Croix, and one of the ranches instrumental in the development of the Senepol cattle brand. The bill calls for a continuing relationship with the University of the Virgin Islands to support ongoing scientific research on Senepol cattle.
Christensen first submitted legislation for a feasibility study — a prerequisite for becoming a park — in 2006. But the Gasperi family, one of the main landowners in the area, first broached the idea at least as far back as 2003.
The proposed park site abuts the parcel by Great Pond slated for the Golden Gaming casino development and is roughly bordered by the Howard M. Wall Boy Scout Camp, Estate Fareham and Manchenil Bay, just west of Ha'Penny Beach. Inland, it runs as far as Lowrys Hill and Laprey Valley. The bill says it will include associated submerged lands out to the three-mile territorial limit. The submerged lands include the largest coastal fringe reef in the territory.
The Castle Nugent property has a long agricultural history dating back to the 1730s, when the Danish estate house, now listed on the National Register of Historic Places, was constructed. Should there be a park, it will be a unit of the National Park System and managed by the Park System's existing St. Croix offices, according to the bill.