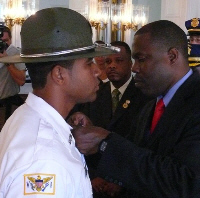 New police recruits hit the streets of the Virgin Islands in the coming weeks with the mid-January graduation of a St. Thomas class and the start of a new class this week on St. Croix.
In mid January the Police Training Academy on St. Thomas will graduate 19 law enforcement officers, including 16 V.I. police officers, two Department of Planning and Natural Resources enforcement officers and one V.I. Lottery enforcement officer. The class also includes two former police cadets.
On Monday, the St. Croix Police Training Academy welcomed 26 new law enforcement recruits who will endure its eight hour a day, 19-week training course. The class includes 20 Police Department recruits, two future Superior Court Marshals, three DPNR enforcement officer recruits and a future Licensing and Consumer Affairs officer.
Alongside the future full-time officers, a class of 12 Police Auxiliary recruits also began their training on St. Croix Monday. Auxiliary officers are part-time police who do not have the complete responsibility of full-time police officers. They have to pass a background check, a psychological examination, a physical test and answer questions before a selection board to be accepted in the program.
Auxiliary are not required to take the entrance exam for part-time work, with lower levels of responsibility and authority. However, if they choose at any time to transition to full-time status, they must pass the exam. Training for Auxiliary recruits takes place weekday evenings for four hours each day and will also last for 19 weeks.
Having struggled with a severe manpower shortage for a long time now, the up-tick in new recruits at the police academy is more than welcome. In September, Police Commissioner Novelle Francis said the department needed at least 775 officers, but had about 525, leaving a shortfall of 250 officers or so. As a result, many officers put in very long, hard hours, regularly working double shifts. And efforts to bump up new recruits have been fraught with difficulty too. Candidates must have squeaky clean personal records, eliminating many applicants. Passing the tests has culled many an applicant too. In one major push back in 2007, about 280 persons came and took the entrance test, of which 80 passed, and once the 80 were put through a background check, the department wound up with 14 cadets.
But since then, the department has revamped its efforts, instituting the police auxiliary program, inaugurating a high-school Police Cadet program giving high school students free tuition if they study criminal science and prepping them to become officers, giving tutorial help for the police exam and trying to recruit experienced officers from other jurisdictions. Some of these approaches, such as recruiting experienced officers, have had mixed success. But the number of recruits has been steadily rising.
"It is clear that the number of police recruits attending and graduating from the police academy has increased significantly," Francis said in a Police Department statement.
In the Police Academy there are three categories of training: firearms, physical fitness and academics. Recruits are required to have a passing score in all categories in order to graduate. Academy recruits participate in physical training starting at 5 a.m. daily. Some of the courses taught at the Academy are report writing, Virgin Islands law, U.S. Constitutional Law, defensive tactics, firearms and physical fitness.