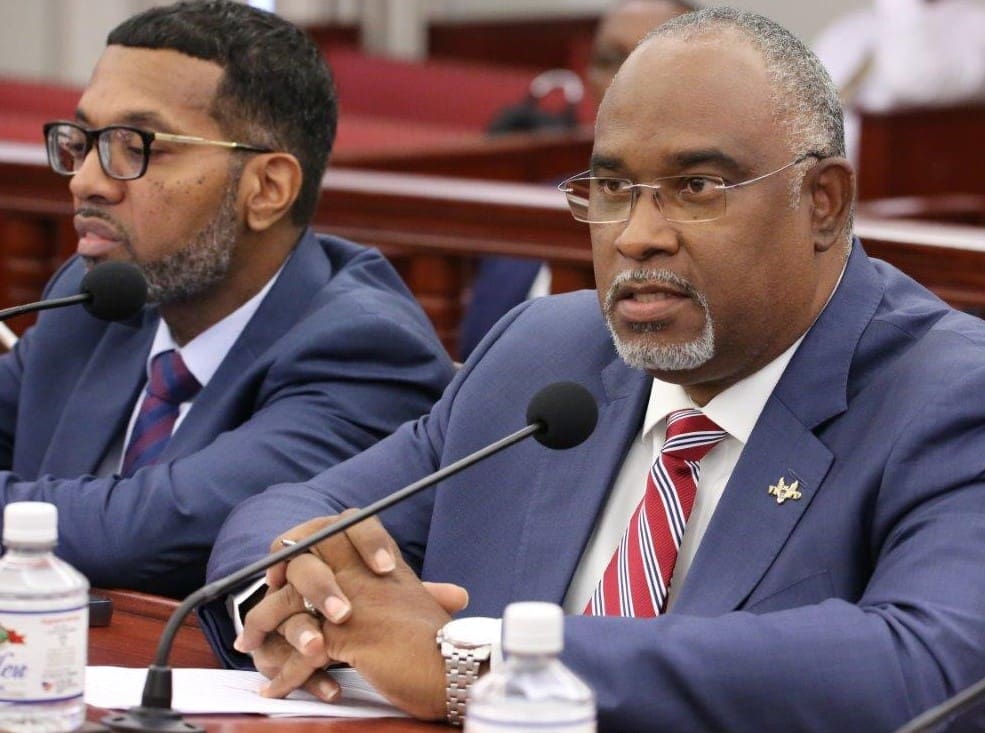 Sen. Dwayne DeGraff Tuesday said the hiring of a convicted thief in a key government position two years ago ignited his concern about employee background checks.
He added he was also concerned that his bill to codify background checks for certain government hires took two years to reach the Committee on Homeland Security, Justice, and Public Safety. He told committee members he wanted the bill to progress immediately to the Rules and Judiciary Committee. It did not happen. After lengthy discussion and testimony, it was held in committee.
Committee Chair Kenneth Gittens, however, promised that it would not "linger" long in the committee and would probably be moved forward next month.
After hearing testimony from Mark Bough, chief technology officer of the Bureau of Information Technology; Ray Martinez, commissioner of the Police Department; Daryl Jaschen, director of the Territorial Emergency Management Agency; Andrew Smith, chief executive officer of the Water and Power Authority, Attorney General Ariel Smith; and Kurell Sheridan, executive director of the Legislature; Gittens said the bill still needed work.
The bill, sponsored by DeGraff, would require background checks for all IT personnel, any agency that has data centers, and any employee who handles classified information.
Bough testified, "The Bureau of Information Technology acknowledges the fundamental objectives of the bill and its potential impact on our agency and other instrumentalities. While we appreciate the intent behind this proposal, we respectfully recommend that the responsibility for conducting background checks be placed within the domain of human resources, a department equipped to handle such matters efficiently and comprehensively."
Commissioner Martinez testified, "I am compelled, however, to point out the proposed legislation appears overbroad in its referral of 'classified' information. I recommend the bill be more concise in its determination as to the definition of confidential information."
The Attorney General echoed his concern, saying, "The Virgin Islands does not officially recognize clearance levels, nor do we have a definition within the Virgin Islands Code for 'classified' information or 'classified' document. So perhaps a better term to use in this context is 'confidential' and define that term within the statute."
Gittens questioned WAPA representatives about a breach at the Authority a few years ago when more than $2 million was sent to an offshore account in an email phishing scheme. Gittens said he was disappointed that the Senate could not get more information about how the breach was resolved and whether it could have been prevented.
In a press release after the meeting, Gittens is quoted as saying, "While this bill may need some amendments, I am in wholehearted support of its intent. Without doing more to ensure that those in charge of our databases have been thoroughly vetted, we leave ourselves especially vulnerable."
Sens. Marvin Blyden, Angel Bolques Jr., Diane Capehart, DeGraff, Ray Fonseca, Alma Francis Heyliger, Novelle Francis Jr., Gittens, and Javan James attended Tuesday's meeting.