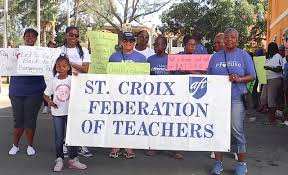 The presidents of the St. Croix Federation of Teachers (AFT) and the St. Thomas-St. John Federation of Teachers (AFT) has urged the government to get serious about contract negotiations and come to the table prepared to discuss solutions to poor learning and working conditions, including excessive heat and badly needed support for educators.
"Our students and teachers deserve conditions conducive to learning and teaching, but currently that does not exist. The only way to advance the negotiation process is for the government to agree to bargaining dates, get serious at the table and collaborate on what's best for everyone in every school and activity center," said Rosa Soto-Thomas, St. Croix AFT president.
"There is a school employee shortage problem that is directly tied to poor working conditions and low pay. Educators also are not paid enough to keep up with the high cost of living in the territory. There are too many mandates, and the poor building conditions make teaching a very unattractive career choice," said Leontyne Jones, St. Thomas–St. John AFT president.
The teachers' and school employees' contracts expired on Aug. 31, and the government has already started to accumulate retroactivity. The territory's budget must be processed by Oct. 1. "If this contract isn't resolved in short order, this situation will negatively impact the $8 million designated for union negotiations, which the Virgin Islands Legislature discussed recently during a Committee on Finance hearing," Soto-Thomas said.
Excessive heat in schools is a critical issue, as heat index temperatures regularly exceed 100 degrees. The problem is especially acute on St. Croix, Soto-Thomas said, where there is no air conditioning in many schools and workspaces. "We have fans, but they blow hot air, which doesn't provide any relief. Our students can't learn or concentrate, and teachers can't teach in such stifling conditions," she said. Jones said most classrooms on St. Thomas and St. John have air-conditioning units, though some still need fixing.
Other issues the unions say must be resolved with the government and the Virgin Islands Department of Education include:
Mold, mildew and air-quality issues in classrooms and workspaces are incredibly unhealthy for those with asthma and other respiratory conditions. The unions have complained about the problem, including to the Occupational Safety and Health Administration, but nothing has been done to correct these issues, according to both presidents.
Many schools need potable drinking water. Water in some schools comes out of faucets brown or yellowish, and while the Environmental Protection Agency claims it is safe to drink, the union presidents disagree. "I would not advise anyone to drink or wash hands with it," President Jones said.
Employee shortages are creating larger class sizes. The union leaders say recruitment and retention are difficult because of poor pay that doesn't keep up with the high cost of living. Furthermore, there are too many mandates that take up teachers' time.
"We must start serious discussions immediately regarding these severe issues. Immediate redress is needed. Our teachers and educators are fed up and fear their students will not recuperate learning loss if poor classroom conditions persist," Soto-Thomas said.