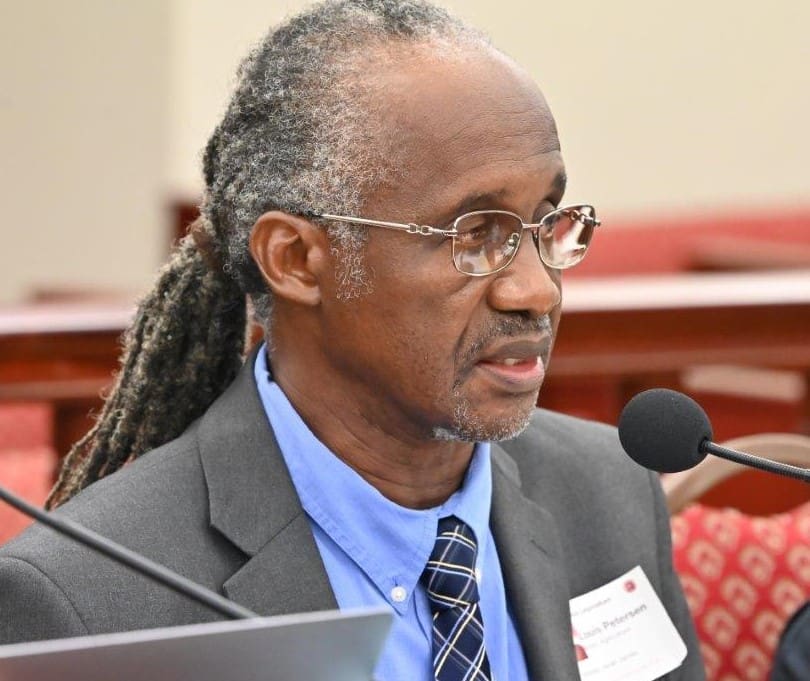 Louis Petersen, commissioner nominee for the Department of Agriculture, told the Committee on Economic Development and Agriculture Wednesday that his Department had a plan to maintain the cleanliness and attractiveness of the four farmers market squares in the territory.
He said the problems at the markets were that they were open 24 hours a day, seven days a week. People who had nothing to do with selling locally grown produce were hanging around the markets after hours. One can often find beer bottles and beer cans and uglier debris in the corners or under the tables or on the low shelter walls.
He said his plan is to have sliding doors and shutters to enclose the marketplaces when not in use.
Sen. Franklin Johnson was not satisfied with the plan. He said something needed to be done now. He suggested the department send someone to clean up the marketplace in Frederiksted more often. Lewis said it was not realistic to expect his department to send a crew every day to clean up the marketplaces. Franklin said the marketplace in Frederiksted suffered more than the other marketplaces. He said Frederiksted market was "deplorable and filthy."
Franklin also had questions about the territory's abattoirs not being open. These were the same questions he and other senators had in July when Agriculture was before the Senate.
Lewis said the department had spent $50,000 renovating the abattoir on St. Croix but it was not currently open because of problems with the ramping. However, he added that he believed a temporary solution would allow St. Croix's abattoir to open within a couple of weeks.
He repeated to senators what he said in July that the solution on St. Thomas was a mobile abattoir that was yet to be delivered. Questions to Petersen from the Source, including when delivery of the mobile abattoir was expected, were unanswered.
Petersen testified the department needed to fill twenty essential vacancies, including maintenance engineers and heavy equipment operators, as well as replacing or repairing heavy equipment in both districts. In addition, more funds are required to purchase a water truck.
According to Petersen, there are 38 expired lease agreements for farmers and the vast majority of lease applications filed are incomplete.
Attending the meeting were Sens. Javan James, Alma Francis Heyliger, Diane Capehart, Angel Bolques, Dwayne DeGraff, Marvin Blyden, Donna Frett-Gregory, Novelle Francis, and Franklin Johnson.