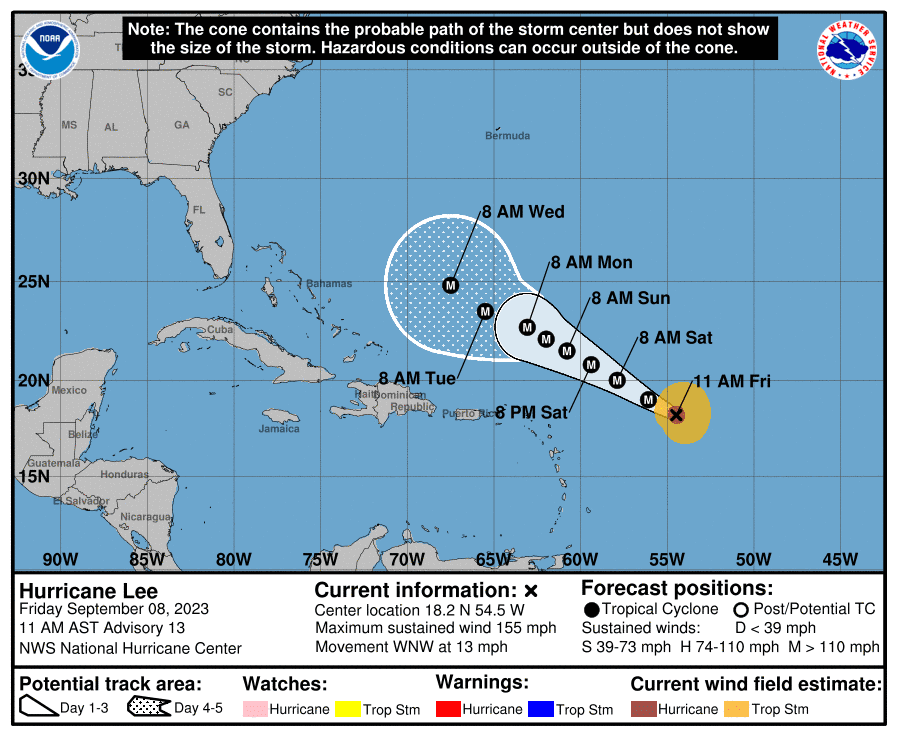 An update at 11 a.m. Friday from the National Hurricane Center continues to show Hurricane Lee passing to the north of the USVI and Puerto Rico this weekend.
The NHC notes that powerful swells created by the major cyclone are expected to impact the region this weekend.
"Dangerous surf and life-threatening rip currents are likely in the northern Leeward Islands beginning today. These conditions will spread westward and northward, affecting Puerto Rico, Hispaniola, the Turks and Caicos, the Bahamas, and Bermuda through the weekend," according to the NHC update.
Swells up to 12 feet can be expected this weekend, and the rip current risk will be high. A Small Craft Advisory will be in effect for portions of the waters around the USVI beginning on Saturday at 8 a.m. Additional updates will be posted to the Source Weather Page as they become available.
In an advisory at noon on Friday, the Coast Guard urged recreational boaters, fishermen and beachgoers and water sports enthusiasts to exercise caution during the weekend due to deteriorating sea conditions and dangerous rip currents associated with Hurricane Lee.
Currently, the Coast Guard Port Condition status for Puerto Rico and the U.S. Virgin Islands remains at Port Condition X-Ray, meaning ports remain open to vessel traffic and facilities are reminded to review their heavy weather response plans and make any preparations needed to weather any storm that may approach the area.
The Coast Guard is monitoring Lee's track and will communicate any changes in the Port Condition status as required. The most current information on port condition updates can be found here.
The Coast Guard Rescue Sub-Center contact number to report a distress or rescue situation in Puerto Rico or the U.S. Virgin Islands is 787-289-2041, and VHF Channel 16 is the international distress frequency to report maritime emergencies. Social media is not an appropriate means of reporting distress, it said.
USVI residents and visitors can find more information about the weather, including locations of emergency shelters and severe weather alerts, from the V.I. Territorial Emergency Management Agency website and the National Weather Service.