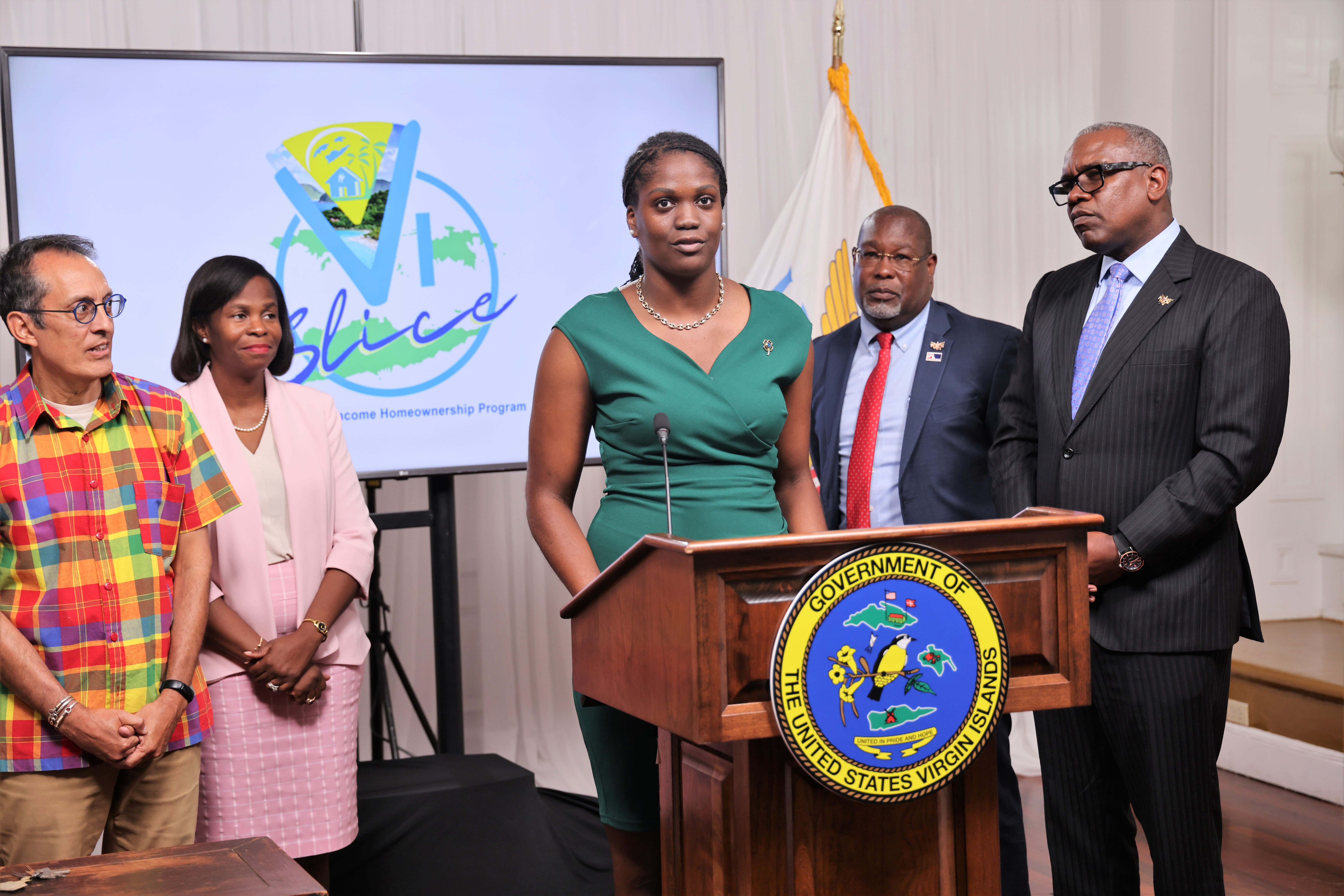 Through the V.I. Slice Moderate-Income Homeownership Program, Jahtaya Regis secured her financing through a home loan from Capital Mortgage Services of Texas, making her the first mortgage closing for a recipient, announced Governor Albert Bryan Jr. 
The V.I. Slice program is administered by the Virgin Islands Economic Development Authority and provides up to $200,000 in gap financing to Virgin Islanders who qualify for a conventional mortgage through any participating bank and meet the other requirements of the qualification for the program. The program is designed to increase home ownership in the territory by helping eligible Virgin Islanders secure a mortgage. 
"Today means a lot to me because it represents the fruition of a concept long thought of to assist young Virgin  Islanders, and old Virgin Islanders as well, who want to return home and participate in the progression and transformation of their home," Bryan said during a press conference.
Bryan created the program last fall and said the purpose of the VI Slice Program is to build stronger families and invest in the future of the Virgin Islands. 
"We figured if you have a mortgage and you have a home, the likelihood of you staying is much higher," the  Governor said. "We need qualified young Virgin Islanders to move back home, as well as the ones already here. We want them to stay. We want them to build stronger families, stronger infrastructure, and a stronger economy, and part of that is the government reaching out and assisting with home ownership." 
To qualify to participate in the V.I. Slice program, first-time homebuyers must meet established household income requirements; attain a commitment letter for a mortgage loan based on underwriting standards of the primary financing lender; and be able to make a minimum earnest money deposit of $5,000.
For more information about the V.I. Slice Moderate Income Homeownership Program, contact the VIEDA at  340-714-1700 on St. Thomas-St. John, or 340-773-6499 on St. Croix.