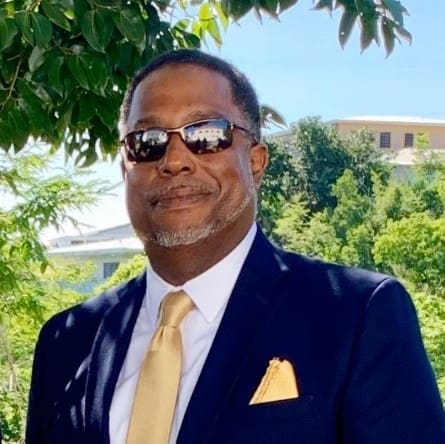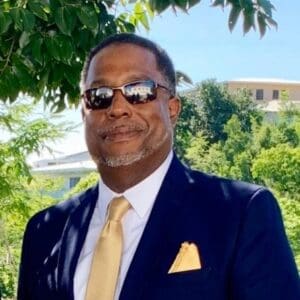 Alvin Leander Lewis, 57, of Burke, Virginia, passed away after complications from an acute cardiac arrest.  He was born on Nov. 12, 1965, to Gertrude Ottley Lewis-Jones and the late Angel Luis Lewis Sr. on St. Thomas, U.S. Virgin Islands.
He is survived by his son, Alex; daughter, Anita; their mother, Sung Ae; sisters: Carla, Laverne, Anette, Angela and Arnelle; brothers: Angel Luis Jr., Antonio, Avery and countless other cherished family members and special friends.
After spending his formative years on St. Thomas, he graduated from Adlai E. Stevenson High School with honors in Bronx, New York.  He enlisted in the U.S. Army and served in South Korea where he also met and married his wife, Sung. He received an honorable discharge for his military service and helped maintain the security of the nation during a critical time in its history.
After his military service, he completed a Business Administration and Management degree at Texas College and pursued his career in information technology.
Lewis' career in the private sector included positions as a federal strategic sales executive for Healthcare and Information Technologies, as well as corporate positions at MCI, Verizon, CenturyLink, Oracle, Windstream, Jumio Corporation and LexisNexis Risk Solutions.  He was a mentor to his peers and helped Virgin Islanders achieve their professional goals at several of these corporate businesses.
A humanitarian, he often took time to volunteer at several different non-profit organizations, including: The 25th Project helping the homeless in Northern Virginia, the Virgin Islands Association of Washington D.C., Disabled Military Veterans organizations, and Lake Braddock's High School Baseball team where his son played. He remained active in various non-profit organizations for many years and his dedication and commitment have been an inspiration to many.
Above all else, Alvin Lewis was a family man. He loved his family very much, and he loved those close to him. He took pride in providing for his family and taking care of those around him. Growing up, Alvin loved to play baseball and was always a passionate fan of the sport and the New York Yankees. A proud man who also had the biggest sense of humor and loved to crack jokes. His spirit will be sorely missed.
The Lewis family extends their personal thanks for all your kind words and condolences during this difficult time.
A service is scheduled in the Washington, D.C. area from 10 a.m. to 1 p.m., Saturday, May 27, at Greene Funeral Home, 814 Franklin Street, Alexandria, VA 22314 followed by a viewing on St. Thomas, USVI, on Thursday, June 1, at Turnbull's Funeral Home (Time: TBA) and services at All Saints Cathedral, Garden Street on Friday, June 2.