Sun-kissed, salt-sprayed, and sea-splashed, a handful of marine scientists have spent much of this year on and in the ocean around the islands, perhaps to the envy of passersby, if there were any passersby.
But the experts have been largely unseen.  And their exploits unknown but to a few.
They've been scouting for treasure. Oh, not the sunken silver and gold artifacts of pirates' chests. But something just as precious to those who rely on it for a living or a good meal, who view it as a cultural symbol and an integral part of the marine ecosystem.
The adventurers have been counting conch. And measuring their shells and the thickness of their lips to determine their approximate age and whether they are mature enough to reproduce.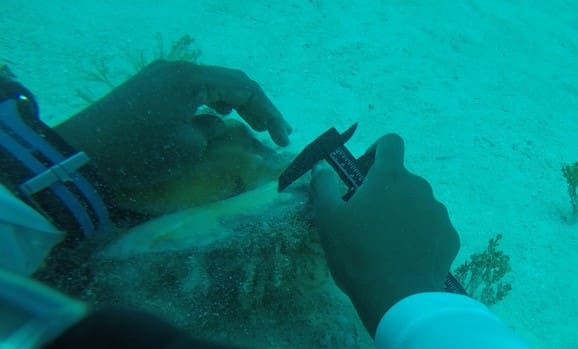 It's all part of a conch population survey financed by the federal government and led by the Fish and Wildlife Division of the VI Department of Planning and Natural Resources.  The division surveys conch every five years, according to DFW Director Nicole Angeli, but this effort is far more comprehensive than usual and potentially will have a greater impact.
The survey is being conducted in tandem with the Puerto Rico Department of Natural and Environmental Resources and involves partners at the National Marine Fisheries Service, the National Oceanic and Atmospheric Administration, the University of Puerto Rico and the University of the Virgin Islands.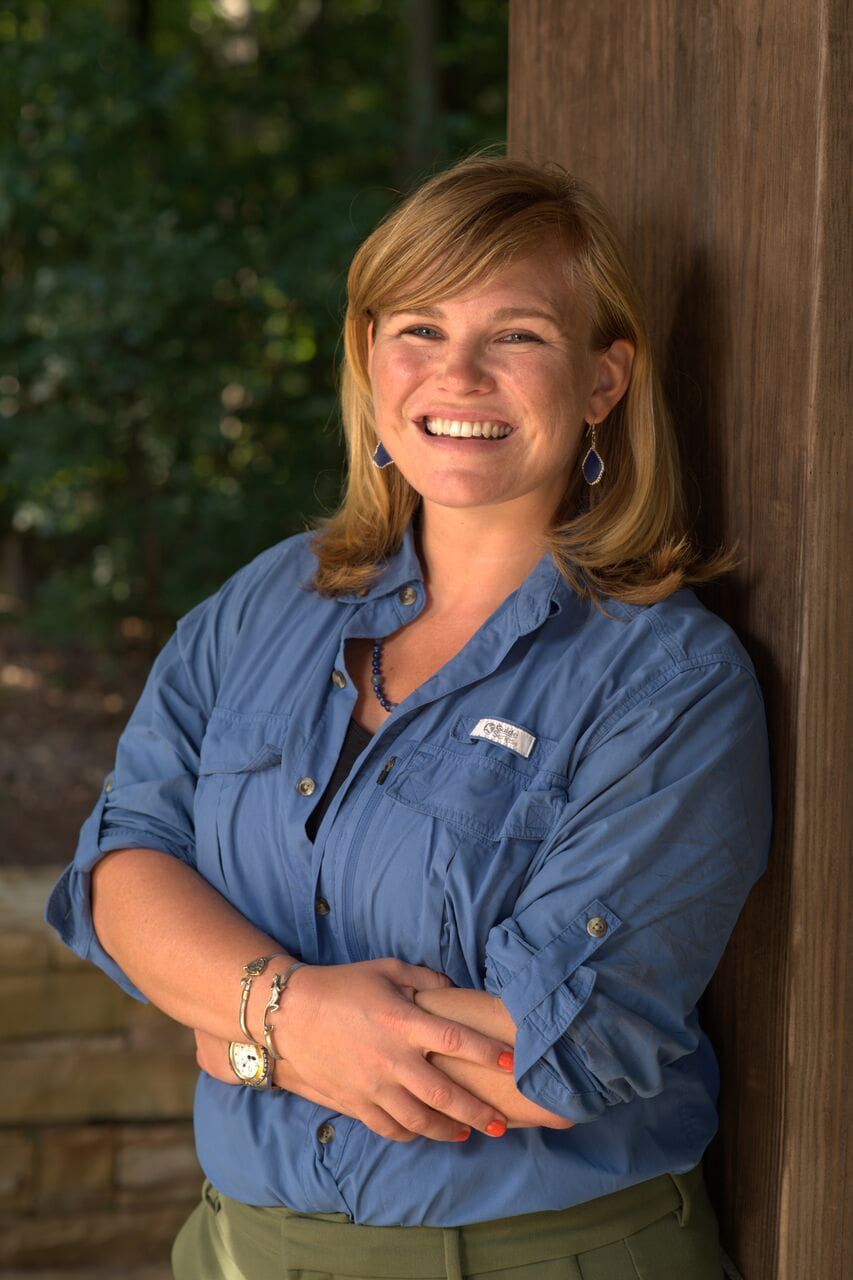 "This is the first time" that Puerto Rico and the Virgin Islands are conducting surveys at the same time, Angeli said.  One aim is to establish a standardized way of assessing conch populations.
Although clearly related, the survey is separate from an ongoing effort by the federal government to determine whether to list the Caribbean queen conch as a threatened species.
While field studies have happened this year, groundwork began in 2022.
NOAA identified numerous conch sites at three different depths, shallow water, intermediate, and deep.  Routinely, conchs don't move a lot. But they do tend to choose different areas at different stages of their life cycle. Juveniles prefer seagrass plots, while adults may be found in a variety of habitats from seagrass to sand flats, or hard-bottomed areas like coral rubble.
A computer program selected 60 different sites around the Virgin Islands for observation, 30 in waters near St. Croix and 30 around the St. Thomas-St. John district, Angeli said.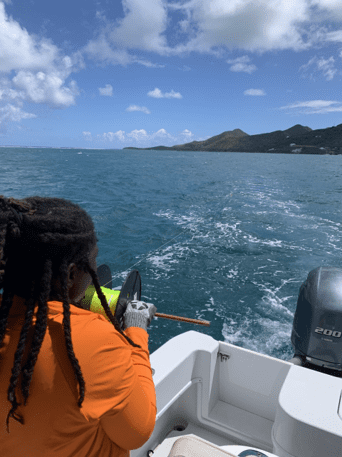 Since January, all but about five of the sites have been visited, with researchers observing and measuring 1,815 conchs so far, she said.
Angeli expects the last sites will be covered within the next month.
"It's really time-intensive" as well as "fuel-intensive" to reach all of the sites, she said. There are only a handful of staff involved, three primary divers and two back-up, and now and then some volunteers. Typically, divers can only visit two sites a day, occasionally three.
"The weather doesn't always cooperate," either, she added. In January, for instance, there were some intense storm surges that prevented dives. Then, too, if ocean sedimentation is stirred up, the researchers can't see.
But when conditions are good, "Linear surveys are very fun," Angeli said. "You move along the ocean floor in a scooter." Although administrative work has kept her from doing much diving, she said, "I went down a couple of times."
The research is being conducted two ways: by straight-line or linear tracking and by radial surveys, in which divers delineate circles of seven or 15 meters and count the animals within.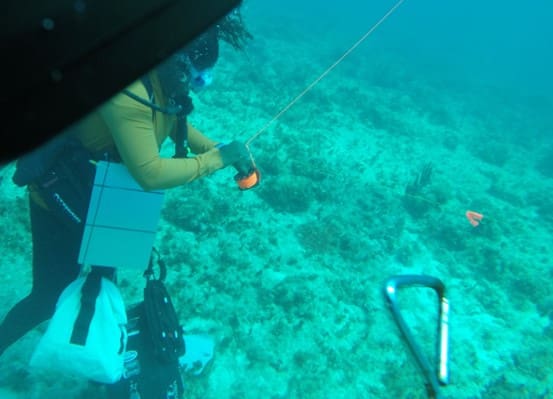 Inconsistencies in the methods used in past surveys have made it difficult to confirm trends in population growth or decline. That's why it's important to establish a standard way of counting.
"We're not going to compare the historic data yet" with what the researchers are finding this time around, Angeli said. The first thing to do is to decide whether the linear or the radial survey is best. Then, if adjustments can be made to allow for differences in methods, researchers can compare current and previous population counts.
Angeli said she expects to share some of the findings from the survey in the coming weeks or months. Meanwhile, researchers will also prepare a formal, peer-reviewed report of their findings for publication in a scientific journal. That is a lengthy process and could take many months or more than a year.