Band students from both St. Thomas public high schools, plus the Rising Stars Youth Steel Pan Orchestra, capped off Music In Our Schools Month in spectacular fashion as they entertained residents and visitors with a quick concert in Emancipation Garden Wednesday also featuring the Edina Concert Band from Minnesota.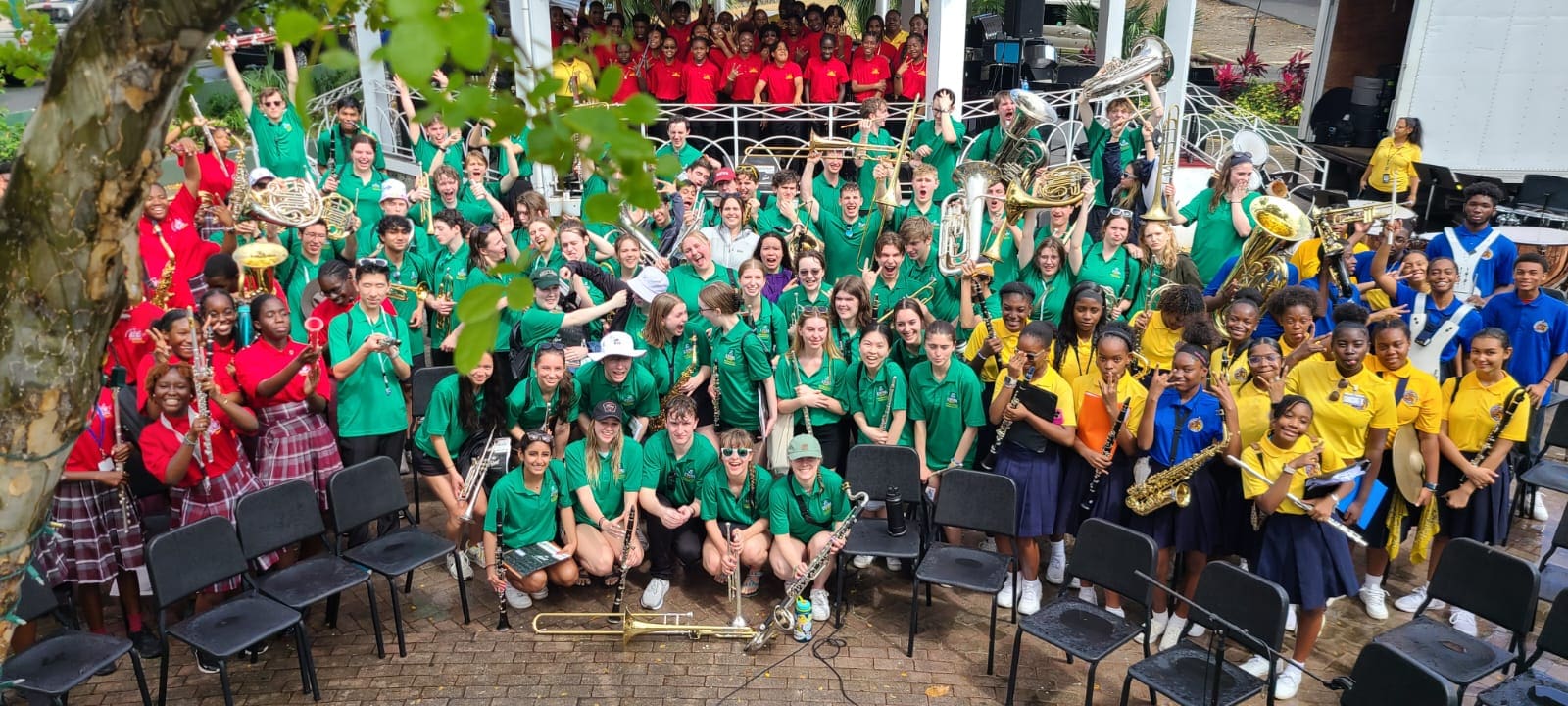 Through the afternoon downpour the students played, finding camaraderie in both the music and one another. The Edina Concert Band and Rising Stars formed a partnership in the late 1980's when their band directors first met and over the decades, the two groups have been visiting one another and performing both in the territory and nationwide.
This time, it was the Rising Stars' turn to host, according to Edina Band Director Paul Kile. The group had planned a cruise on the Regal Princess — with instruments in tow — which gave them a day to play in the Garden, before the students headed off to St. Kitts for the remainder of the journey.
"Our two band directors had traveled to St. Thomas in about 1989, came and saw a Rising Stars Concert, approached their band directors, and the relationship was formed," Kile explained. Edina came to St. Thomas again later to play, and four or five years ago, the Rising Stars came to Minnesota, making it time for Edina to head back to the territory. Tapped to help in the planning process, the V.I. Education Department's Territorial Music Director Dionne Donadelle involved the band directors from both CAHS and Kean, giving their students the chance to also practice and play under the bandstand.
"Aside from being just an incredible way to celebrate Music In Our Schools Month and this relationship that the Rising Stars have with Edina, what you were really able to see today was just the phenomenal power of music," Donadelle said. "All of us have been through this pandemic, we're rebuilding, but it was just so fluid how everyone came together and played, and laughed and valued each other's company. It just doesn't matter where you come from, that language of music is universal and along with playing together, you saw that today in these impromptu moments where the kids showed off their different marching band styles, or battled on the drums — it was pretty awesome to see."
Also helping to quickly plan and bring the students together were: Tamra Olive, James Gittens, Laura Rouse, JeMoi Christopher, Sean Steele, Eltino Pickering, Jaleel Roberts, Jasmine Haynes, Tanasha Pemberton and Wayne Donadelle on the Rising Stars side – many of whom were also involved in helping to arrange the music – and Kean Band Director Shamoi Rogers, along with CAHS Band Director Roslynn David.