More than 110 young children from St. John will make their debut when the St. John All-Island Children's Choir performs at the Julius E. Sprauve School in Cruz Bay on Wednesday, March 29 at 5:30 p.m. The free event will be live-streamed on Sing St. John's YouTube channel for those who can't attend in person.
The participants are students in grades K-2 at the Julius E. Sprauve School, St. John Christian Academy and Gifft Hill School.
"These younger children have never before experienced performing in the large choir," said Kristen Carmichael-Bowers, the musical and executive director of Sing St. John, who developed the program seven years ago.
"The pandemic descended upon the USVI a week before the 2020 K-2 concert, which had to be canceled," she said. "These children weren't yet in kindergarten at that point, so this semester is the first time even having rehearsals."
In addition to learning how to listen for their own pitch, rhythmic accuracy, lyrics, and diction, choir singing introduces young children to important life skills that strengthen both individuals and communities, according to Carmichael-Bowers.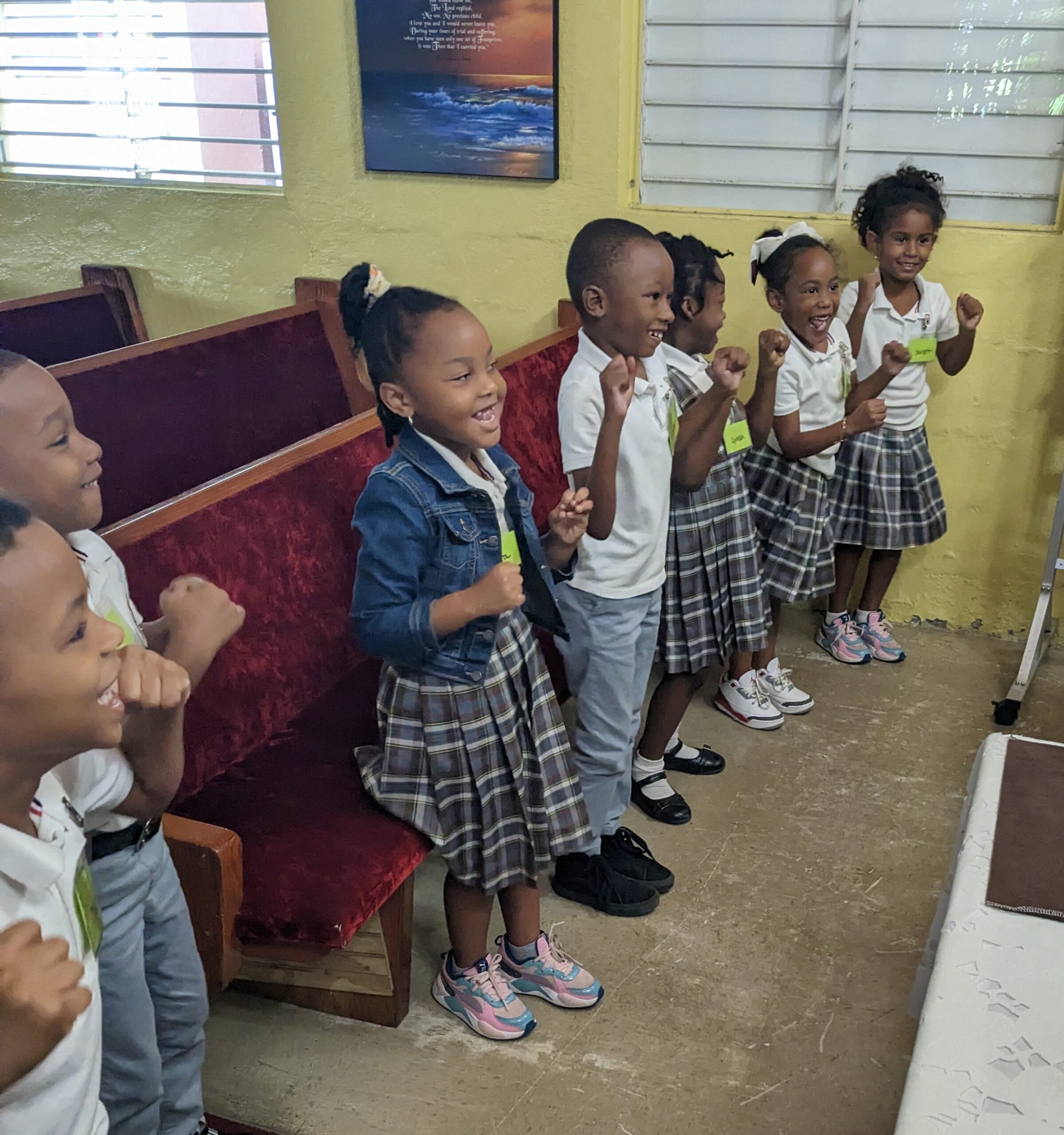 "They are learning so many things at once – to be aware of their bodies in a tight space together, how to watch the director, and to modulate their excitement as they walk calmly on and off the stage," she said. "To be self-aware while maintaining awareness of others, and to know that we each have a place in the collective as we focus together on the task are valuable life skills."
The children also learn about each other as they sing. "They sing in English, Spanish, and Haitian Creole so that everyone has a chance to sing in their own language during this experience," said Carmichael-Bowers.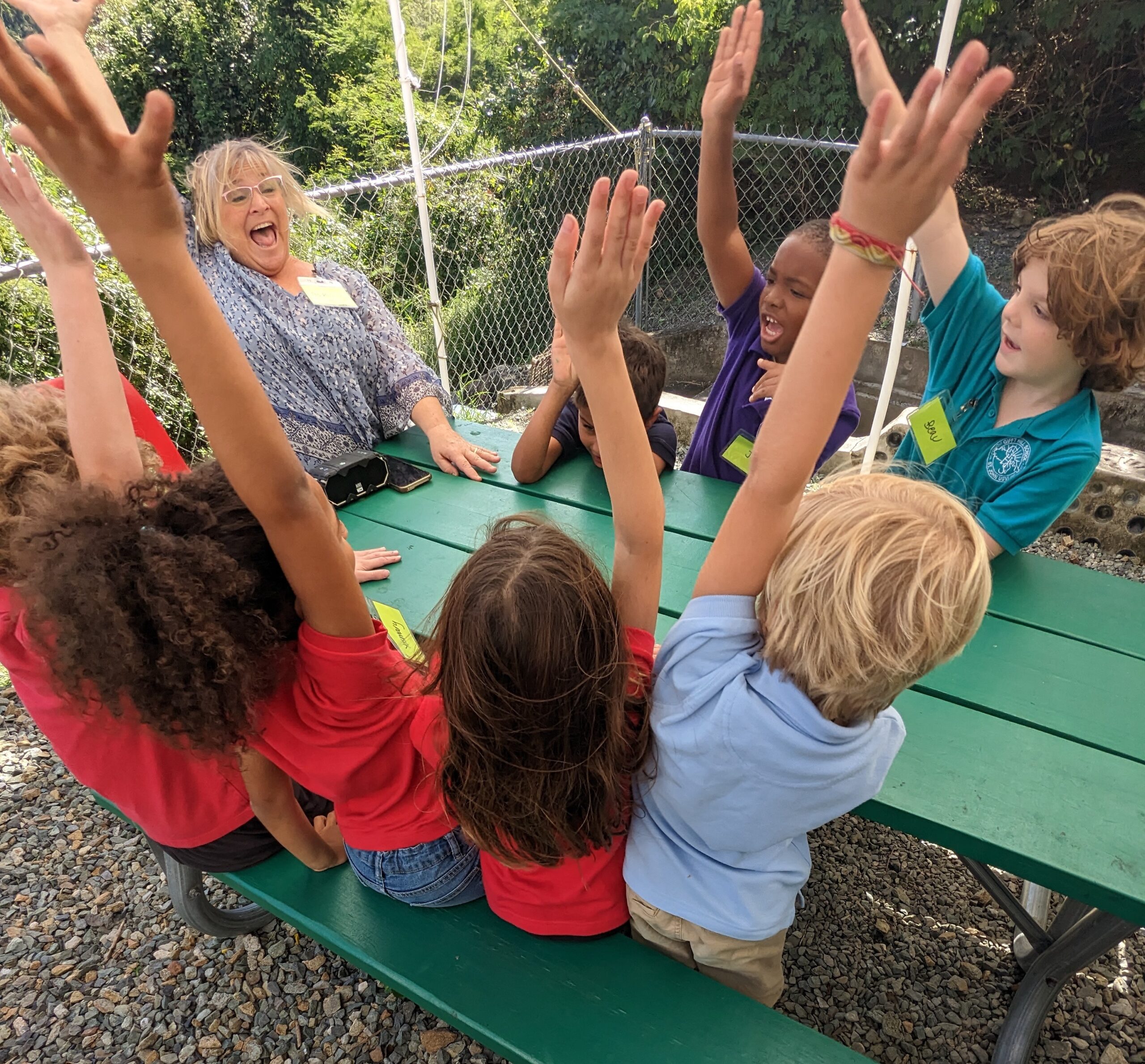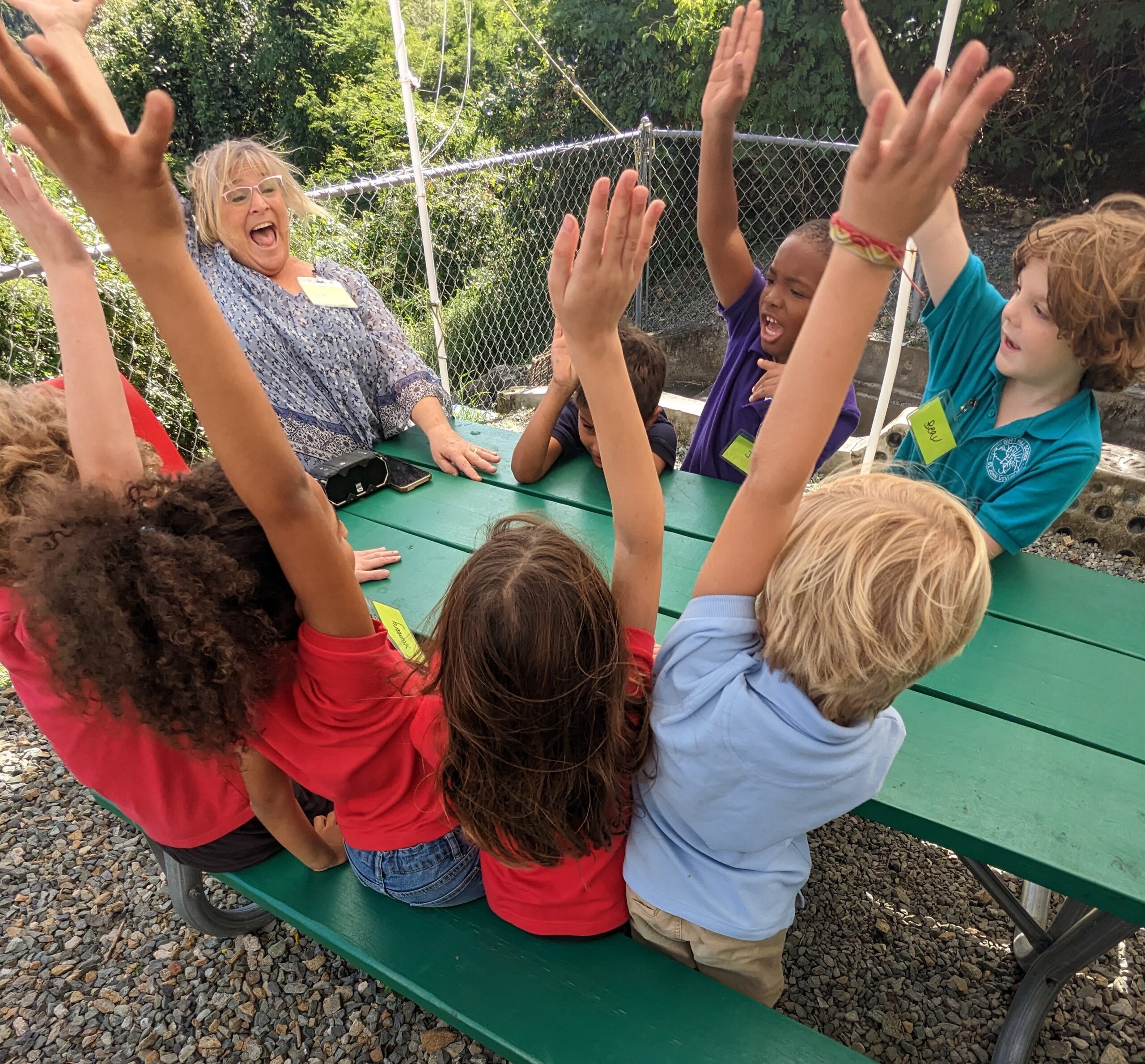 Producing a half-hour children's choir concert is no small undertaking. By concert time, each classroom of children will have rehearsed six times with "Ms. Kristen" assisted by "Ms. Christie" Paul, according to Carmichael-Bowers. "On concert day, they meet all together for the first time, and each age group plays games led by 'Ms. Lauren' Magnie in their backstage room before rehearsing onstage. This way they get to know each other and interact a little before singing."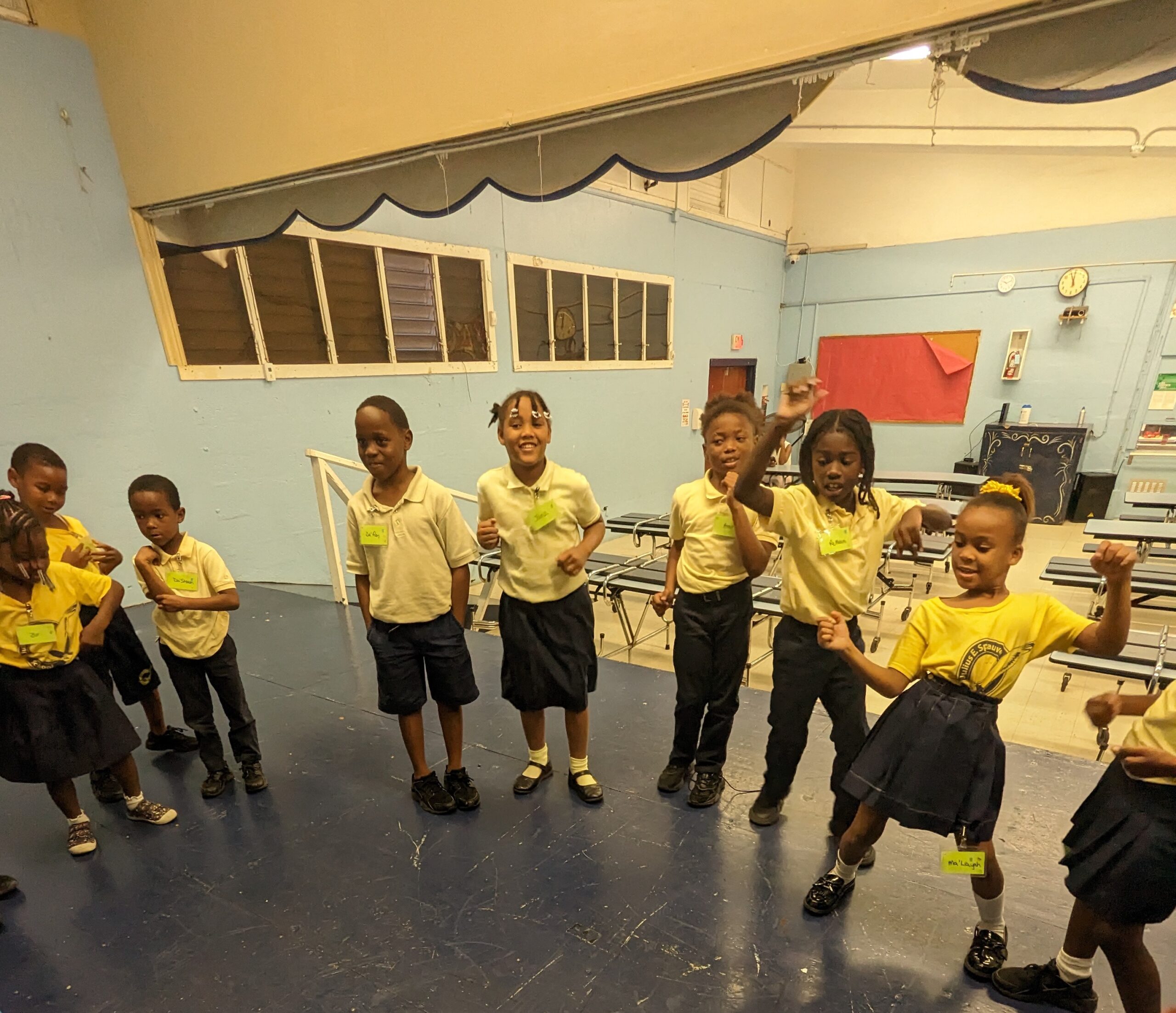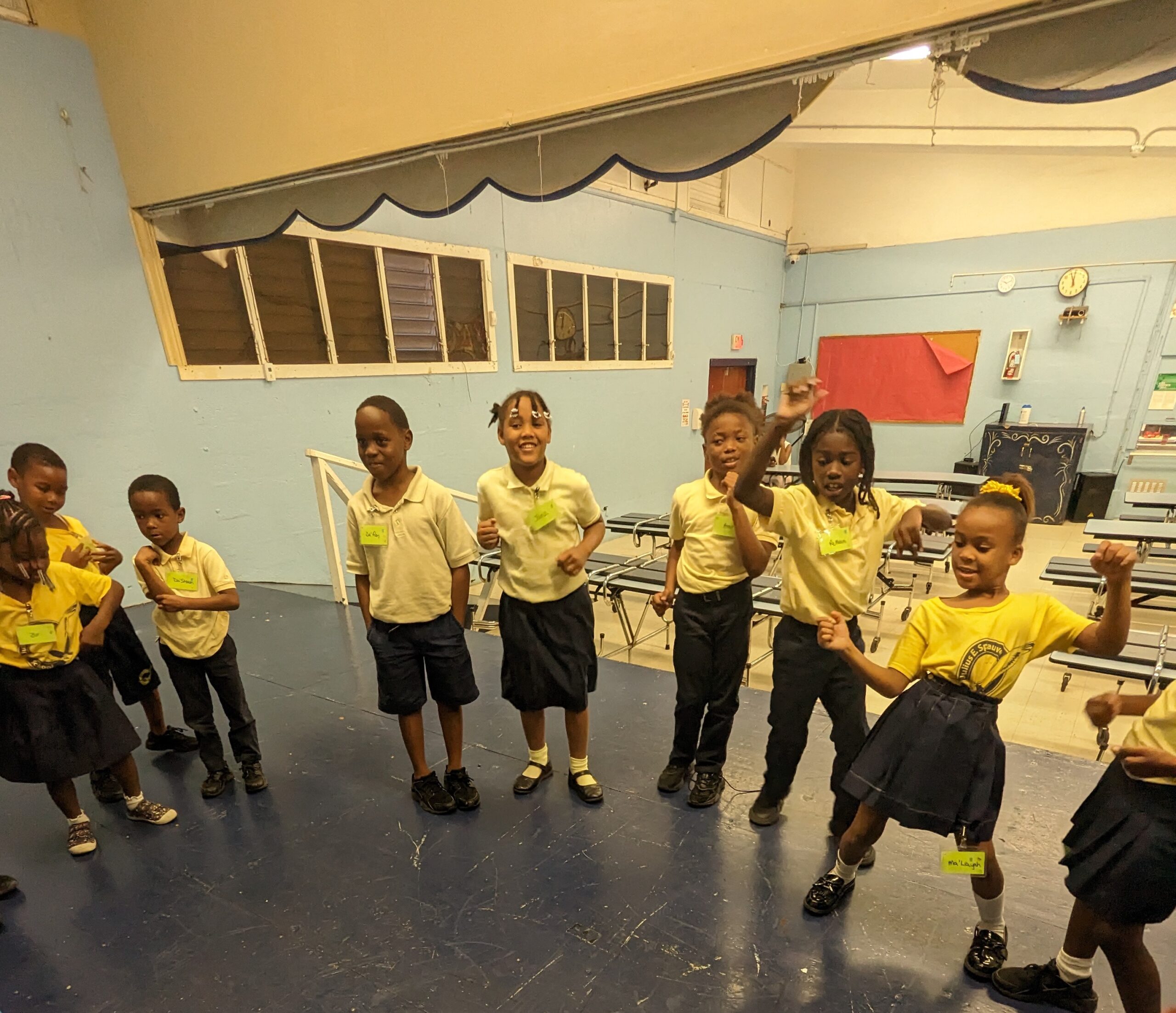 Concert day is a community effort that involves four school administrators and staff, five classroom teachers, nine Sing St. John staff and board members, and fifteen chaperones. "We are so grateful to Julius E. Sprauve School for hosting this event. Ms. Michelle Rogers-Bully and Ms. Enid Doway have been very welcoming and supportive."
"It's a tight system and will require all hands on deck to keep over 100 children on the same page all afternoon," said Carmichael-Bowers. "I've loved the way these lively singers are in rehearsals, singing heartily together as one, with big smiles on their faces. They make my day, and the concert is guaranteed to do the same. To hear them sing 'This Little Light of Mine' with such conviction brings tears to my eyes. I hope they continue to shine, just that way, throughout their lives."
This year, students of "Mr. James" Kivlen's guitar class at the St. John School of the Arts will be providing accompaniment for the kindergarten choir, Carmichael-Bowers said. "The sweet thing is that these middle school players were in Children's Choir just a few years ago, and they are now excited to play for the little ones and to see them sing."
As with all of Sing St. John's community singing programs, the Children's Choir is offered free of charge for schools, children, and to audiences. "Because our programs are free in order to be open to all, we are sustained by grants and donations. St. John All-Island Children's Choir exists because our community makes it possible," said Carmichael-Bowers.
Donations made to Sing St. John for the children's choir will help to defray costs associated with their concert day. Donations are 100% tax deductible and can be made on the Sing St. John website or by venmo: @singstjohn.
Sing St. John is supported in part by Virgin Island Council on the Arts and the National Endowment of the Arts, the V.I. Lottery, Community Foundation of the Virgin Islands, and community businesses and individuals.
Editor's Note: Amy H. Roberts is a board member of Sing St. John. 
.