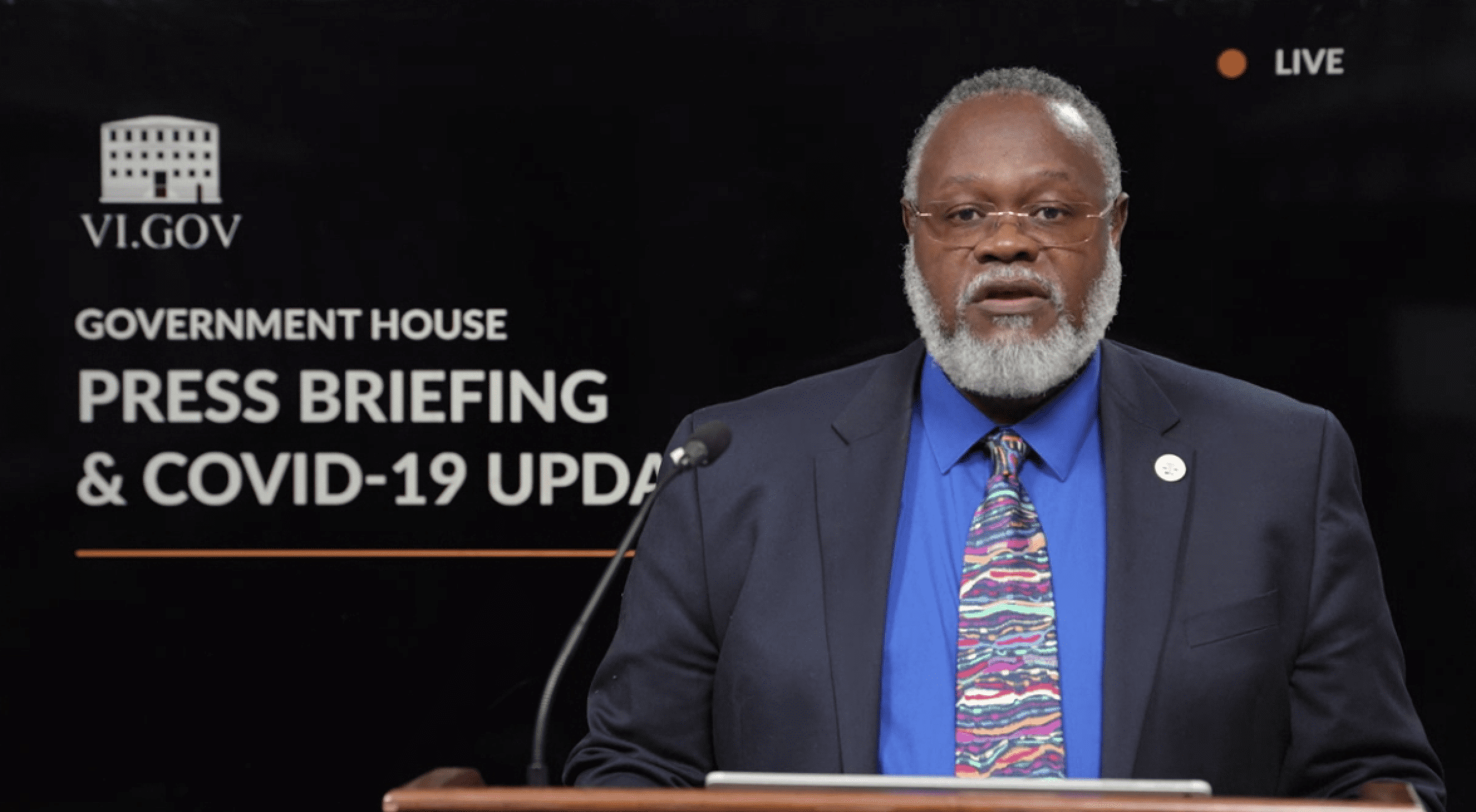 With COVID cases declining and the loss of federal funding, the V.I Health Department closed down the COVID drive-through testing sites and hotline Monday until further notice.
Health's Assistant Commissioner, Rueben Molloy, announced the closures at the weekly Government House press conference and said local funding will be used to restart the service at some point.
"We continue to see a decrease in COVID-19 cases following a spike in February," he said. "COVID-19 is still here and it's important you continue to protect yourself and your family by frequently washing your hands and safely distancing yourself from those who are not in your household."
According to Molloy, currently, there are 25 cases of the virus, with 11 on St. Croix, 12 on St. Thomas and St. John has two. There are no hospitalizations at this time, he added.
Although the drive-through sites are closed, COVID vaccines are still available for free on all three islands.
On St. Croix, residents can go to Unit 5, second floor of the former Caribe Do-It Center, between 9 a.m. and 3 p.m. Monday through Thursday without an appointment. For information, call 340-718-1311, ext. 3760 or ext. 3796. Children should be taken to the Maternal Health Clinic on the second floor, also without an appointment. Call 340-718-1311, ext. 3201 or ext. 3875.
On St. Thomas, vaccines are available at the Community Health Center at the Schneider Regional Medical Center from 9 a.m. to 11 a.m. and 1 p.m. to 3 p.m. Monday through Thursday. Call 340-774-7477 for an appointment. Children can go to the Maternal Health Clinic. Call 340-777-8804, ext. 2600, for an appointment.
St. John residents can become vaccinated on Wednesdays at the Port Authority parking lot from 1 to 4 p.m. COVID tests are given from noon to 3 p.m.
Molloy reminded people that the bivalent booster is the only vaccine that works against the latest COVID variants and children as young as seven months can be immunized.
Also during the briefing, Richard Motta, Government House communications director, announced that a ribbon cutting for the new temporary hospital will occur at 1 p.m. Tuesday, at the facility north of the current Juan Luis Hospital.
Motta also reminded residents the V.I. Department of Planning and Natural Resources will host town hall meetings Tuesday evening from 5:30 to 7:30 p.m. and Wednesday from noon to 2 p.m. at the University of the Virgin Islands Great Hall. They encourage comments and ideas from the public for DPNR's future land and water use plan for the territory.
"We are excited to create a plan that respects everyone's individual experience across the islands while striving to develop a shared path forward and achieve a common vision for our future land and water use," DPNR Commissioner Jean-Pierre Oriol said in a news release.
Town hall sessions have already been held on St. Thomas and St. John.
Editor's Note: The ribbon-cutting ceremony for JFL North will take place at 1 p.m. on Tuesday. A previous version of this story incorrectly stated it would be at 10 a.m. on Wednesday.