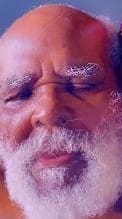 Albert Stuart, 90, died on Dec. 23, 2022.
The first viewing for Albert Stuart will be from 4-6 p.m., Thursday, Jan. 26, 2023, at Turnbull's Funeral Home. The second viewing will be at 9 a.m. followed by a funeral service at 10 a.m., Friday, Jan. 27. at Blyden Memorial Chapel. Interment will be private.
Albert is predeceased by his brothers: Raphael, George and Benoit Stuart; sons: Roland Mark Sr., and Lambert Stuart; and daughters: Miranda Marvelyn Stuart-Pantiere, Moniza Hazel and Noahline Stuart.
He is survived by his daughters: Elenoria Stuart-Angol, Paulina Stuart, Hilda (Avanielle) Stuart, Eunice Stuart-Belot, and Solangue, Gilbert, Augostine and Darline Stuart; sons: Pascal Pascalis Stuart, Wilbert Joseph Stuart, Dorian Stuart, Hezron Benjamin Stuart and Edward St. Rose Stuart;   brothers: Phillip, Gregoire, Wilfred, Jeanbaptist, Antoine and Dr. John Stuart; sisters: Agatha Stuart-Romain, Mary Stuart-Duncan, Isabel Stuart-Casimir and Marie Stuart-Didier; sons-in-law: Mitchel Angol, Alfred Vinette, Robert Basting and Ralph Belot; daughters-in-law: Janet Stuart and Denia Stuart; brother-in-law, Sibert Didier; and sisters-in-law, Marcella Stuart and Andrea Valmon.
He is also survived by grandsons: Patrickson Stuart, Philbert Stuart, Oma Stuart, Tashaya Stuart, Henry Leatham, Kevin Johnson, Kornel Johnson, Keenan M Thompson, Jonathan Stuart, Johnnel Delani Liburd, Jereen George, Jose Medina, Elroy Stuart, Ryan Stuart, Elson Stuart, Garvy Stuart, Takuma Stuart, Roland Mark Stuart Jr., Delan Stuart, Rashim Stuart, Greg Emanuel and Nathaniel Myron Pantiere, Vincent Henderson, Junior Oliver Joseph, Michael St. Rose Stuart, Curtis St. Rose Stuart and Samuel Isaiah Stuart; and granddaughters: Andra Stuart, Paulette Mawakana Edward, Cashma Stuart, Maria Stuart, Astrid Stuart, Lydia Stuart, Shermaine Stuart-Richard, Katia Stuart, Kisha Stuart, Evelyne Potino, Bianca Solangue Stuart, Nina N Stuart-Burgess, Wilhelmina Pantiere, Lyia Stuart-Schmidt, Aime Henderson, Niomi Jeffers, Zakia St. Rose Stuart, Nahila and Abigale Dorival, and Claudia Joseph.
More survivors are nephews: Julian Stuart, Stanley Alison Leatham, Belgrave Millington, Jawanza Stuart, Tyrone Muller, Mitchel Duncan, Mwamba Alexander, John Stuart, Hans Stuart, Tulus Stuart, Aaron Stuart, Clint Stuart, Clinton Stuart and Steven Stuart; and nieces: Annaclita Stuart-Landers, Joan JnoFinn-Muller, Maria Romain, Matilda Stuart, Maria Stuart, Donna Stuart, Elenor Stuart, Princess Stuart, Adoni Stuart, Anna Stuart, Sandra Stuart, Arlina Stuart, Floret Stuart, Leandra Stuart, Promise Stuart, Hanna Stuart, Holly Stuart, Annie Stuart, Muhisani Alexander-Kerr, Mwelewa Matthew and Sikizi Casimir-Espirt.
Other survivors include more than 80 great-grandchildren, some of whom are: Terrance Reynolds, J'Niya Liburd, Takenya Merrifield, Never Daniel, Dr. Jonathana, Sanaa Renee, Sydney A. Talifia and Scarlett C. Stuart, Delan Richards and Calvin Flowers II; grand nieces and nephews: Jessel Stuart, Japan Stuart, Jen Stuart, Nita Stuart, Juline Stuart, Amani and David Muller, Khalid and Caleb Lander, Kahdijah Lander Esq., Tarhil Pitman, Malik Leatham, Mya Leatham and Ode Alexander; close friends: Mr. Bramble, Mrs. Eloi and family, Brother Jerome and Sandra Douglas; as well as a host of other loving relatives and friends.