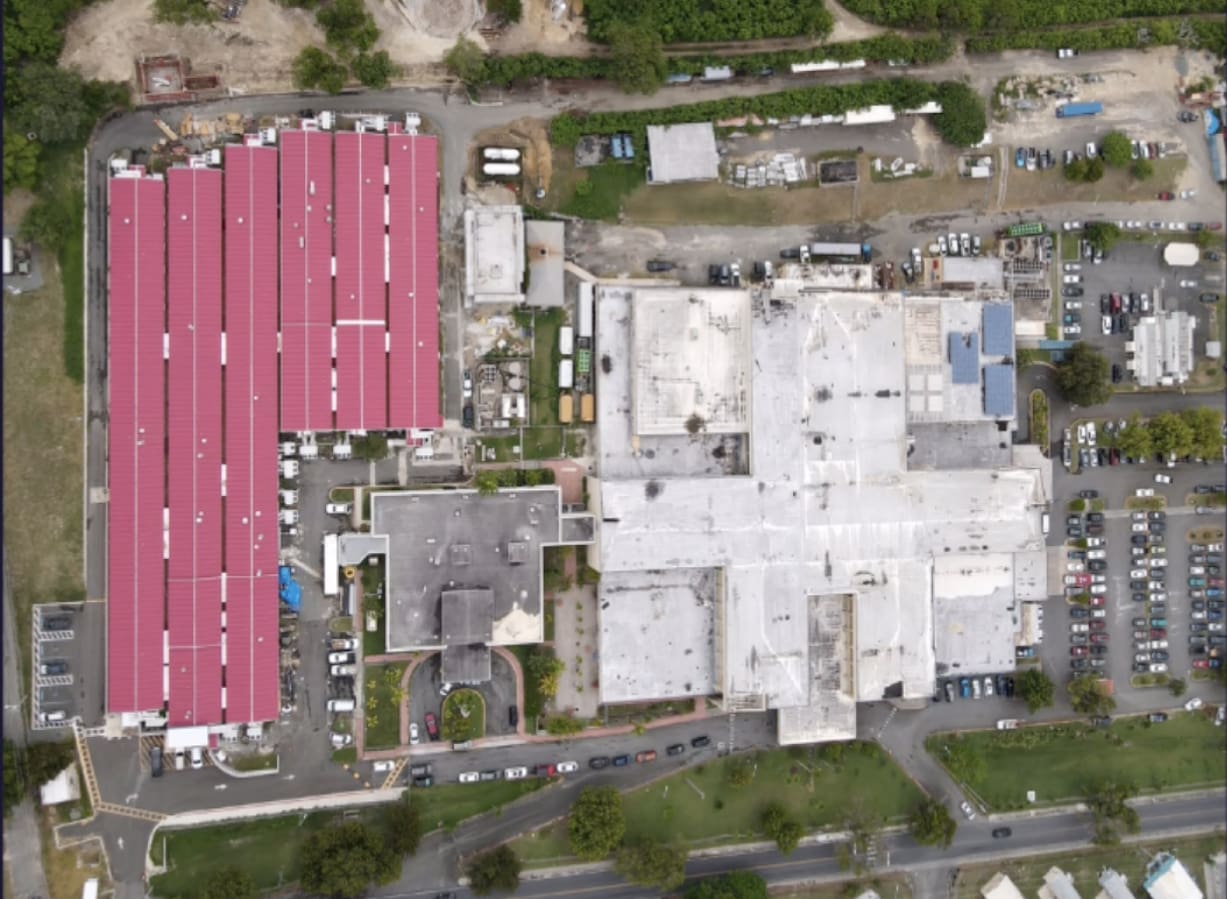 The long-awaited temporary replacement for St. Croix's hospital could open in November — nearly three years behind schedule, hospital officials told the Senate Friday.
Structural elements for Juan F. Luis North should be complete by Oct. 31, meaning regulators could begin the mandatory certification process by Nov. 1, said Darryl A. Smalls, executive director of the Territorial Hospital Redevelopment Team.
Smalls was loath to give the Committee on Health, Hospitals, and Human Services a hard date for the temporary hospital to be operational.
The project has been riddled with setbacks, many being so-called acts of God, he said. The Covid outbreak was an obvious hurdle that also spurred downstream issues like steel shortages and shipping backlogs.
The current Juan F. Luis hospital was damaged during the storms of 2017. Conditions have deteriorated further in the years since. Doug Koch, the hospital's CEO, said he has run buckets from roof leak to roof leak himself.
"As you are aware, this temporary hospital project has been faced with many challenges. Some should have been avoidable, while others could not have been foreseen. The good news is we are continuing to move this temporary hospital forward, as the people of St. Croix deserve to have a reliable and consistent hospital available to them. The JFL employees and all the physicians that practice at the hospital should be commended and thanked for their service. They too deserve a facility that is free of infrastructure challenges," Koch said.
Once the temporary hospital is running, the older facility can be demolished, Smalls said.
The contract to replace the health facility with a 55,000-square-foot temporary space was signed in July 2018. It was to be completed in December 2019. Various setbacks pushed the deadline back to July 2020. The completion date was pushed back again to June 2021. Construction started again in earnest in December 2021, Smalls said, and is more than 75 percent complete.
Christopher Finch, chair of the Virgin Islands Government Hospitals and Health Facilities Corporation, said doctors, nurses, and other staff were working admirably in difficult conditions. He said hospital management was disheartened by the long delays.
"The most unhappy people that JFL North is not yet open are the hospital leadership, including administration and board members. No one is more frustrated and disappointed than we are," Finch told the committee.
Some senators pushed back on this, however, saying it was the people of St. Croix who were the most disappointed — having to travel off island for procedures or enduring the hospital's decrepit facilities.
Sen. Kenneth Gittens was in no mood to celebrate a presumed 2022 completion of the temporary hospital project.
"There's no reason why we shouldn't be discussing the final completion of a newly built hospital, but rather we still here discussing and patting ourselves on the backs about a temporary hospital that should have been built five years ago. I am sick to my stomach," Gittens said.
Committee Chair Sen. Novelle Francis Jr took a less agitated approach, saying it was rushing to complete projects that set the old hospital up for failure.
"It's very important that we cross our Ts and dot our Is. While yes, it's taken some time, it's very important that we address these problems very meticulously," Francis said. "Every single one of us is frustrated, but it's important we get this right."