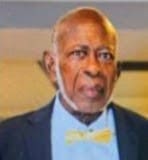 Dr. Edward Saunders has died.
He is survived by his wife, Christiana Saunders; daughters: Oddessa Saunders-Williamson, Malkia Saunders, Nyota Saunders-Gardner and Denisha Rogers; and grandchildren: Tiye Williamson, Anika Williamson, Howard Williamson Jr., Ayanna Gardner, Anwar Gardner, Amir Gardner and D'nique Peters.
He is also survived by brothers: Malcolm Saunders (London) and Clifford Saunders (Antigua); sisters-in-law: Patricia Cabey, Doreen Ryan, Eunice Lee, Esther Lynch-Izaak and Violet Francis; and numerous nieces and nephews.
The first viewing will be held from 4-6 p.m., Friday, Sept. 30, at Turnbull Funeral Home. The second viewing will take place at 9 a.m. followed by funeral services at 10 a.m., Saturday, Oct. 1, at Wesley Methodist Church.
Tributes can be sent to malkias26@yahoo.com by Sept. 27.  The family requests to retire in private after the burial.
Funeral arrangements are made by Turnbull's Funeral Home and Crematory Services.