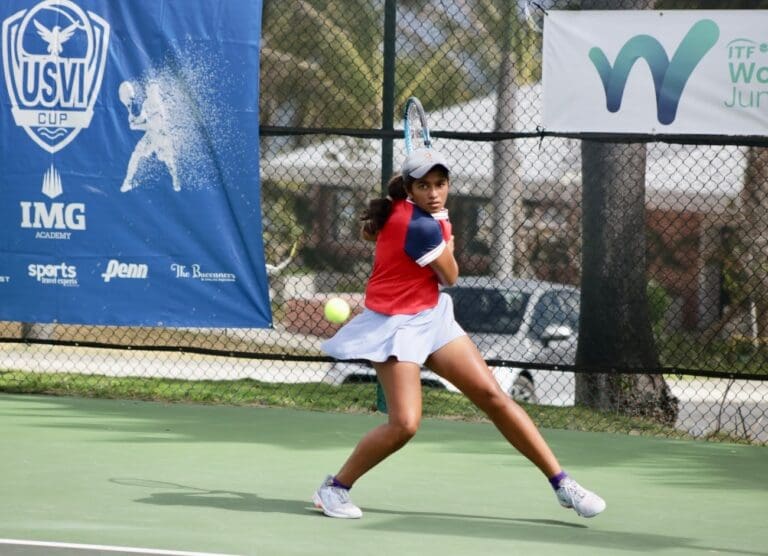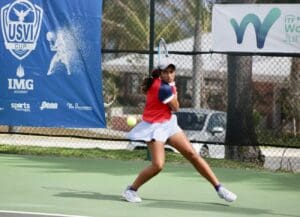 The USVI Cup has returned to St. Croix for its second annual edition following a two-year hiatus. Part of the Caribbean Cup Tennis Series with two consecutive International Tennis Federation (ITF) Junior tournaments between May 7-13 and May 14-20 at the landmark Buccaneer Hotel in Christiansted. It is being sponsored by the U.S. Virgin Islands Department of Tourism.
More than 300 players, coaches and spectators are attending the two-week event with tennis courts set beautifully to the island's most stunning backdrops.
The USVI Cup attracts players from all over the world. Acting as ambassadors to fans in their home nations including Switzerland, Hong-Kong, The Netherlands, Canada, Mexico and states across the U.S. Local Virgin Island, players participated in the match as well, including Angelina Espirit, Mekai Peters, Yared Alfred and Ozzy Odom.
Following an early exit last week, number one seed Caymus Hei Tung Choi was ready for week two. He said, "Looking forward to the second week. Great courts, great climate and greater venue. Courts are right next to the rooms, and there is an amazing beach inside the resort. Friendly staff and tournament director made for a great experience."
For the U.S. Virgin Islands, this event is a powerful signal that sports tourism is very much a part of the islands' mission and recovery as the travel industry moves forward. The Department of Tourism is a premiere sponsor, investing in the matches and their organization. The U.S.V.I. ensured that local officials participated in the event, promoting local tourism offerings and businesses as resources to visitors.
The Virgin Islands are traditionally known as a sun, sand and sea destination, but with events like the USVI Cup, that's all changing. With ample natural resources and a desire to be more than just a place to relax, the destination is making it known that athletes and competitive sporting events are also encouraged here.
Commissioner of Tourism Joseph Boschulte hopes that athletes worldwide will notice the U.S. Virgin Islands. "Whether it's for training during the off season or finding a warm destination to hold a match, the U.S. Virgin Islands are a top choice. We know the power of competitions in generating interest for a destination, and we are poised to capture our share as we show the world how perfect our islands are for various sporting events on both land and sea," Boschulte said.
It's all part of a bigger push for the islands. The 2022 Sports Illustrated swimsuit edition featured a photo shoot in the U.S. Virgin Islands, a step in reinforcing this message to the right audiences. The destination also hosts the annual Paradise Jam basketball tournament and boasts the USVI Soccer Federation's FIFA-certified soccer field on St. Croix.
Since 2017, the USVI has been approved to host NCAA Division 1 games and provides ample facilities to welcome teams, with the added benefit of no passport requirements for American athletes and fans.
Naismith Player of the Year and Naismith Defensive Player of the Year, Aliyah Boston — South Carolina power forward and Virgin Islander — recently signed a deal with Under Armour with plans to host the first Under Armour Next Women's Basketball Camp on St. Thomas.
With continued booking of sporting events and expansion of facilities, the U.S.V.I. is poised to become a leading sports tourism destination in the Caribbean year-round.