St. Croix Educational Complex High School has a new mural embracing the Art and Math Departments. The brilliant colors reflect the hues in the mathematical trajectory of the Caribbean Sea, the local madras in the school uniform, and the Taino culture in the sun. Muralist Hakim Callwood brings his talent to the U.S. Virgin Islands with his creation of art and math with students at play.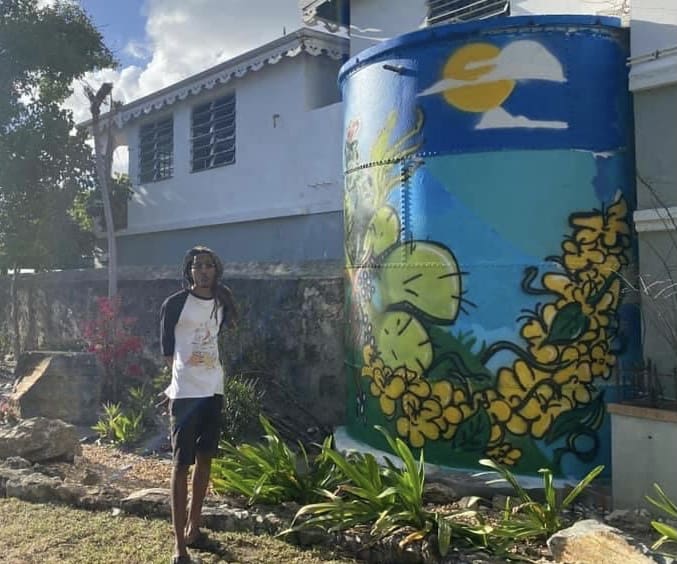 Callwood is a highly sought-after mural artist who has roots in the V.I. and resides in Columbus, Ohio. Hakim's father, the late Edwin Callwood, was born on St. Thomas. He later moved to St. Croix. During Hakim's early adolescent years, he lived on St. Croix and attended the Free Will Baptist School. Hakim continued his education in Ohio and, over the years, established his career as an artist there. 
According to the Press Release, SCECHS Fine Arts Department chairperson Danica David was introduced to Hakim Callwood by a colleague and artist Shakir Smith. At David's request, Mathematics Department Chairperson Cassandra King wrote a grant to the Virgin Islands Council on the Arts to fund the mural project. The large-scale mural would tie math and art to V.I. history on the SCECHS campus.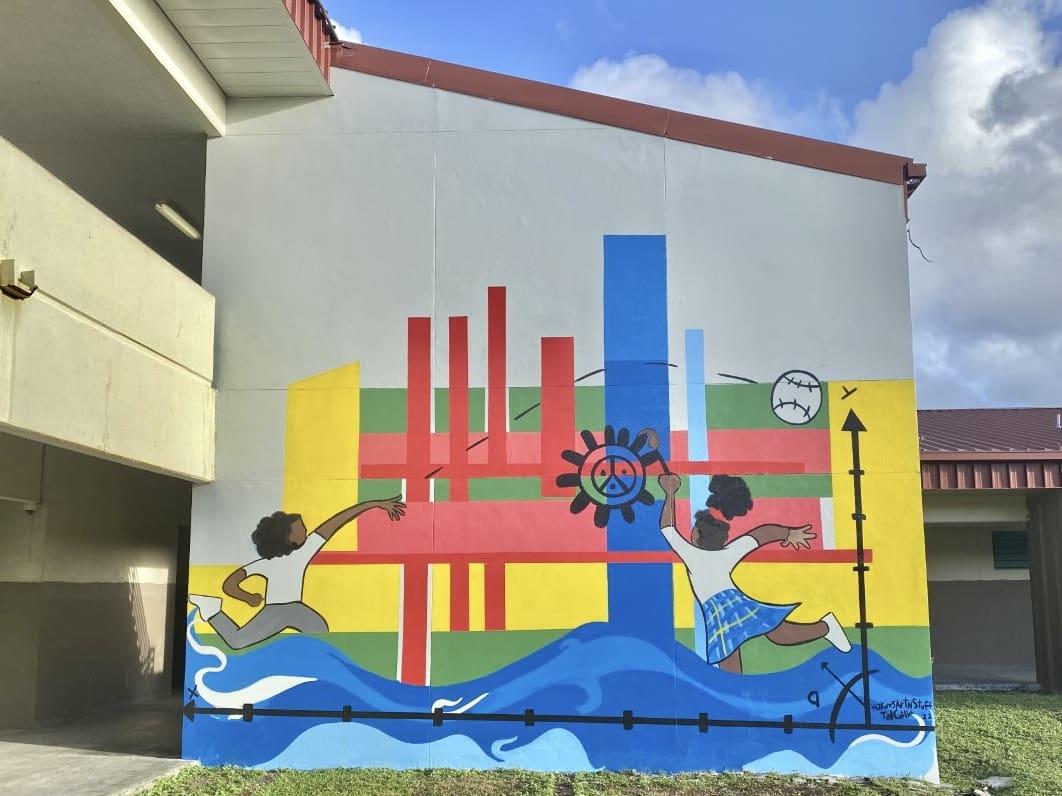 The Virgin Islands Cultural and Educational Mural Project is essential because it is a unique way to inspire students to learn about and connect with the V.I. culture, history, and mathematics. This will promote community pride and encourage our students across the V.I. territory, the release states.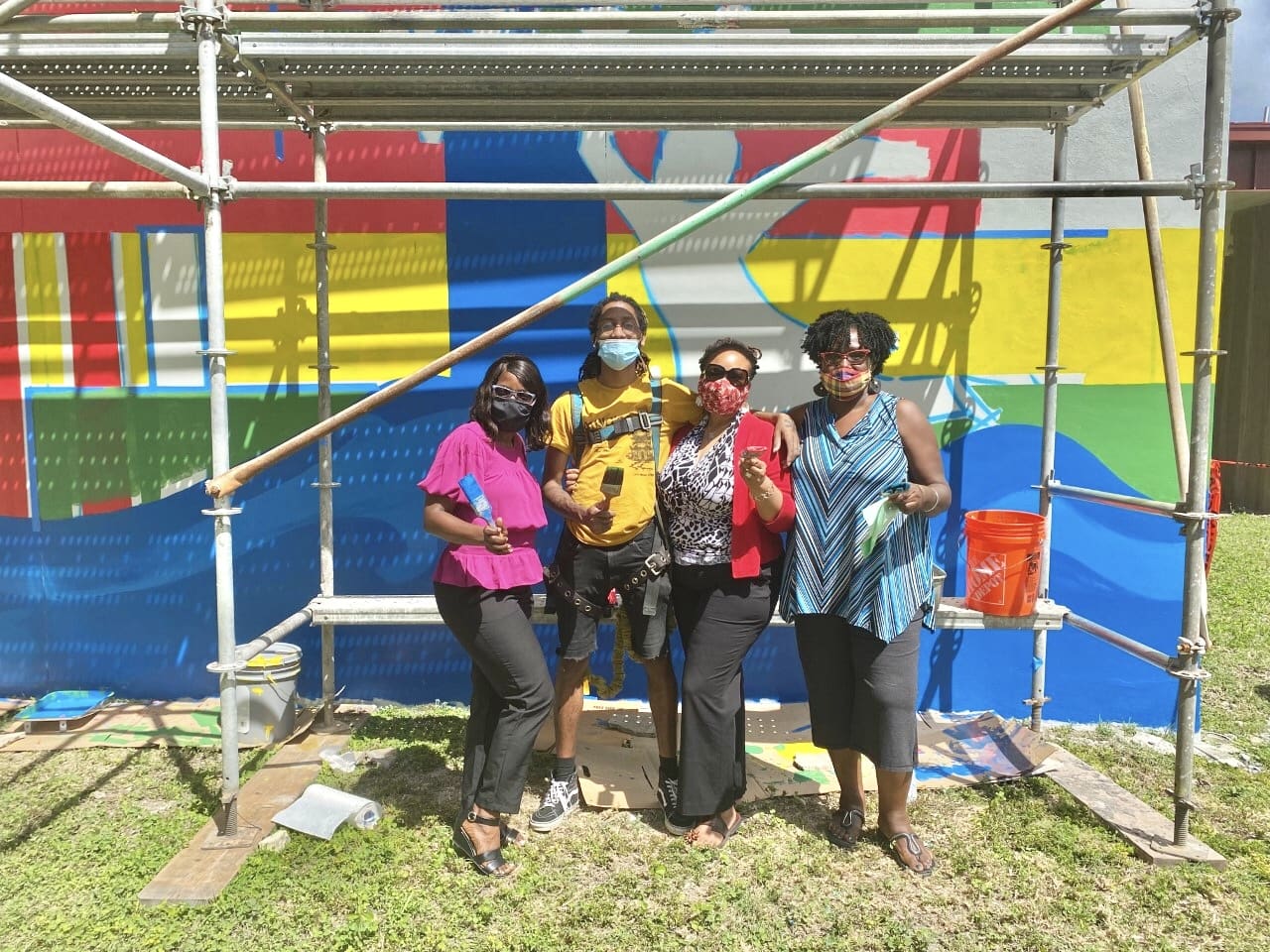 While working on the SCECHS mural, Callwood and videographer Ted Cadillac filmed the Tour De Mural Episode 5 for YouTube. The two have traveled across the country working together with Callwood painting and Cadillac, filming consecutive episodes that are aired on YouTube. They started out with loose plans and a dream, and it has been a fun experience, Callwood said. They've been meeting new artists to the mural scene who have joined the duo. "It's more about the community and getting more people on board, making friendships and connecting with people." 
Tour De Mural Episodes 1-4 are available on YouTube. 
Callwood had been interested in the visual arts since high school and "liked graffiti, but wasn't good at drawing." He attended fine arts schools and dropped out and took an art class here and there, he said. A variety of opportunities beckoned to Callwood that utilized his writing skills — he did type work and took photos for the St. Croix Avis — but he was always interested in the art scene. 
"I got the 'hustle' mentality and figured out how to meet people. The skills of drawing came from repetition and constant failure," Callwood said. At age 18, he met Bryan Moss, "who became his mentor, helped him navigate, and showed him how it really is to be a full-time artist." By the age of 23, Callwood began painting murals for Facebook, Sprite, a major league soccer team, and he designed shirts for comedian Dave Chappelle. 
At age 28, Callwood has done a lot of community projects, and he's been teaching kids by helping them find their style and sharing his credo: find out what you like and what makes you happy; you don't have to be specific when you start off; you will get better over time; some things work, and some things don't. 
In 2021, he painted murals at the Department of Health in Christiansted, painted murals in Frederiksted with Clean Sweep Frederiksted – now part of the Public Art Trail, and traveled to Cleveland, Indiana, California, Tennessee, and New York to paint murals.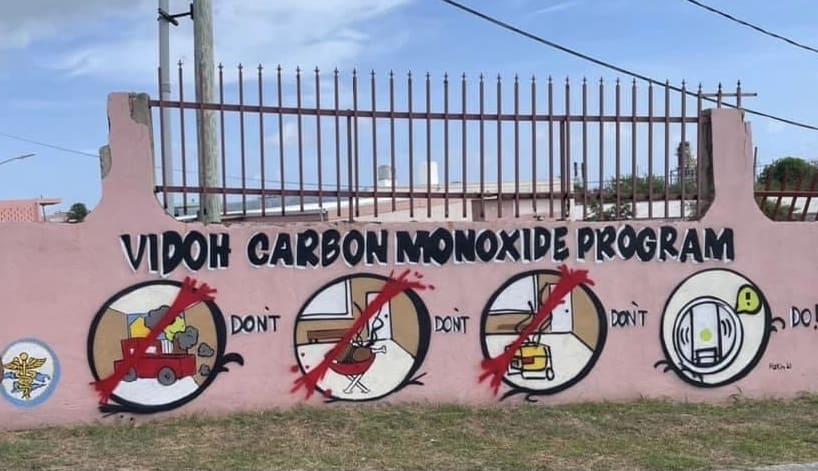 Callwood is working on a cartoon and writing some stories using animation. He would like to travel the world with a team of muralists and be a vehicle for them to do the painting. "It's hard working on a big project alone." 
"I'm already blessed," Callwood said. "I think I'm going to be alright. I don't know if everyone has that same resilient temperament or attitude, but you don't have to be so tough to have big art or successful art. I want to be able to help other people out the same way I've been helped."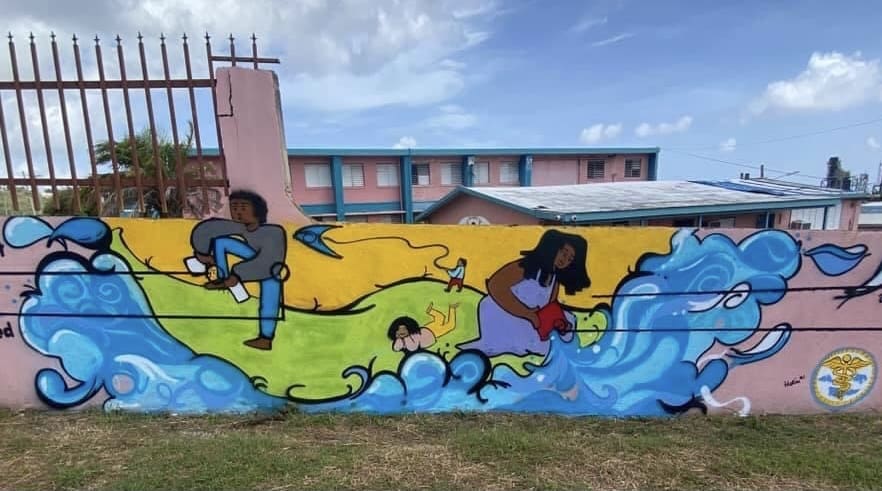 SCECHS received numerous donations in materials and labor to assist with the mural project. The project was funded by the Virgin Islands Council on the Arts and the National Endowment for the Arts. Home Depot manager Aidan Malcolm and Gallows Bay Hardware general manager Jammie Joseph and manager Michael Welsch donated the paint. Tropical Industrial Company and Tropical Chapter owner Angel Luis Gomez, Jr. donated scaffolding assembled by employees Freddy Canton, Ricky Poleon, Troy Weste, Urijah Lockhart, and Leon Richardson III.
David's Basic Art and Advanced Art students assisted: Quachayne Christian, Francisca Martinez, Jorge Sanchez, Gabriella Charles, Shadeyah DeCastro, Rodney Moorehead, Jr., and Mariah Stubbs.
For more information:
Tour De Mural Episodes 1-4 (YouTube)