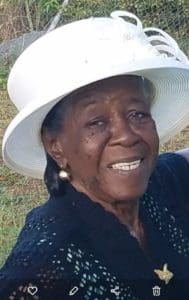 Mavis Valencia Robles died on Feb. 15.
She is predeceased by her sister, Ena Powell; and brother, Chester Nicholas.
She is survived by children: Winston Robles Jr. and Louis Robles; brothers: Roy Nicholas, Gene Nicholas, Leslie Nicholas and John Nicholas; sisters: Louise White and Cobina Nicholas.
A first viewing will be held from 4-6 p.m., Friday, March 4, at Turnbull's Funeral Home.
A second viewing will take place from 9:30-10:30 a.m., Monday, March 7, at Christchurch Methodist Church, Market Square, followed by a funeral service at 10:30 a.m. Burial will be at Western Cemetery No. 2.