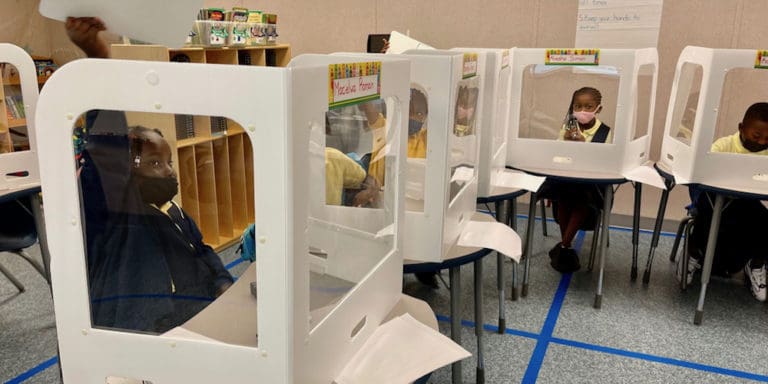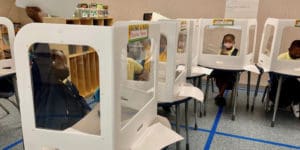 Despite the COVID-19 protocols, there were still a lot of normal things about the first day of in-person classes for public school Pre-K though third graders, including the excitement of the students, the obligatory parent photos at the gate and the determination of teachers and staff to make each classroom the happiest space possible.
Also in-person were students from the public schools' Special Education self-contained classes, and Career and Technical Education students enrolled in a specific career pathway who have been learning virtually since May.
St. Thomas-St. John District Superintendent Stefan Jurgen was joined by his team early Tuesday at Ulla F. Muller Elementary, where they participated in temperature checks and answered questions from parents who were curious about the safety measures the school had implemented. Because of the heightened concern around the virus, some parents opted to continue with virtual, at least for the first few days, but some came to the campus gate, watched the check-in, then left and returned with their children, satisfied that the protocols were tight.
Along with socially distanced desks and plexiglass barriers, Muller and other campuses were filled with signs reminding students to wear their masks and space out when moving around. Water fountains were closed, replaced by new individual bottle fillers, while sanitization stations were installed outside every few classrooms. Big tubs of sanitizer stood near doorways, with students making use of them when entering, and individual cubbies contained books and personal supplies.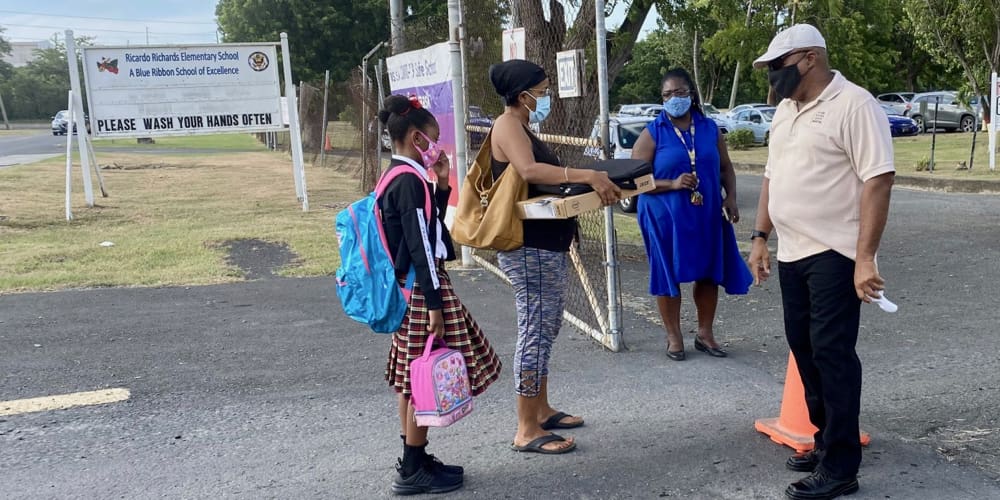 "With our first order, we tried to bring in supplies for a year and a half to two years, so even though some may be slow in coming, we have also received a lot of stock that we can use," Deputy District Superintendent Symra Dee Brown said Tuesday. Jurgen added that the Education Department had, in anticipation of all students returning to school in-person, ramped up its maintenance efforts over the summer to ensure that campuses were also painted, the lawns mowed and the floors washed, while air conditioners were repaired and air purifiers were installed.
"We've done a lot to prepare," he said.
At Jane E. Tuitt in Savan, Principal Thelca Bedminster said several families opted to have students eat breakfast at home, but lunch was still served on campus, outside the classrooms. As is common now, food is pre-packaged, but students are able to eat four to a picnic table outside and spend time together.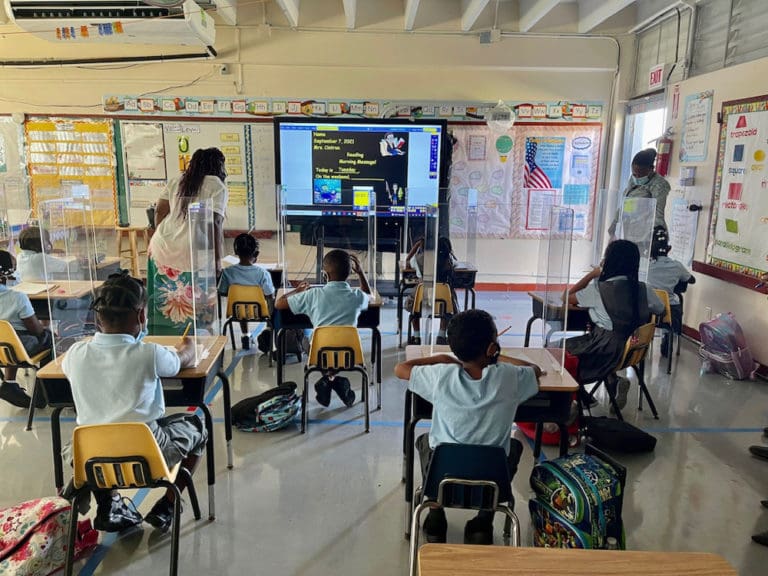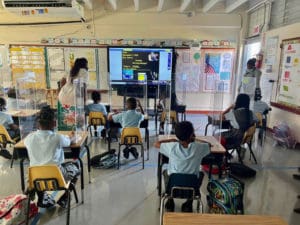 "In-person is always better for students," she said. "There is a better handle on the engagement and the management of the classroom, and while our teachers have done a lot of awesome work to keep their classes stimulated online, it's hard for both families and educators because there's a lot going on at home, whether it's mealtime, or work time, and really, it's hard to have to separate the two."
Principals agreed that students have adjusted to masking and social distancing well, it's just a matter of continuing to remind and reinforce throughout the day. At Sprauve, paraprofessional Neshell Lewis made it easier for her third graders by arranging the classroom into pods of four, with a book rack in the middle that students can quickly grab from, and supply kits in different corners of the room.
"I really think that they like having their own space," she said. "Having them feel comfortable is important, especially this year, where we're working to build the skills that will have them performing at or above grade level, and it's my hope that we can have all students return and feel just as happy and productive in the classroom."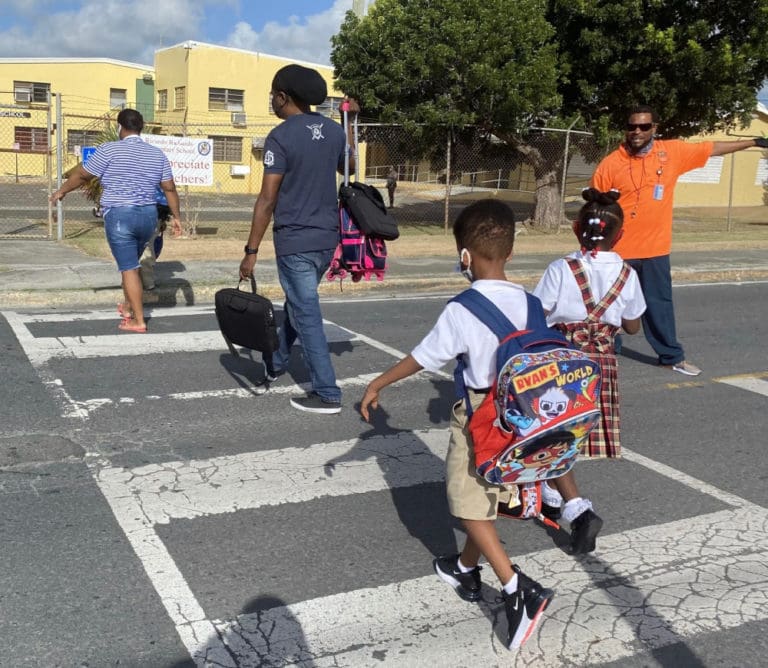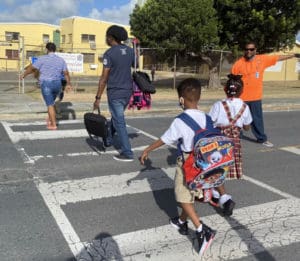 For those learning virtually, which were only a handful at Sprauve, Assistant Principal Jeune Provost said families were equipped with department-issued computers and MiFi boxes if internet access was needed.
"We sent out a survey beforehand to get a better idea of how many students would be coming back and we know parents were anxious to have them return, but still cautious, so we definitely expect our numbers will continue to grow in the days and weeks ahead," she said.
On St. Croix, Education Commissioner Racquel Berry-Benjamin and her team started out at Ricardo Richards Elementary School before moving through the district and onto St. Thomas-St. John with Gov. Albert Bryan Jr. and first lady Yolanda Bryan, among others. Tours in both districts were offered live on the department's Facebook page, giving more parents a closer look at classrooms and preparedness.
"We are so happy to be here today to reopen our campuses so that students can come to school and learn," Berry-Benjamin said. "Under the close guidance of the Department of Health, our district and school leaders, as well as maintenance staff, custodial staff, and food service workers, have prepared diligently to ensure campuses are ready to receive students and staff. While we are still very much in the midst of this pandemic, students still need to be educated. We have done our part to prepare, and we ask parents to do their part to ensure students can be in the best educational environment to learn."
At the Ricardo Richards Elementary School parents parked across the school and walked their children to the gate entrance. Once approached, parents were met by a school monitor and a representative who were conducting temperature checks. Some parents clutched laptops and MiFis in hand to return to the school, due to the beginning of the school year starting virtually.
Grandmother Rose Jacobs, who dropped off her granddaughter Eva Hansen, said that her granddaughter was excited to return.
"I am excited too because I feel that the smaller ones should be in the classroom. I think it will be better for them. It is a struggle with her at home because I am not computer illiterate," said Hansen. "I feel like the school has done their best to ensure that children are safe."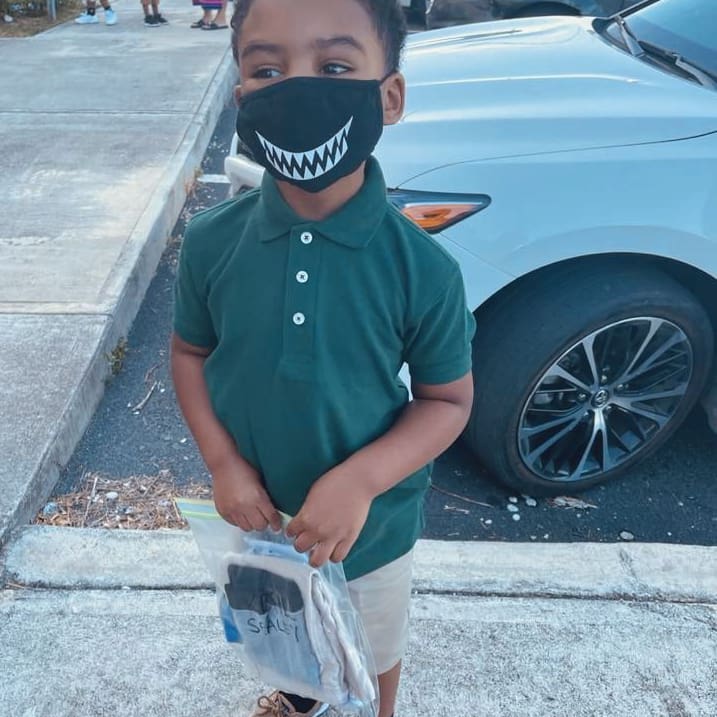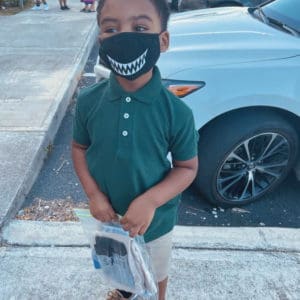 The Source caught Akiela Chinouyazue snapping a quick first-day picture of her son Roman Mingo, who is a kindergartener at Ricardo Richards Elementary School.
"I feel a bit torn but at the end of the day, education is critical as well as health. I will try to stay safe and pray for his well-being as well as the well-being of all the children returning," she said. "All these children from high school to Pre-K need social interaction in order to be well-molded individuals."
As at Ricardo Richards, parents at Lew Muckle Elementary School and the Frederiksted Head Start were met by a school representative at the gate, where temperatures were checked, hands sanitized and other COVID-19 precautionary measures conducted.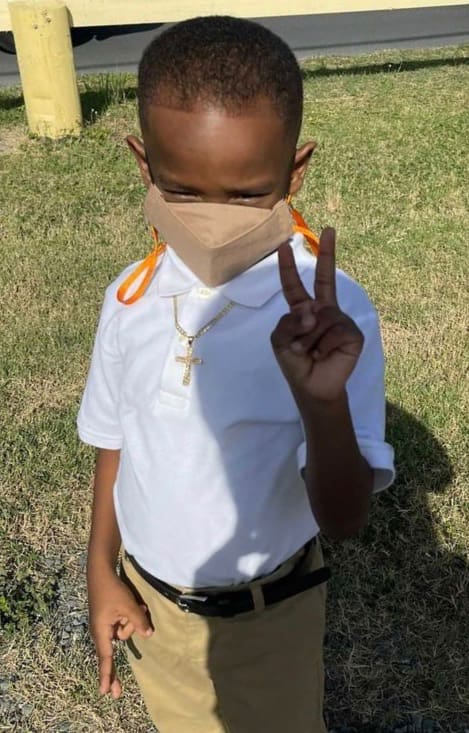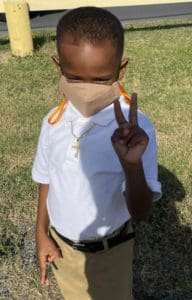 Pre-K student Kohl Sealey's parents, Chris Sealey and Keisha Prentice, expressed their excitement and optimism for their son starting school.
"He is an only child right now, so I was always worried about him being able to interact with other children his age. Definitely looking forward to this chapter," Chris Sealey said.
Prentice added that there were a mix of emotions.
"It's conflicting," she said. "I'm a little nervous because of COVID. I do not want anyone in the household catching any of the viruses, but excited for him to finally have consistent interaction with children his age and to experience the classroom setting."
On St. Croix, school bus service is scheduled to resume Monday, with families asked to transport students until then. Bus service was offered starting Tuesday for Special Education self-contained students on St. Croix and students on St. Thomas-St. John attending in-person.
The revised start date for school-bus service in the St. Croix District is the result of an unforeseen delay during final negotiations with the school-bus vendor, according to the Education Department.
"We have been working diligently with our school bus vendors and the various negotiation teams and are pleased to be able to provide school-bus service to St. Croix families on Sept. 13," said St. Croix District Superintendent Carlos McGregor. "We thank parents and families for their flexibility as schools prepare to reopen safely for students and staff."
While school bus service will be available in both districts this year, parents who can transport their children to and from schools are encouraged to do so. This will help the schools comply with social distancing requirements on school buses. Centers for Disease Control and Prevention guidelines allow for up to two students per seat, a decrease from the three-person per seat standard arrangement.