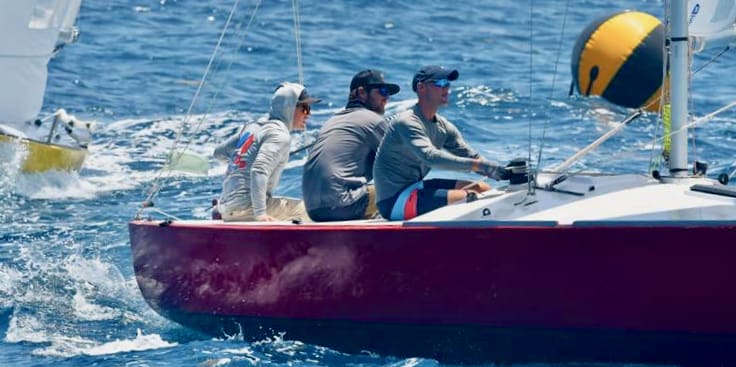 Sailing their own race, minimizing distractions and sailing clean with no penalties or protests are the three strategies employed by the first, second and third place teams in the 2nd annual St. Thomas Yacht Club Invitational.
USVI's Cy Thompson's team finished first, followed in second by USA's Dave Franzel and crew, with USVI's Mike Finley and fellow sailors in third, according to the regatta organizers.
The three-day event, run out of the club's St. Thomas Sailing Center, saw eight teams from the USVI, USA and Sweden complete 16 races on round-the-buoy and round-the-island courses in the U.S. Virgin Islands perfect sailing conditions of warm sun and 10 to 15 knots of breeze. The teams sailed identically prepared boats owned by the club, so the winning margin was based primarily on the skills of the competing teams.
"It was a pleasure to see the successful delivery of another incredible sailing event in the territory this year," said V.I. Tourism Commissioner Joseph Boschulte. "Kudos to the St. Thomas Yacht Club for their efforts to ensure that public health protocols were followed. We were pleased to welcome three journalists from sailing and lifestyle publications to participate in the Invitational Regatta, and we look forward to seeing many more travelers select the U.S. Virgin Islands as their first choice for a world-class marine experience in the Caribbean."
Winning Ways
USVI's Team Thompson started the day in the lead by five points. But that isn't much.
"It was too soon to start match racing any one boat, so we just sailed our own race," said Thompson, a two-time Olympic sailor in the Laser class. "Then, after the first race, we were 8 points ahead, but by the end, after the four races today, our lead over Dave [Franzel] was still 5 points. What made this regatta really fair was that the teams rotated boats after every two races."
USVI's Addison Caproni and Rian Bareuther helmed and trimmed the jib, respectively, with Thompson.
The change of boats played into each team's race strategy.
"For us, it was all about minimizing distractions today," says Franzel, whose crew were USVI's Christian Thompson and Puerto Rico's Fernando Montilla. "Each boat, while of the same design, IC24s, were all set up a little differently. For example, maybe the main halyard was too tight and if it were, we couldn't lower it while racing. So today, our strategy was minimizing distractions by not doing a thing, not eating, not talking, until we set up the boat the way we wanted after each rotation. Making that decision was the most important thing for us. So, while everything remained the same at the end in terms of our positions, I think everybody sailed better today."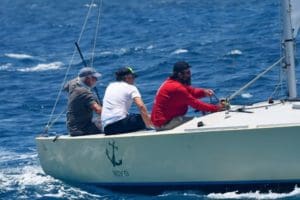 USVI's Finley saw the chance for a podium finish and he, along with crew Greer Scholes driving and Morgan Avery on trim, decided to sail competitively yet safely. There was no opportunity to discard the score of a bad race in this regatta, therefore every result was important.
"Our strategy was to sail a clean race. We got a point back by the end and finished only 4 points behind Dave, but it was tough out there. That's what made it fun," Finley said.
The top prize, earned by USVI's Team Thompson, are their names engraved on a perpetual trophy that honors late club members Rudy Thompson and Dick Avery and current club member and one of the club's founders, John Foster. According to the club's news release, each of these three men worked hard in the early days to put the club and U.S. Virgin Islands on the world sailing map.
The prize this year is especially fitting as Cy Thompson is Rudy's grandson.
In the future, the club looks forward to inviting some of the top sailors from around the globe to fly in, jump on a race-ready IC24 and compete.
Results are online here.
More information about the STYC Invitational Regatta is available by calling 340-690-3681 or going online.
RESULTS AFTER DAY 3/FINAL
1. USVI, Cy Thompson: 34
2. USA, David Franzel: 39
3. USVI, Mike Finley: 43
4. SWE, Peter Sernhede: 74
5. USVI, Mike Williams: 88
6. USVI, John Foster: 94
7. USVI, Steve Rollo: 96
8.USVI, William McConnell: 106