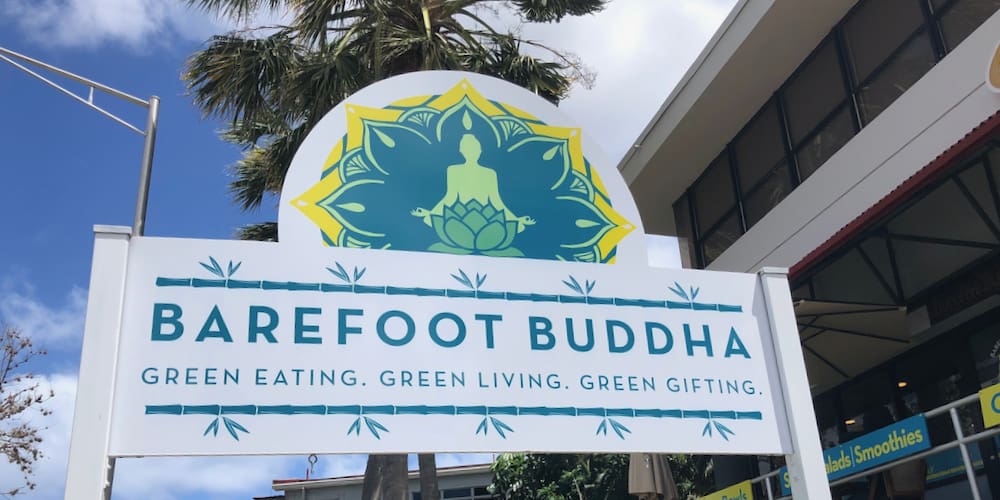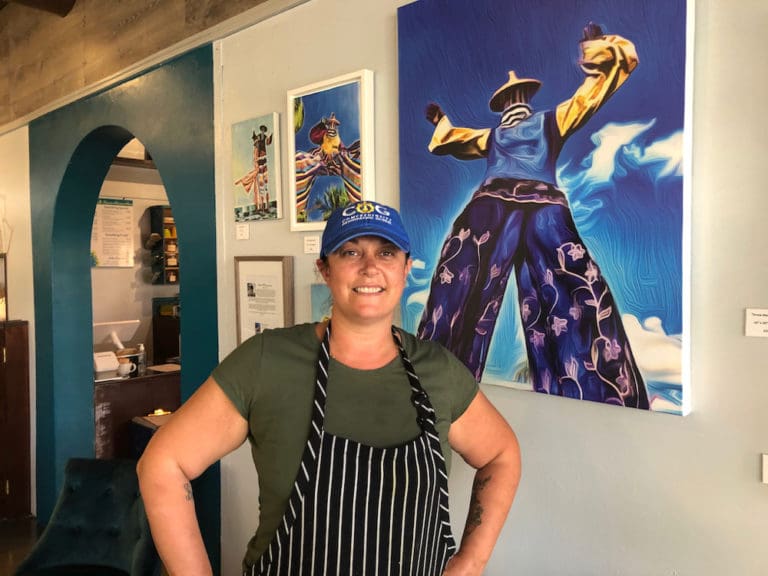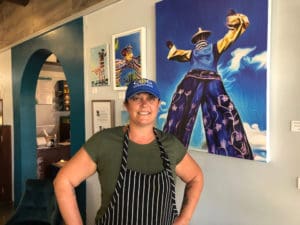 Steeped in the organic coffee-and-tea-loving community of St. Thomas for 13 years, Barefoot Buddha reopened on Feb. 22, a year to the date it closed its doors temporarily.
"We reopened on Feb. 22, exactly one year after the closing," said new co-owner Amy Gurlea.
Along with business partners Jack Gibbons and Cory Baker, Gurlea took ownership last October. She immediately set to work, determined to bring back to life her favorite coffee shop, fresh food eatery and local gathering spot with handy mailbox services. Five months of hard work resulted in a redesigned enterprise, complete with a built-in base of delighted customers.
"Everyone worked together, and the results have been thrilling," said Gurlea.
While preparing a panini in the sparkling new kitchen, Baker echoed Gurlea's enthusiasm and shared her history with the coffee shop.
"I was hired by the original owner, Shanna James, three weeks after Barefoot Buddha first opened back in 2007," she said. "My son, Cole, was two months old. I walked in the first day and immediately knew I wanted to work here the vibe was so positive."
Starting in the bakery, she worked her way up through the line, preparing food for more than a decade. According to Baker, her return to Barefoot Buddha as a partner was an easy decision.
"Amy and Jack reached out to me, and here I am," she said.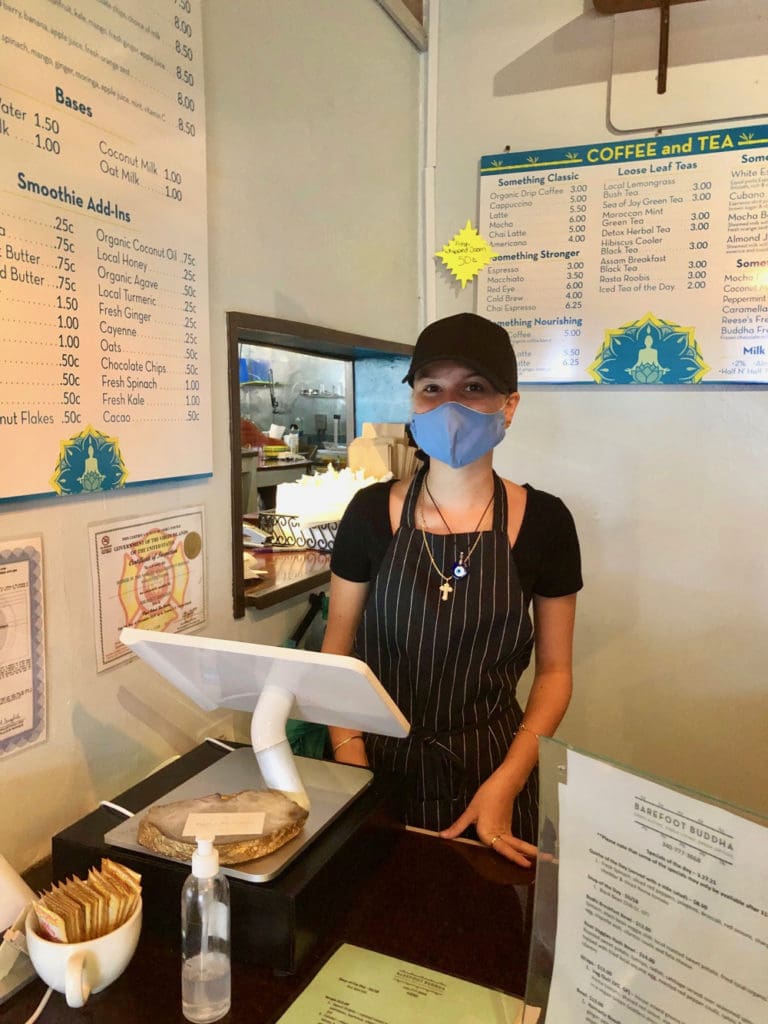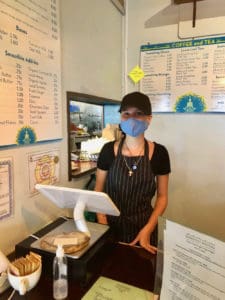 Today, Cole is 15 years old. Baker's other son, Jace, is 11. The newly minted entrepreneur added, "I do have to say, my sons are proud of mom."
Nodding in agreement, Gurlea said her early experiences at Barefoot Buddha were as a loyal customer. A personal trainer and director of facilities and auxiliary services at Antilles School, she is a longtime friend of Barefoot Buddha's founder.
"I remember helping Shanna put the original tables together before the 2007 opening," said Gurlea. "When Shanna told me last year she was moving on to the next chapter of her life, I didn't want to see Barefoot Buddha disappear. So many places were closing during COVID."
Gurlea said, "I've been coming here with my son Sean since he was seven years old."
Now a 20-year-old college student, on a recent visit home, Sean helped with the painting at Barefoot Buddha before it opened. Said Gurlea, "It's as if things came around full circle."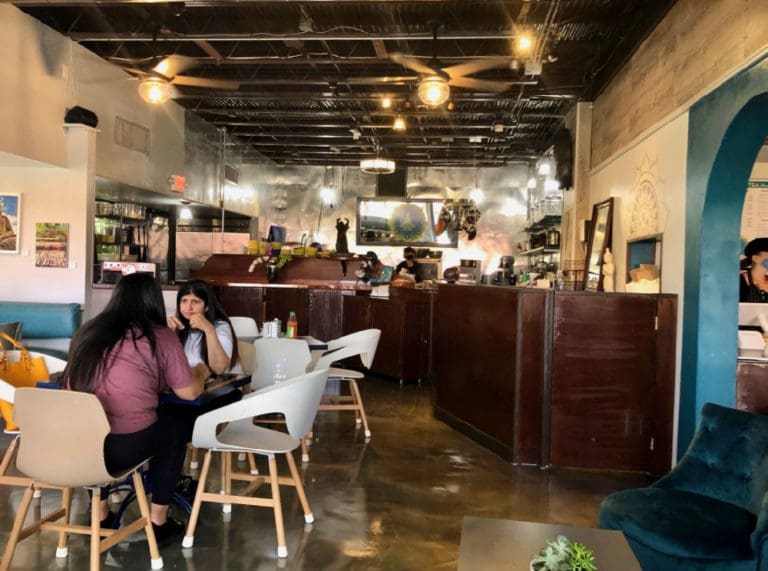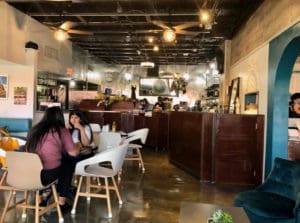 The third member of the entrepreneurial trio, Gibbons is a former FEMA employee.
Baker said," Jack is the center of our yin and yang. He balances us out."
Baker and Gurlea also praised the hard-working staff, including Patty Charas, a new member of the team.
"Jack brought Patty on board as a bookkeeper," said Gurlea.
Added Baker with a smile, "Patty is our bookkeeper and all-around 'go-to' girl. We go to her for everything."
Electing to retain Barefoot Buddha's well-known name, the new owners adopted the slogan, "Green eating, green living, green gifting."
"The Barefoot Buddha treads lightly and takes care of the earth," said Gurlea.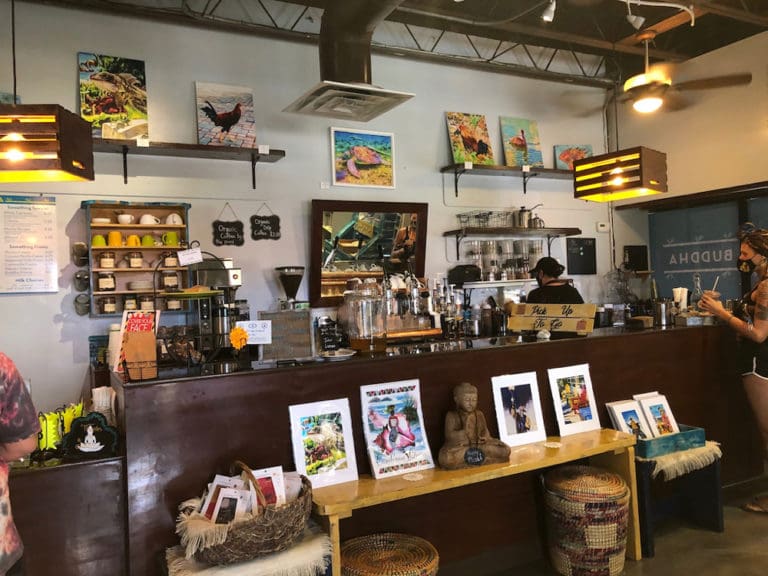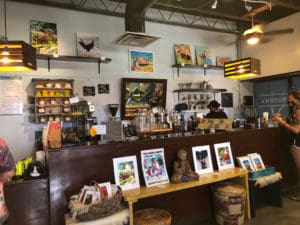 As part of the remodeling process, an expanded coffee bar was installed. The focal point is a clear countertop showcasing genuine coffee beans.
Asked how designs and color schemes were chosen, Gurlea said, "A vision board made everything look possible." She added, "We seemed to agree on colors instinctively, as well."
Seating is available on the outdoor patio and in the newly opened indoor dining room. Patrons can relax around hand-painted tables or in a welcoming lounge area where local art is on display. Currently, colorful Caribbean canvases from Nick Heinemann are in the spotlight.
The focus of the breakfast and lunch menu is on holistic, whole foods made from scratch. Patrons choose from wraps, sandwiches, paninis, specialty hummus and daily specials. Mexican lasagna is a longtime favorite and many new choices are available. Ingredients are locally sourced and fresh-from-the-farm, including eggs.
For easy ordering, the menu clearly indicates vegetarian, vegan and gluten-free selections.
Baker said, "We have no processed foods. We roast and slice our turkey. We don't serve anything that comes from a can."
Barefoot Buddha features classic organic drip coffee, cappuccino, latte, espresso, cold brew or macchiato.
If loose leaf teas are preferred, the list has local lemongrass bush tea, Moroccan mint green tea and more.
For frosty fans, a half dozen creative offerings include Reese's freeze, Peppermint Patty freeze and Buddha freeze made with chocolate milk – a favorite with kids.
When it comes to smoothies, options are varied, including the mocko jumbie, made with mango, coconut milk, banana and toasted coconut. Multiple add-ins are available, ranging from cinnamon and fresh kale to chocolate chips.
House-made baked goods are available from the attractive Oven Lovin' display.
Reflecting on Barefoot Buddha's first few weeks in operation, Gurlea said, "We're seeing lots of regulars as well as new faces, family and friends and former employees are all very supportive, and people from St. John are discovering we are open again."
Once inside, patrons will discover eco-conscious gifts on display. Shelves are filled with local art, jewelry, artifacts, lotions, plants and other intrigues.
"We are always looking for local vendors to help take us to the next level in our retail area," said Gurlea.
Barefoot Buddha also provides catering services. Plans for the future include a delivery service, Sunday brunch, supper club, afternoon wine and tapas events, expanding the mailbox division to full-service pack and ship and creating additional outdoor seating, cabana-style, in a micro-greens garden.
Barefoot Buddha is located in the Guardian Building across from Havensight Mall in Estate Thomas.
Additional information is online at the Barefoot Buddha website or by calling 340-777-3668.