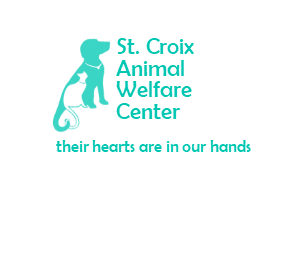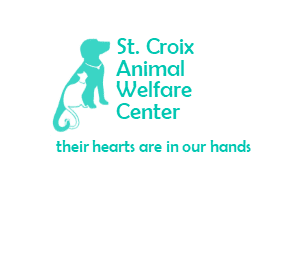 Since the start of 2021, the St. Croix Animal Welfare Center (SCAWC) has been inundated by stray and unwanted puppies – 174 puppies in just the first two months of this year. Most of these puppies are under four months old and arrived sick with intestinal parasites, fleas and ticks, open sores and infections. In a disturbing number of recent cases, puppies have been brought to the shelter infected with deadly canine parvovirus.
Parvovirus ("parvo") is a highly contagious virus. It is especially dangerous because it is contagious before a dog develops any visible symptoms. Your puppy can get parvo from an infected dog, even if there is no sign that dog is sick. Parvo spreads through a dog's feces and through contaminated objects, such as shared food and water bowls, collars and leashes, kennels and toys. People can spread parvo too, on their shoes and clothing, and by handling infected animals.
Because of the recent cases of infected puppies, effective immediately, the St. Croix Animal Welfare Center is limiting intake of both owned and stray dogs and puppies. It will continue to serve the people and pets of St. Croix through its community clinic and other services. To save as many lives as possible, while protecting the health of animals now at the shelter, St. Croix Animal Welfare Center is urgently asking for the following help from the St. Croix community:
 All intake of dogs and puppies, whether owner surrenders or strays, is by appointment only until further notice. Appointments must be made in advance by calling 778-1650. The center will accept only limited numbers of animals on a case-by-case basis. Healthy owned animals will not be accepted until further notice.
 If you see a healthy-looking adult stray dog, please do not pick it up and bring it to the St. Croix Animal Welfare Center.
 Please feed stray dogs where they are for now. If a stray dog is injured, very young, or otherwise in distress, please call before bringing the dog to the SCAWC.
 If you are bringing an unvaccinated dog or puppy to the community clinic, pick it up and carry it in. Keep the pet in your arms or on your lap. Do not put the pet on the floor.
 'Kitten Season' is starting now. To prevent an influx of kittens to the shelter, it is urgent to spay and neuter your own cats, as well as feral and stray cats, as soon as possible. If you are feeding stray cats, please bring them to the Animal Welfare Center's no-cost trap/neuter/vaccinate/return program. Call for details. The shelter is accepting stray and unwanted kittens, but call before bringing them in.
Without treatment, up to 90 percent of puppies infected with parvo will die. Even with treatment, many do not survive. A puppy with parvo is a very sick dog. Symptoms include vomiting, bloody diarrhea, fever, weakness, lethargy, weight loss and dehydration. If your puppy or dog shows any of these signs, call your veterinarian immediately. The sooner you get a sick puppy to a veterinarian, the more likely your pet will survive.
There is no cure for parvo. But it is a preventable illness! The way to protect your pet from parvo virus is vaccination. Puppies must be vaccinated more than once – they can still get sick from parvo until they have received the entire series of puppy vaccinations recommended by your veterinarian.
St. Croix Animal Welfare Center cannot stress enough how important vaccinations are for young animals. Also, be very careful letting your puppy play with other dogs. Socialization is important for puppies, but make sure your puppy's playmates are fully vaccinated too.
You cannot catch parvo from your pet; parvovirus is not contagious to humans. But parvo is a very hardy virus. It is resistant to heat, cold and humidity. Parvovirus can last up to a month inside your house; outside in your yard, it can survive for many months or even years.
If there are questions or concerns, call the Animal Welfare Center at 778-1650.
The St. Croix Animal Welfare Center, founded in the 1970s, is a 501(c)3 non-profit organization dedicated to providing and promoting the humane treatment of animals. Donations can be made online at www.stcroixawc.org.