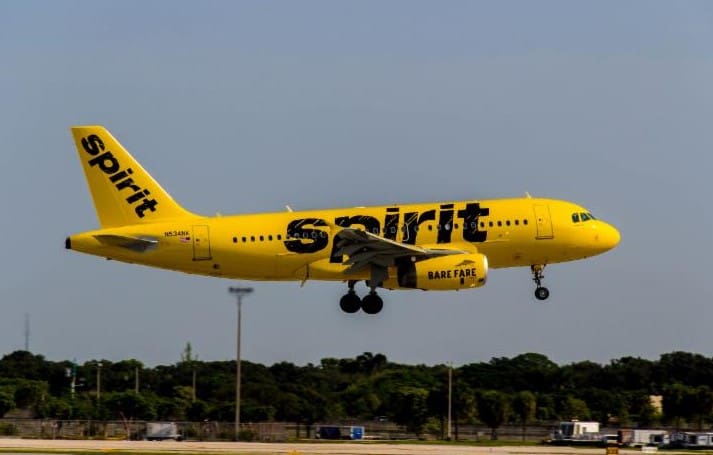 Effective Jan. 26, travelers entering the United States and its territories will be required to provide proof of a negative COVID-19 test before boarding the aircraft at their foreign embarkation points, but the rule does not apply to residents traveling from the USVI to the mainland. The V.I. Department of Health is requiring all travelers coming into the territory to submit a COVID-19 test result prior to traveling.
According to a news release from the U.S. Centers for Disease Control and Prevention, the order requires all airline passengers traveling to the United States from foreign destinations outside of the U.S., including U.S. citizens and lawful permanent residents, to provide proof of a negative COVID-19 viral test or recovery from COVID-19 before boarding an aircraft to U.S. destinations.
The new requirements do not, however, apply to people traveling to or returning from the U.S. Virgin Islands to the mainland United States, according to a pop-up ad on the USVI tourism website.
In some instances, the territory is considered "international," most often relative to shipping. Sometimes the international label applies to air travel as well – but not in this case.
The requirements do apply to all travel from foreign countries into the U.S. Virgin Islands, the pop-up ad says.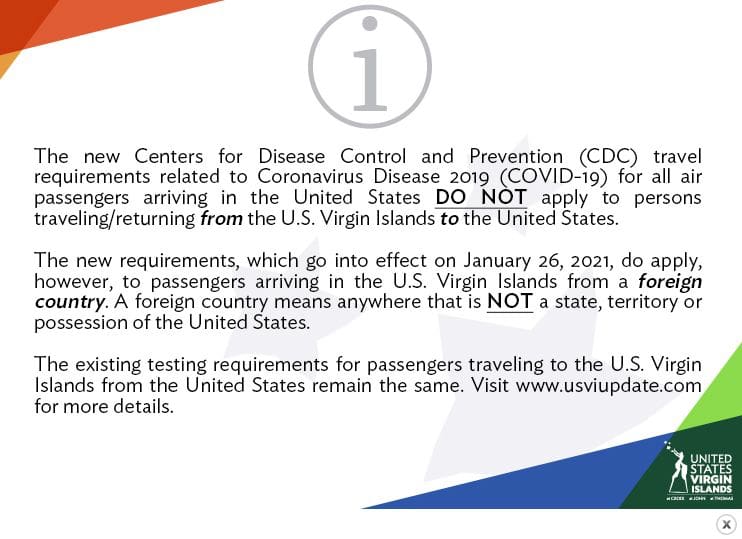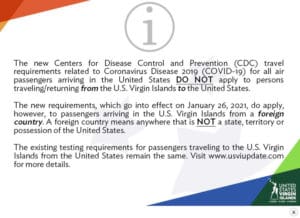 The news release – which came in an email headed "Health Alert," sent on Jan. 15 from the State Department Bureau of Consular Affairs, read, "Effective January 26, all airline passengers to the United States ages two years and older must provide either a negative COVID-19 viral test taken within three calendar days of travel or provide a positive test result and documentation from a licensed health care provider or public health official of having recovered from COVID-19 in the 90 days preceding travel. Passengers must also attest, under penalty of law, to having received a negative qualifying test result or to recovery from COVID-19 and medical clearance to travel."
Health Department Public Information Officer Jahnesta Ritter, replying on Monday to a request for clarification regarding the State Department communication, verified that the pop-up ad was correct. All other USVI travel requirements are detailed on the Tourism website.
In short, the site says, "Every traveler aged five or older who enters the U.S. Virgin Islands, by air or sea, including anyone in-transit to another destination, is required to use the USVI Travel Screening Portal and submit a COVID-19 test result prior to travel.
COVID-19 test results must be submitted via the portal and not by email.
Air passengers traveling to the United States, regardless of vaccination status, are likely required to present a negative COVID-19 test result or documentation of recovery at their destination. More detailed domestic travel information is online at the CDC website.