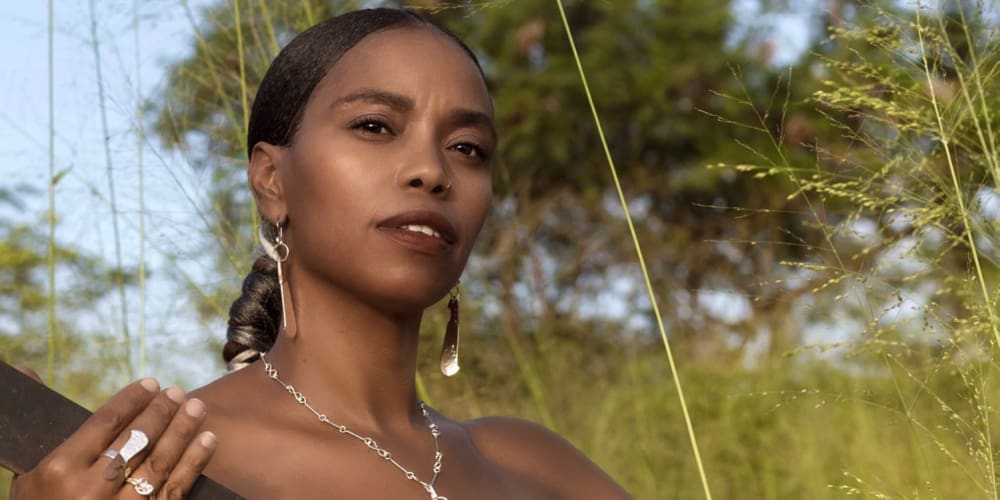 Art Thursday will kick off its season on Nov. 19 as an all-day event, from 10 a.m. to 8 p.m. Galleries and jewelers are welcoming the return of this third-Thursday-of-the-month venue, which has been a pillar in downtown Christiansted for almost 25 years.
The event hours have been extended with the coronavirus in mind, allowing the public to attend throughout the entire day so that limited numbers of patrons can enter galleries, jewelry shops, restaurants and other establishments, and still observe social distancing. Everyone must wear masks during the Art Thursday event.
For many years, the popular venue has provided a lively meeting place for family and friends to celebrate the arts during the evening for hours after stores would normally shut down.
COVID-19 has prompted downtown Christiansted merchants to find a new, creative way of offering the community an art experience in a safe and fun environment, a full-day appreciation of the arts.
Each gallery will feature special items in preparation for the first Art Thursday of the 2020-2021 season. The offerings of beverages and finger foods available in the past will not be offered this year as a safety precaution with COVID-19 in mind.
Merchants expect restaurants will benefit from the intermittent crowds moving throughout downtown all day.
"There is excitement brewing around the idea of the extended day, and we have received a tremendous response from the community," Top Hat owner Hanne Rasmussen said.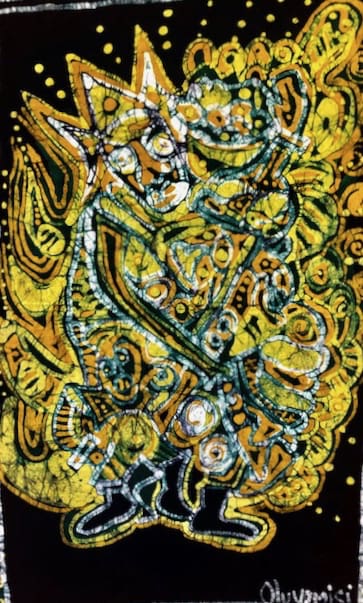 Rasmussen will feature a Ghanaian batik exhibit curated by artist Nii Ahene, a native of Ghana who has lived on St. Croix for many years and has shared his art and expertise.
The Top Hat will have local art and collectibles of jewelry and photographs on display and available for purchase at the gallery on Company Street, across from the Christian "Shan" Hendricks Vegetable Market.
Former Sen. Nellie O'Reilly, co-owner of Sonya, Ltd., said the jewelry store is bringing back many vintage pieces that were popular when original owner Sonya Hough was creating her legendary jewelry line. It is Hough's creation of the original hook bracelet that has drawn jewelry lovers to her Company Street doors throughout the years.
"Our first creation under our new management is a beautiful collection celebrating Queen Mary. It is the 'Fyah Buhn' torch crafted into a ring and a pendant, which we will showcase on Art Thursday," O'Reilly said.
O'Reilly said she shares the excitement of other merchants in downtown Christiansted and feels the new hours will bring out those who do not drive at night.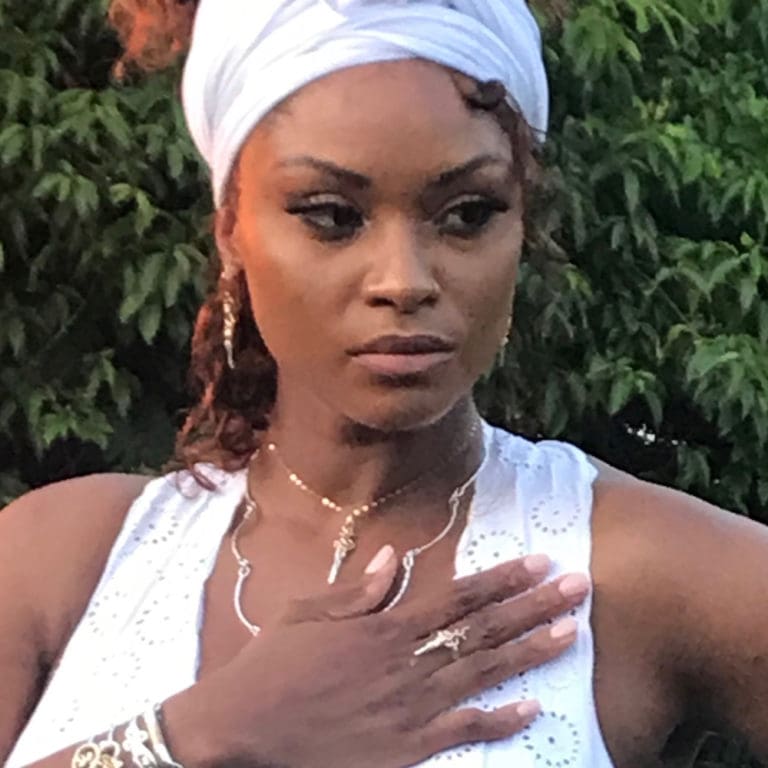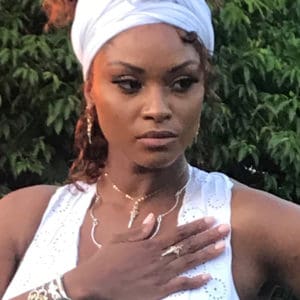 "It will boost so many aspects of the businesses in town and restaurants will benefit considerably," she said.
Across the street from Sonya's is the Mitchell Larsen Studio with its large glass storefront displaying glass ornaments, magnets, plates and all sorts of fun items to delight the shopper. Owner and artist Jan Mitchell creates whimsical designs in a variety of shapes, colors and sizes – all made from glass. This year's highlight is a Santa ornament wearing a COVID face mask.
The 2020 Christmas ornaments will be on display, a mama chicken and three baby chicks representing downtown Christiansted, and an ugly sweater ornament will catch the eye, Mitchell said.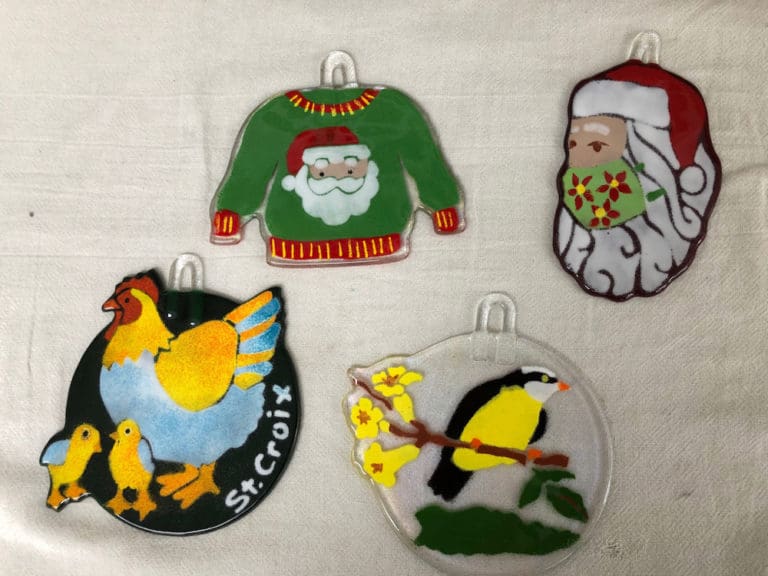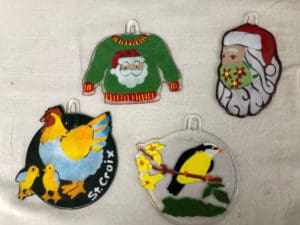 "I think it's a great time for people to get out again to see those friends they haven't seen in months," she said.
Traversing up the Company Street art walk, patrons will be able to stop in Christa's Gallery, where owner/artist Christa Molloy will showcase her cultural art recreated on aprons, pillow shams, beverage containers, shower curtains, pet food bowls and room dividers, all new products of her original artwork. Molloy has new designs in face masks, and she is continuing her "sip and paint" events with small, safe groups.
Molloy said she is happy that local artists have the opportunity to exhibit their work in a safe environment, and she invited the public to come out and purchase a piece of art they can enjoy in their homes. She said she looks forward to the increase in business that the extended hours will bring to the shopkeepers.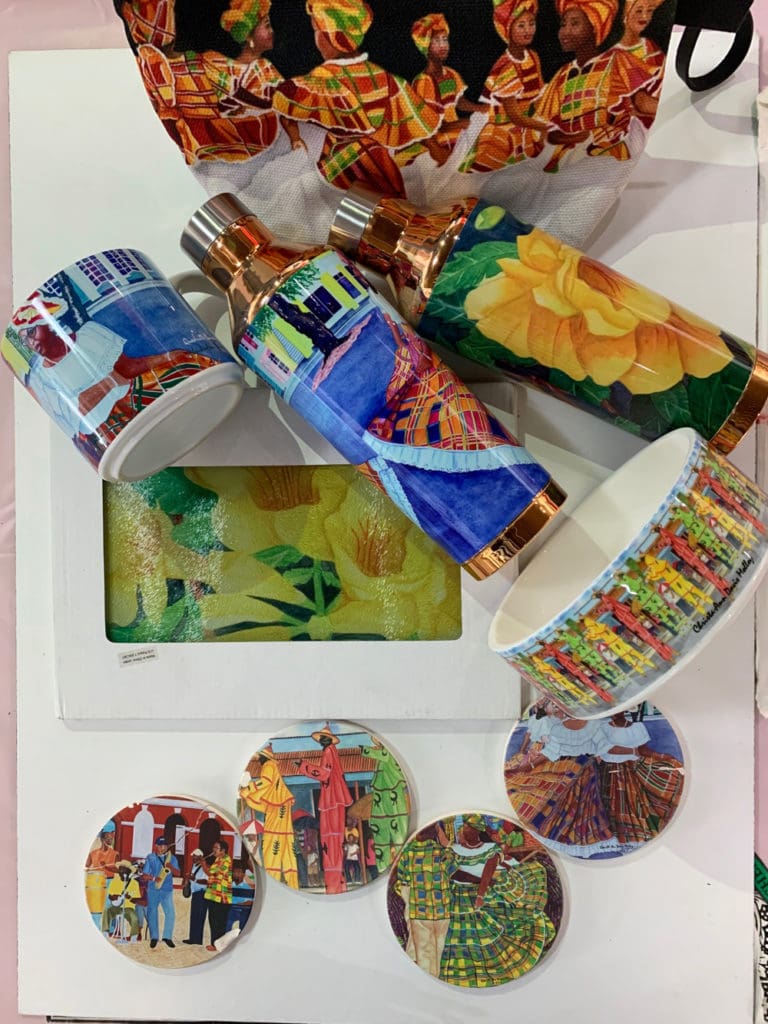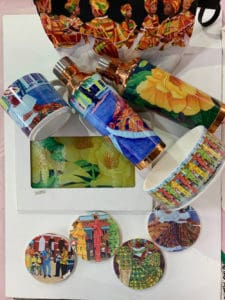 Close to the corner of Company and Queen Cross Streets is the location of the ib design family business. They will share several one-of-a-kind pieces from their collection, owner Kris Massicott said of the designs her husband, Whealan Massicott, and their two sons are creating.
"We will be introducing two lines created by our kids, Abbie, 30, and Keenan, 24," Kris said. Keenan's limited edition will be available for purchase on Art Thursday, while Abbie's design, geared toward the Caribbean man, will be available for patrons to see and custom order; it will be a permanent addition to the ib design line, Kris Massicott said.
"We are super excited about people coming into Christiansted with a community purpose all day long, and we expect shoppers to be respectful of the guidelines in order to participate in this venue. People will get to see people they haven't seen in months and they will be able to see the sparkle in their eyes," she said.
Barbara's Art Studio/Gallery, located in the Apothecary Courtyard, will have new, original Caribbean artwork on hand, beading crafts for the kids and at the end of the evening, a raffle of artwork by artist Barbara Gelardi.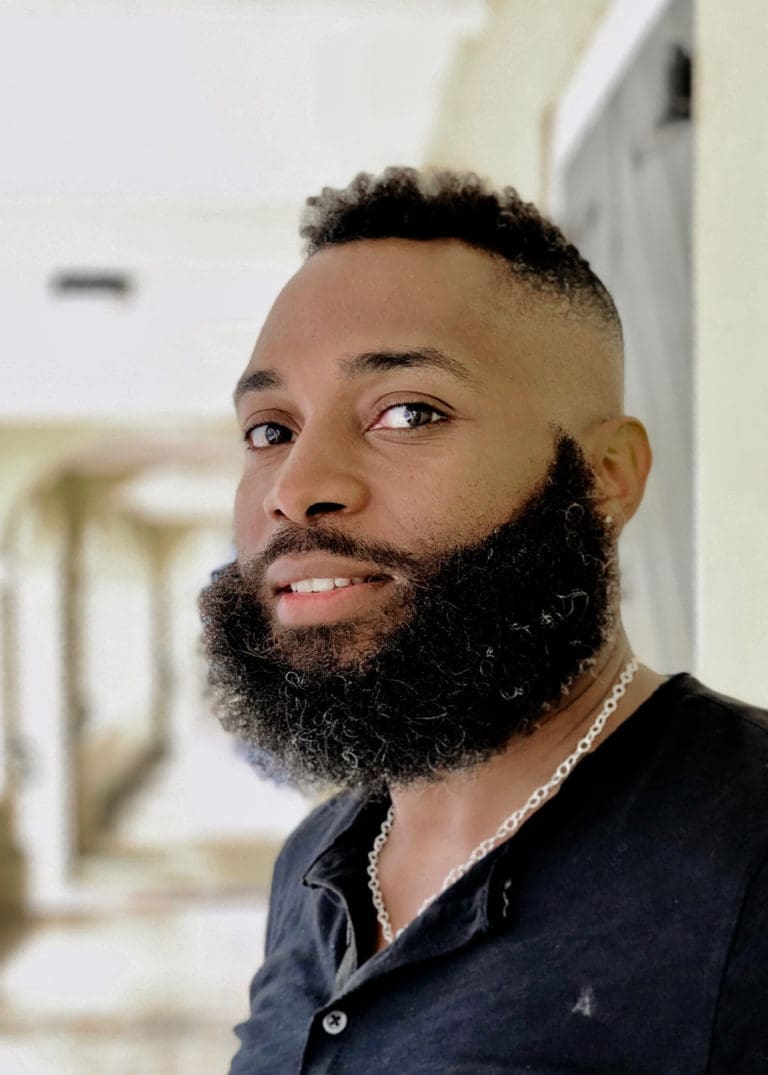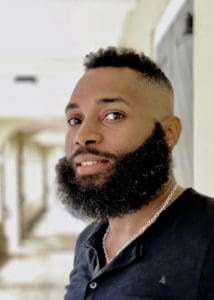 Upstairs from Barbara's, in the upper courtyard, chef Lisa Coates owns and operates Cafe Christine & Gallery. Coates has organized a worldwide, online silent auction fundraiser with bidding on photographic prints of Kemit-Amon Lewis' trip to Egypt during Christmas and New Year in 2018. The purpose of the fundraiser is to assist with the cost of prosthetic tools for Lewis.
Lewis became a quadruple amputee the summer of 2019 after surviving sepsis, being airlifted to Florida and a two-week induced coma. The vasopressors that helped keep him alive also deprived his limbs of oxygen. His right hand and foot and left fingers and toes were amputated. Lewis has been navigating this new chapter in his life with its hurdles, and he has realized there is nothing more powerful than confidence in self, he said. He has the will, not just to live, but the will to persevere and succeed.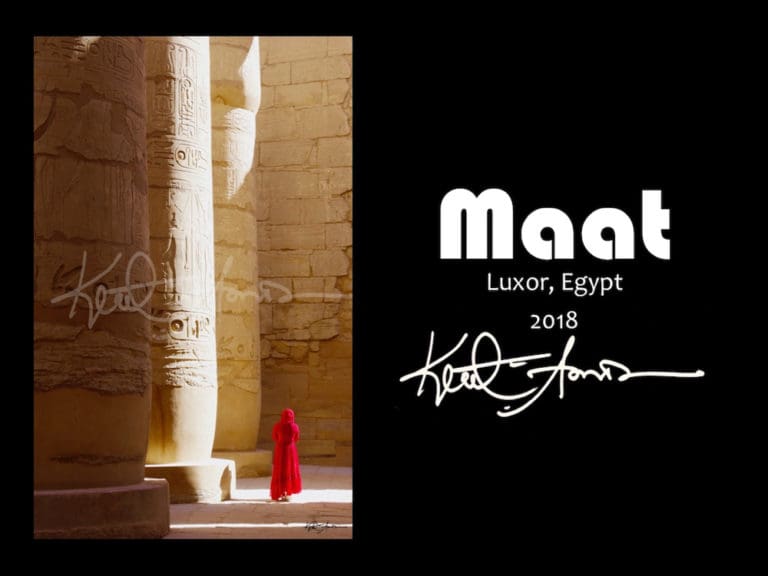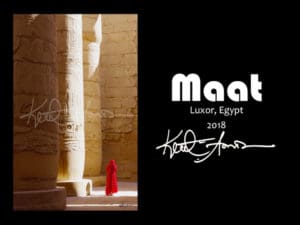 Lewis' indomitable spirit has allowed him to approach the challenges of walking to running to dancing to swimming. He is working on the prosthetic he needs to do all of those activities. The fundraiser will assist him to that end.
The auction starts at midnight on Nov. 18 and concludes at midnight on Dec. 16. Those interested can browse the site and find a photo they want to bid on for themselves or for Christmas giving.
To take part in the fundraiser go to the online auction site.
A short trek from Company Street takes the art walker to Strand Street, where "the soca DJ group Lips I'NTL [Ladies in Pursuit of Sound] and Crucian Gold have teamed up to offer great tunes to vibe to as you stroll down the Strand," Nathan Bishop said.
Bishop and his wife Therese own and operate Crucian Gold Jewelry, the studio of the Bishop family, where Nathan crafts fine jewelry.
"Crucian Gold and Maufe Gallery celebrate the return of Art Thursday this month. We look forward to the season starting again and seeing our customers enjoying some of the arts and culture Christiansted has to offer," Therese said.
"We are celebrating heritage and liberation with the expansion of the machete collection," Nathan Bishop added. "Our latest addition to this original heritage collection will be a baby and children's machete bracelet."
He said there will also be a "rebirth" of an original piece – the Queen Mary.
"Known as a fierce and determined woman – she shines as an inspiration for Caribbean women all over the world. These jewelry pieces sparked a great partnership with photographer and artist Chalana Brown," Bishop said.
Restaurants will be open all day for breakfast, brunch, lunch and dinner to appease the appetite and palate of patrons on the art walk on Thursday.