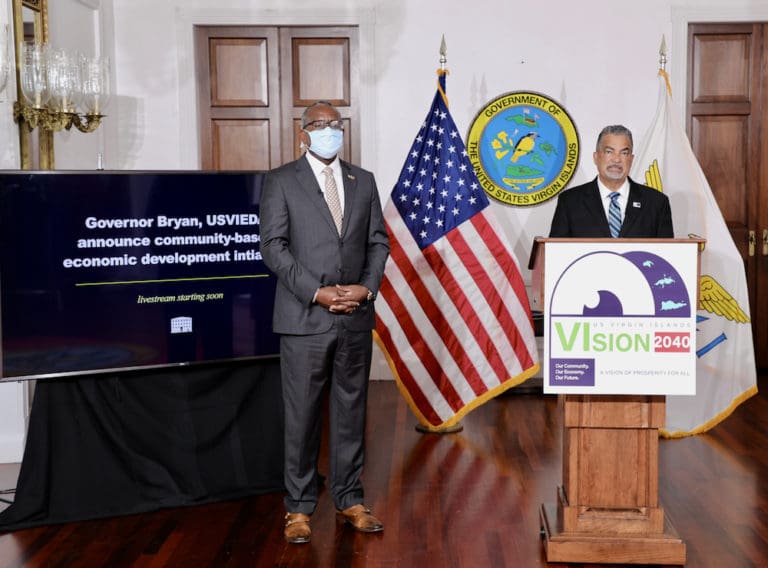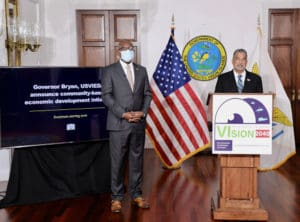 Virtual activities to support the creation of a 20-year economic development plan will begin in a week, with officials saying on Tuesday that community buy-in is critical to move forward and propel the territory from the "agrarian society it was 50 years ago to the technologically literate and progressive society we hope to be tomorrow."
Unveiling the initiative called Vision 2040 at a news conference on Tuesday, Gov. Albert Bryan Jr. said the government has continued to put forth proposals and submit bills in response to concerns from residents about social issues but appears to be stuck in a "continuous circle of nowhereness" because of a lack of action from local leadership. Putting forward a comprehensive plan with community input could instead get the wheels turning, he said.
According to USVI Economic Development Authority Chief Executive Officer Wayne Biggs, who is spearheading the process alongside consultant Camoin 310, the initiative includes four parts. Along with the 20-year economic development plan and target competitive industry analysis, there will be a global marketing campaign, equity capital formation plan and an energy sector analysis, Biggs said.
Camoin 310 is an economic development consulting and business investment lead generation firm headquartered in Saratoga Springs, New York.
"Vision 2040 will tackle systemic and deeply rooted issues that stymie the economic development and incorporate plans that cover shorter periods of time, including a comprehensive economic development strategy and a tourism master plan, which are both currently underway," Biggs said.
The U.S. Economic Development Authority and the V.I. Housing Finance Authority have made $1.6 million in Community Development Block Grant funds available to begin the process immediately and, over the next year, provide opportunities for residents across the territory to participate through task force meetings, stakeholder interviews, working group meetings, focus group discussions, business surveys for each island, virtual open houses, virtual public presentations and virtual events for the U.S. Virgin Islands diaspora, along with island-specific residential surveys.
The first survey will be available on the Vision 2040 website beginning at 6 p.m. Thursday, Oct. 22, and information on how to join a session will be forthcoming, Biggs said. Residents can find more details and ways to participate by visiting the Vision 2040 website.
"Once the comprehensive examination of the current Virgin Islands' economy – and consideration of the impact of the pandemic – the Vision 2040 plan will provide concrete economic initiatives to include eco-tourism, light manufacturing, technology, financial services and agriculture. It will also outline needed improvements in areas ranging from energy and communications infrastructure to education, training, public safety and government responsiveness, that have a direct effect on doing business in the territory," Biggs said.
Consultant Camoin 310 was selected following a competitive bidding process, and according to officials has provided strategic planning guidance and assistance on more than 1,000 initiatives spanning 41 states.
"We're not always going to agree and not always going to be on the same page, but enough of us have to be committed to making the type of Virgin Islands we want to see, and to understand that in order to have the things we want, we have to make sacrifices in other places," the governor said on Tuesday. "We are going to invite different people from new lands and places to the Virgin Islands to come and set up shop, create opportunities for young people to decide if they want to live here or abroad, but the key to this is the motivation and understanding that we, in lockstep, will have to move toward that."