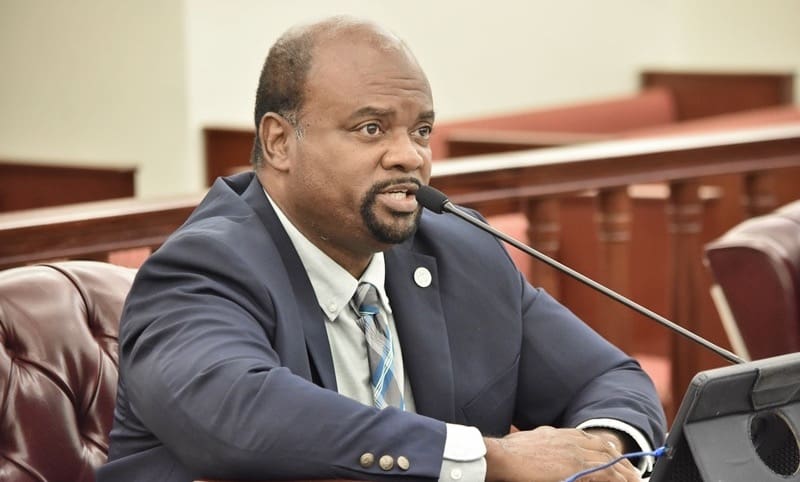 The Committee on Housing, Transportation, Infrastructure and Communications on Friday forwarded a bill that is dear to the heart of Sen. Steven Payne Sr., who co-sponsored the legislation along with Sen. Oakland Benta.
Bill 33-0041, which passed unanimously and will be forwarded to the Rules and Judiciary Committee for further review, would add a new subchapter to Title 3, Chapter 9 of the V.I. Code to ensure that walkability and access are addressed in the construction and repair of the territory's roads.
The legislation is personal to Payne, who recounted how he used to work out at a downtown St. Thomas gym with a friend who was blind and would walk to their morning sessions, sticking his cane into the road by the Boy Scout building on Beltjen Road to alert traffic to stop so he could cross the street.
One morning, as he crossed, a car oblivious to the others that had stopped went speeding by, hitting and killing Payne's friend.
"That was a driving force for me getting involved in this," Payne said.
Testifying on behalf of the legislation, which would be funded with money from the Anti-Litter and Beautification Fund, were Health Commissioner Justa Encarnacion, Americans with Disabilities Act Coordinator Julien Henry, State Director of AARP for the Virgin Islands Troy de Chabert-Schuster and Vice President of the V.I. Trail Alliance Alma Winkfield.
Human Services Commissioner Kimberley Causey-Gomez, Public Works Director Nelson Petty Jr. and Police Commissioner Trevor Velinor were unable to attend but provided written testimony.
The witnesses were unanimous in their support of the bill, which they said will improve the health and well-being of the territory's communities, helping to curb chronic diseases such as obesity, diabetes and hypertension, and create a more livable, accessible and attractive landscape for residents and tourists alike.
"The best time to start Complete Streets was 20 years ago. The second-best time is now," said Winkfield, referring to the name of the legislation that would address everything from sidewalks and street signage to rest areas and bus stops, to landscaping and compliance with the Americans with Disabilities Act, such as audible traffic signals and proper ramps from sidewalks to road crossings.
Safer streets make for healthier and happier communities, Encarnacion said, citing Centers for Disease Control and Prevention data that says exercise is as essential to health as good nutrition, helping to reduce hypertension, diabetes and obesity, which account for 11 percent of health care expenses in the U.S. and are prevalent in the USVI.
A 2016 behavioral risk factor study revealed that 65.2 percent of the territory's adults were overweight or obese and 26.6 percent had not taken part in physical activity the month prior, said Encarnacion. A USVI youth risk behavioral study in spring 2018 showed that one out of four children had not participated in the recommended 60 minutes of physical activity per day the week prior, she said.
In short, "walkable, bikeable, transit-oriented communities are associated with healthier populations," said Encarnacion. They also reduce traffic fatalities, help prevent falls and make life more accessible for those who are non-ambulatory.
According to Velinor's written testimony, the VIPD Traffic Investigation Bureau issued 8,094 traffic citations from Jan. 1, 2019, to June 2020, of which 11 involved fatalities. From 2015 to 2019, there were 26 bicycle accidents – six in the St. Thomas-St. John District and 20 on St. Croix. The bureau "welcomes any measures that provide safer streets and revamp the conditions of the territory's roadways," the police commissioner wrote.
In its current state, the territory's infrastructure provides myriad challenges for those with mobility issues, said Henley, who noted that most of the sidewalks are more than 30 years old. Poorly placed utility poles, cracks and holes in the pavement, lack of crosswalks and the dearth of ADA aids such as properly curved ramps from sidewalks to roadways and textured domes that alert blind people to the start and end of a crosswalk, he said.
"There is a reason why these laws exist," said Henley, noting that every Virgin Islander, regardless of ability, has the right to live "a wholesome life." He pointed to the recently completed Veterans Drive project on St. Thomas, which has a walkable harbor front apron that dozens of people now use every morning. It "provokes a sense of inclusion," because everybody can use it," Henley said.
De Chabert-Schuster noted that the Virgin Islands is aging rapidly, with the number of people over 50 expected to increase from 41.4 percent to 44.1 percent of the population by 2030. Those over 60 will account for 32.9 percent of the territory's residents in 10 years, he said.
"We need policies for successful aging," and at the core of that are livable communities not just for the elderly, but also those on bikes, in strollers or wheelchairs, said de Chabert-Schuster, noting that Complete Streets legislation is in place in 600 jurisdictions in 28 states, Puerto Rico and the District of Columbia.
Winkfield said a 2017 walkability report supported the need for legislation due to a lack of investment in non-motorized transportation, such as bike lanes and multiuse pathways. She said the data shows that more livable communities reduce isolation and greenhouse gases, provide entrepreneurial opportunities, expand the tourism product and support disaster recovery and health emergencies.
"This measure is well-needed," said Sen. Stedmann Hodge Jr., to the agreement of his fellow committee members.
"It has been proven, especially with the new waterfront project, once it's available, people walk in droves," Committee Chairman Marvin Blyden said.
Questions mainly revolved around funding, and whether Community Development Block Grant-Disaster Recovery funding could be tapped, as work is ongoing now to repair roads damaged in hurricanes Irma and Maria in 2017. The senators also urged that WAPA be involved in the Complete Streets Task Force to create a strategic plan. Other agencies include Public Works, Waste Management Authority and the Anti-Litter and Beautification Commission.
Payne assured his fellow senators that their concerns will be addressed as the bill moves through the approval process.
Voting in favor of advancing the legislation to the Rules and Judiciary Committee were Senators Alicia Barnes, Allison DeGazon, Donna Frett-Gregory, Myron Jackson, Javan James Sr., Hodge and Blyden.