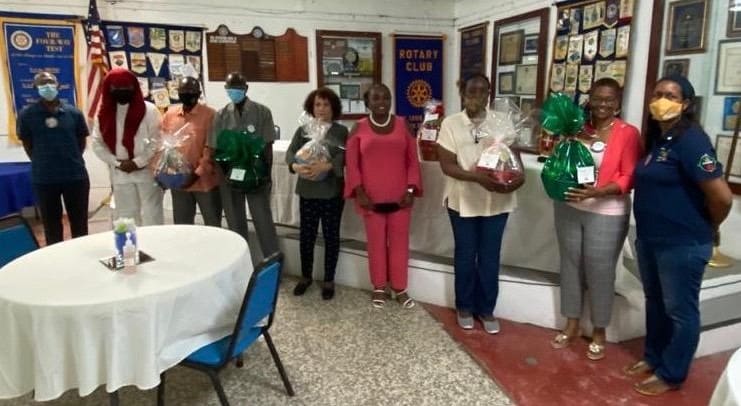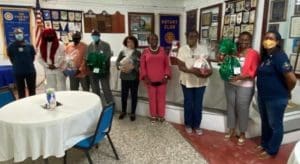 On Tuesday, Sept. 29, the Rotary Club of St. Croix West honored members in the community who are caregivers to their families and members of the Rotary Club. It was an evening of fellowship with dinner and bingo hosted by the Family of Rotary Committee. The event was held at the Rotary West Community Center in Frederiksted and promised to be a night to remember. Members of the club and guests gathered together to enjoy this wonderful event. President Cheru Ross of the Rotary Club gave opening and welcoming remarks. Deborah Johnson and Gaynell Myers, co-chairs of Family of Rotary Committee then presented all honorees with a lovely fruit basket. Among those who received recognition are:
Caregivers to Rotarians: 
Andrea Abramson (Presentation by CEM Foundation)
Asarkasaamsu Herishetapaheru (NebKara)
Etheldred Christopher Jr.
Pauline Harty
Delores Iles
Rotarian Caregivers                                    
Gaynell Meyers
Lauchland Tonge (Larkey)
Deborah Johnson (Debbie)
Honorary Rotarian
Rosa Sealey
Rotary West recognizes that regardless of a caregiver's particular circumstances, it is a challenging role and one that a person most likely hasn't been trained to undertake. However, because of their love for the family member, they automatically assume the role of caring for their loved ones and thus should be recognized for their dedication.
Rotary Club of St. Croix West meets at 6 p.m., every Tuesday, at the Rotary West Community Center in Frederiksted.
For more information on the club's initiatives or to join the Rotary Club of St. Croix West, visit www.rotarystcroixwest.org or like its Facebook page  www.facebook.com/rotaryclubstcroixwest.
Special Thanks to Donors of the Fruit Baskets:
Rotary Club of St. Croix West
Optimal Printing
Dr. Venne Williams
Family Florist
CEM Foundation
Avis Rent A Car
Carla Flowers and Gift Shop
Budget Car Rental
Special Thanks to Others:
Rotarian Larkey for hosting Bingo
Rotarian Dorothy McIntosh-Dinner/Caterer
Family of Rotary Committee Members: Past President Jennell Bryan, Claire Roker, Gaynell Meyer, Juliet John-Hope and Ophelia Jackson