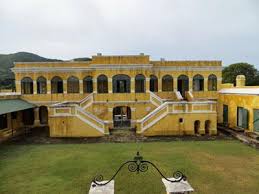 Christiansted National Historic Site has begun several projects related to the repair of damages to park buildings and trees resulting from hurricanes Irma and Maria of 2017. Work may result in limited street closings in and around Christiansted NHS.
Christiansted National Historic Site will begin to trim and remove damaged limbs on several of the large trees located at Christiansted NHS park grounds that were damaged by Irma and Maria in 2017. This action will prevent further damage and deterioration to the mature mahogany, palms and tamarind trees and will improve trees resilience to future windstorms.
All trees were examined by an arborist, who determined that three of them should be removed: a mahogany and a palm tree on the grounds of the Steeple Building, and a palm tree located at the sidewalk next to the Steeple Building. The removal of these trees requires the closing of Church Street, between Company and Queen Streets, from 6 a.m. to noon on Wednesday, July 8.
Additionally, the park will be cleaning and repainting the underside of the main floor/gallery ceiling of the Danish Customs House that was damaged by saltwater spray and black mold, also resulting from hurricanes Irma and Maria. The rinse water and all paint flakes will be contained, removed and disposed of properly. Rinse water will not flow into storm drains or harbor.