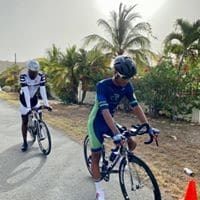 Twenty-eight excited cyclists showed up on Sunday morning for the Virgin Islands Cycling Federation's first official calendar event since COVID-19 found its way to the V.I. The officials of the Keep Your Distance Time Trial sent off cyclists every minute until all 28 cyclists were on the course, which spanned from the Divi Hotel to the pillars at Ha 'Penny.
Facing the hills on St. Croix's South Shore Road, as well as a crisp crosswind, cyclists didn't complain because they just wanted to compete once again. The field included seven Women, three Masters, two Sport, eight Experts and eight Elite cyclists. A few cyclists experienced flats; others just wanted to know how they matched up after being out of racing for nearly five months.
Robin Seila took top honors in the Women category, completing the 9-mile course in a time of 24:01, with Catherine Seguin in second place 24:51 and Esther Ellis in third with a time of 25:09.
In the Masters category it was Fred Flint in first place with a time of 34:16 over 9 miles and Larry Malanga in second with a time of 44:00. Andre Galiber caught a flat, but he decided on continuing was third with a time of 1hour 10secs.
The Sport category had only two competitors today. Jay Garfoot ran away with first honors finishing in 28:45; Yves Abraham was second with a time of 29:41.
Of the Experts category, Kasey Canton, Jerry Remie and John Harper were the fastest of the eight-man field. Their finishing times were 22:55, 24:08 and 24:48, respectively.
The Elite category also had its share of excitement among an eight-man field.  The top three finishing times went to Danielky Cedeño (21:52) who won first place, second was Mikey Dizon-Buman with 22:02, and third was Stephen Swanton with 22:06.